On October 26, 1999, Microsoft (NASDAQ:MSFT) and Intel (NASDAQ:INTC) were both added to the Dow Jones Industrial Average as component stocks. This event arguably marked the apex of the PC Revolution as a driver of the technology economy. Accounting for splits, Intel then traded for $27.53 per share, while also operating with 8.7 million shares of common stock outstanding on its balance sheet. Heading into Q4 1999, Intel executives managed a corporation carrying $240 billion in market capitalization. On September 6, 2013, Intel stock closed out the trading session at $22.67, after claiming 5 million shares of common stock outstanding within its latest Q3 2013 financial report. This recent stock market performance calculates out to roughly $110 billion in Intel market capitalization. In fourteen years, the size of Intel's business has literally been slashed in half.
Intel management decisions to return larger amounts of capital back to investors, in the form of dividends and stock buybacks have done nothing for shareholder growth. Over the past twenty-four months, Intel has shifted its focus towards aggressive research and development spending, in order to finally establish a beachhead within a mobile chip market dominated by the ARM - Qualcomm (NASDAQ:QCOM) alliance. Intel bulls are now arguing their case on two fronts. Firstly, the Intel bulls reason that extraordinary R&D spending is artificially depressing net income. Secondly, Intel cheerleaders assume R&D spending to be an up-front investment that will automatically materialize into future growth. Time, however, will prove that R&D spending at Intel is no panacea for growth, because the corporation now operates out of desperation. The situation is similar to a middling NFL franchise throwing money at a fee agent bust - in misguided hopes of exciting fans. Intel is still a strong sell.
Intel R&D Spending By The Numbers
Be advised that Intel fiscal years generally parallel calendar years. In 1999, during the halcyon days of the PC Revolution, Intel closed out the year with $7.3 billion in net income on $29.4 billion in revenue. Intel had grown net income by 20.5% over the prior year - to cap off a decade that began with a relatively meager $650 million in profits. Between 1997 and 1999, Intel spent 9.8% of annual revenue upon research and development, on average. This R&D allocation was largely in line with the rest of Intel's 1990's growth decade. At most, Intel spent a shade more than 13% of revenue in 1990 and 1992.
At Intel, Research and Development spending has consistently grown at a faster rate than revenue, throughout the twenty-first century. During its latest 2012 fiscal year, Intel allocated $10.1 billion towards research and development spending, out of $53.3 billion in net revenue. Intel R&D spending is now approaching 20% of sales, after revenue flat-lined between 2011 and 2012. Misguided Intel bulls should evaluate the theory that increased R&D spending offers no positive correlation to profit growth and share price appreciation. If anything, aggressive R&D spending may signal weakness and stock depreciation.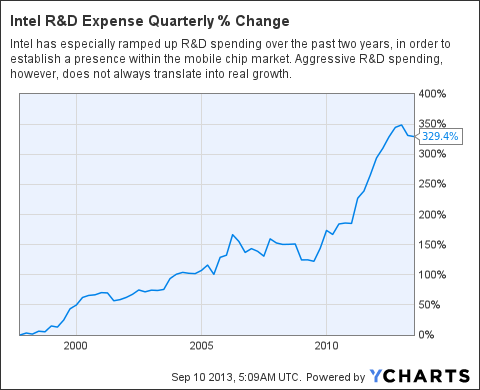 INTC R&D Expense Quarterly data by YCharts
Intel bulls may also highlight the impressive advance in revenue between 2009 and 2011. During this time frame, sales grew by 27% on an annualized basis, which is remarkable for a $100 billion enterprise. Top line figures, however, deteriorated slightly from $54 billion to $53.3 billion, between 2011 and 2012. At the same time, Intel upped the R&D spending ante from $8.4 billion to $10.1 billion, or 19% of revenue. Intel bulls have made claims that 2012 earnings were artificially depressed due to management's aggressive posture towards research and development spending. If Intel had of spent 15% of revenue on R&D, the company still would have put $8 billion towards this category. Intel's 2012 net income would have then come in at $13.2 billion, which is not significantly higher than the $12.9 billion earned during 2011. As such, Intel is not undervalued. Weak performance within Intel shares has accurately reflected an outdated business model.
PC Market is Deteriorating
On July 29, 2013, Intel released its latest Q2 2013 report, for period ended June 29, 2013. During the first half of this year, Intel has posted $4 billion in net income, with $2 billion coming in each quarter. Intel has missed earnings estimates through both quarters, while also lowering guidance through the rest of 2013. Within its 2012 annual report, Intel projected "single-digit" revenue growth for the company this year. Instead, net revenue has declined by 3.8% during the first half of 2013, when compared against the year-over-year 2012 period. The PC market has been deteriorating quickly. Intel's aggressive research and development spending and new found embrace of mobile will not make up for the loss in PC sales.
Intel has historically categorized its businesses according to PC Client, Data Center, Software and Services, and Other Intel Architecture groupings. Other Intel Architecture was established as an overarching classification including sales to the tablet and smart phone mobile industries. Over the past three fiscal years, the PC Client Group has accounted for roughly two-thirds of net sales at Intel. Broken down further, sales to its top-three customers Hewlett Packard (NYSE:HPQ), Dell (NASDAQ:DELL), and Lenovo combined to generate more than 40% of 2012 revenue at Intel. For the sake of comparison, Other Intel Architecture has counted for a mere 8% of average annual sales over the course of the past three years.
On July 10, 2013, research firm Gartner issued a statement announcing that global PC shipments contracted by 10.9% during the second calendar quarter of 2013. Last August 7, 2013, Gartner followed this report up with news that the PC consumer market in Western Europe had collapsed by 25.8% during the same time frame. Meike Escherich, Gartner principal research analyst, already opined that the looming Windows 8.1 and Intel Atom tablet chips "will not fully compensate for the ongoing PC decline." Intel bulls have therefore committed themselves to numerous assumptions that will never materialize. Firstly, the Intel - Microsoft partnership will not re-ignite the flagging PC market. Secondly, Intel will not topple the mobile chip market leadership of ARM (NASDAQ:ARMH) and Qualcomm, after simply throwing money at research and development. Over time, of course, the mobile device market will also mature and decline. Even mighty Apple suffered through a 14% year-over-year decline in iPad unit sales during its latest Q3 2013 ended June 29, 2013.
The Bottom Line
Again, Wall Street now effectively values Intel's business at $110 billion in market capitalization. Intel does trade for a relatively cheap ten times trailing earnings. Going forward, Intel is likely to close out this 2013 fiscal year with $8 billion in net income on the books. In actuality, this assumed business performance would translate into a current price-to-earnings ratio of 14. Intel is not undervalued at these levels. If anything, the case can be made that Intel has yet to bear the brunt of the PC market decline. Microsoft closes the majority of its sales to original equipment manufacturers, rather than end consumers. As such, Hewlett Packard, Dell, and Lenovo would have already placed orders for new Intel chips while also upgrading their product lines to accommodate Windows 8 software. Intel shareholders will be exposed to significant financial risks, after the new Windows 8 machines begin to pile up as inventory.
Ironically, Intel has been done in by Moore's Law, which stated that the number of working transistors that could fit upon one specific integrated circuit would double every two years. Intel already missed the secular shift in the marketplace away from desktop computers and towards mobile devices. At this point, chip technology is more so coveted for battery power and the ability to keep cool, instead of raw processing firepower. Mobile chip margins may sag over the next eighteen months, because teenage girls are likely already content to download music, send text messages, share video, and play Candy Crush.
Intel is a strong sell.
Disclosure: I have no positions in any stocks mentioned, and no plans to initiate any positions within the next 72 hours. I wrote this article myself, and it expresses my own opinions. I am not receiving compensation for it (other than from Seeking Alpha). I have no business relationship with any company whose stock is mentioned in this article.