"You do things when the opportunities come along. I've had periods in my life when I've had a bundle of ideas come along, and I've had long dry spells. If I get an idea next week, I'll do something. If not, I won't do a damn thing." - Warren Buffett
While we normally don't write articles discussing non-actionable ideas, we feel the market is getting a little ahead of itself at these prices; therefore, in our view it is prudent to simply sit and wait. We feel "Mr. Market" is bound to offer more attractive pricing at some point in the future, we just don't know when. We have set aside some dry powder for if, and when, a correction occurs.
During this interim, we've been making a list of potential companies that we'd like to be involved in when the market corrects itself. One of the companies on that list is Staples Inc. (NASDAQ:SPLS), the largest office products supplier in North America. We have owned Staples twice this year around the $12.5-$13 range; though we sold on significant spikes both times, we failed to capitalize on the full extent of the run.
Staples describes itself as,
Staples, Inc., together with its subsidiaries, operates as an office products company. It operates in three segments: North American Stores & Online, North American Commercial, and International Operations. The company offers various office supplies and services, office machines and related products, computers and related products, and office furniture under Staples, Quill, and other proprietary brands. It also provides copy and print services to retail and delivery customers, as well as technology services through its EasyTech business. The company sells and delivers office products and services directly to businesses and consumers through its Websites comprising Staples.com and Quill.com, as well as through retail stores, contract sales force, and direct mail catalog business.
Staples operated 2,215 stores as of February 2, 2013. They also operate/lease a total of 119 distribution and fulfillment centers as of fiscal year end.
Staples is a unique company in that it has been experiencing strong secular trends similar to the consumer electronics retailers Best Buy Inc. (NYSE:BBY), and RadioShack (NYSE:RSH). However, at the right price, we really like the business model- especially with the consolidation of Office Depot (NYSE:ODP) and Office Max (NYSE:OMX) creating an duopoly-like structure. Staples has consistently thrown off large amounts of cash flow, which have been used recently to fund increased dividends and large scale stock buybacks. In the last three plus years, Staples has managed to buy back (including the most recent quarters) approximately $1.81 billion in stock. At today's price, that is roughly 20% of the market capitalization, not to mention the dividends during that period.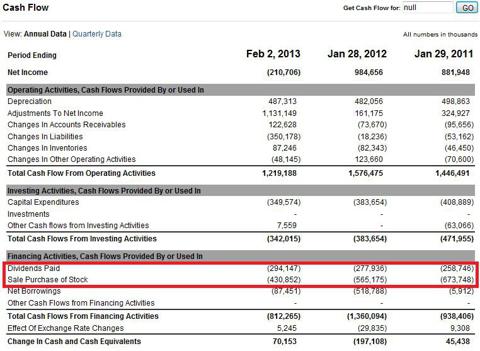 *Data provided by Capital IQ
Staples is broken down into three distinct segments: North America Stores and Online, North America Commercial, and International Operations. International sales represent 18.2% of total sales, per the most recent 10-K filing. Looking at the sales trends, it is apparent that the international division has been struggling due to the economic circumstances in much of Western Europe and lackluster execution of growth initiatives, while the U.S. portion of the business has been growing (top line) consistently over the past three fiscal years. Although if you take into account a 53-week fiscal year ending February 2, 2013, that extra week accounts for $461 million in sales. By looking at just the last three fiscal years, it would appear that the top line is stabilizing; however, the numbers are inflated by about 1.9% due to the 53rd week. Normalizing the impact of the additional week the structural headwinds become more apparent over the course of the last three years.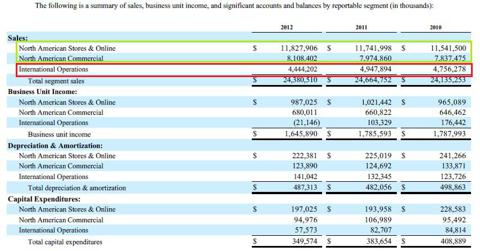 *Data provided from 10-K filing.

*Data provided from 10-K filing.
We think further consolidation in the industry will eventually lead to higher sustained margins and flattish to slight growth in the top line. While the top line and the liquidity ratios have been declining, management has been able to keep gross margins roughly stable. Another point to take into consideration is the non-recurring charge during the most recent fiscal year, which has skewed the profitability ratios lower. If the charge was excluded margins would still be hovering around four year averages. There should also be given some consideration for the shareholder friendly management team which has returned over $2.8 billion in capital during the last few years.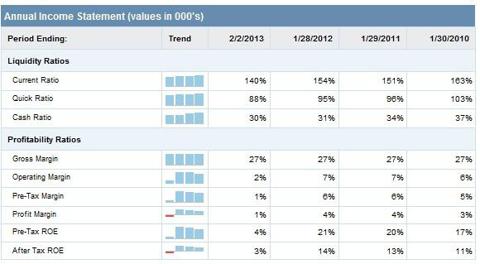 *Data provided by Capital IQ
Competitor Comparison:

While the weaker competitors, Office Depot and Office Max, have significantly lower price to sales ratios, they have one sixth the operating margins of Staples. Surprisingly, Staples has the lowest EV/EBITDA ratio and the highest operating margins of the group. It also has the second highest current and quick ratios of the group.
The bear case for Staples:
Continued weak operating trends as shown in the most recent quarter.
The international segment continues its rapid decline.
Margins pressure continues with increased competition from both Amazon (NASDAQ:AMZN) and Walmart (NYSE:WMT).
The merger of Office Depot and Office Max creates a stronger competitor, thus intensifying pricing pressure within the office supply space.
Staples inability to capture growth and a meaningful share of the online office products segment.
Natural headwinds with corporate and retail customers migrating from paper based products to mobile solutions.
Conclusion:
While Staples is facing secular headwinds we believe the business offers unforeseen upside after the consolidation of OfficeMax and Office Depot. If the business just stabilizes in the next 12 months we believe the stock would rise considerably. Staples management in the most recent quarter guided down its earnings-per-share range to $1.21-$1.25, from a previous forecast of $1.30-$1.35. We feel the shares are still not pricing in a problematic end of 2013 with difficult comps from the prior fiscal year with the inclusion of the 53rd week. At $14.50 we don't believe there is a significant margin of safety at current levels. We would be looking to become a buyer in the $11-$11.50 range upon a revised assessment of the company and outlook. Given management's forecast for 2013 an $11 stock price would equate to roughly a 9x P/E ratio (using the mid-point) and levered free cash flow yield of 14.9% (TTM). Management has shown to be committed to returning capital to shareholders, and at the right price Staples is a cigar butt worth picking up.
Disclaimer: This report is intended for informational purposes only and you, the reader, should not make any financial, investment, or trading decisions based upon the author's commentary. Although the information set forth above has been obtained or derived from sources believed to be reliable, the author does not make any representation or warranty, express or implied, as to the information's accuracy or completeness, nor does the author recommend that the above information serve as the basis of any investment decision. Before investing in a security, readers should carefully consider their financial positions and risk tolerances to determine if such a stock selection is appropriate.
At any time, the author of this report may trade in or out of any securities that are mentioned in the report as long or short positions in his own personal portfolio or in client portfolios that he manages without disclosing this information. At the time this report was published, the author had no position in Staples either in his personal account or in accounts that he managed for others.
THIS REPORT IS NOT A RECOMMENDATION TO BUY OR SELL ANY SECURITIES MENTIONED. THE AUTHOR ACCEPTS NO LIABILITY FOR HOW READERS MAY CHOOSE TO UTILIZE THE INFORMATION PRESENTED ABOVE.
Disclosure: I have no positions in any stocks mentioned, and no plans to initiate any positions within the next 72 hours. I wrote this article myself, and it expresses my own opinions. I am not receiving compensation for it (other than from Seeking Alpha). I have no business relationship with any company whose stock is mentioned in this article.