By this point, it's pretty clear that bonds are in a cyclical bear market. Many investors I know are shorting bonds (NYSEARCA:TLT) with the expectation of outsized profits. These investors ought to consider shorting gold as another way of playing higher rates.
Gold (NYSEARCA:GLD) today stands at $1364. I think it will goe a lot lower, with my target somewhere in the $1,000 range. At this point, I can think of absolutely no reasons to own gold outside of an economic collapse, which is simply not going to happen.
Gold has historically been a play on real interest rates. From 2008 to earlier this year, real interest rates had been in a steady downward trajectory. The 10 year TIPS yield currently stands at 85bp up from -1% in the Spring. Have no doubt, this is a huge move.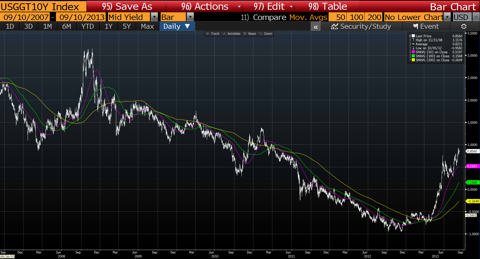 By falling, gold has acted as one would expect in a rising yield environment. In fact, since real rates bottomed, the fall in gold has been far greater than the fall in bonds.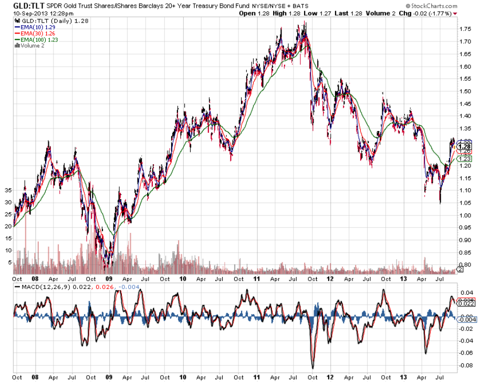 Historically normalized real yields have been around 2.25% - 2.5%. If inflation expectations held constant at about 2%, this would imply a 10 year yield of about 4.5%, which is still 150bp from current levels. Over the past few years inflation expectations have oscillated between 1.6% to 2.6%. If you thought the economy would weaken due to higher real rates, a normalized treasury would still be close to 4%.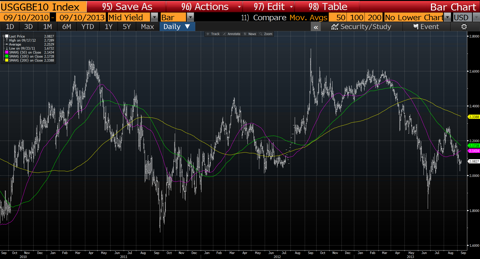 Rising rates alone aren't a reason to short gold. Rates rose between 2003-2007 and yet gold rallied. But that was a strong global growth environment, which is not the case today. Global GDP, while growing, is doing so at rates 100-150bp below the previous expansion.
Short gold is great hedge against slowing demand for commodities and "muddle-through" (not recessionary) global growth. Gold currently remains overvalued against copper (NYSEARCA:JJC), for instance. Trough levels of Gold:Copper ratio have historically been in the 300x range. Copper currently stands at $3.26. This implies a trough value for gold of about $1,000 oz, all else being equal. So if you were thinking about shorting copper as a play on China, you ought to consider shorting gold. The combination of slow growth and rising rates is toxic for gold while neutral for copper.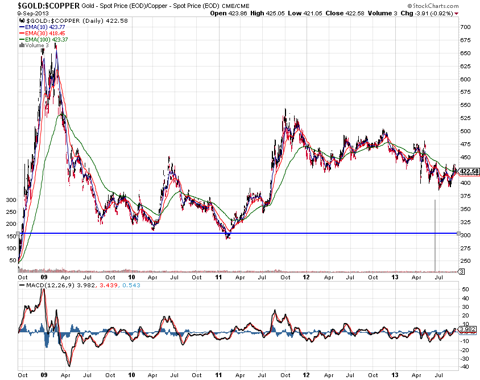 Gold is also overvalued compared to the companies that mine it. The Gold:XAU ratio has historically been a good way to measure the relative value of the metal. It's been under stress for some time now, trading at levels that are even higher than the 2008 crash. So if you disagreed with the notion that gold was a great short, it still wouldn't be the best gold play - buying mining shares would be.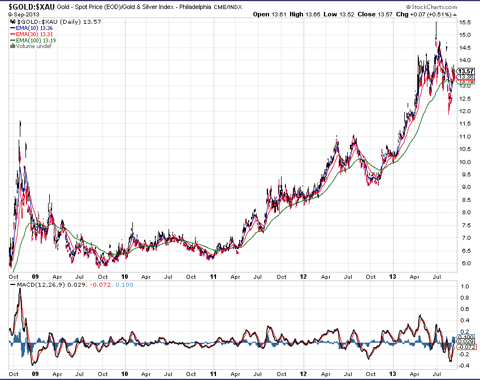 Conclusion
Given global growth, global bond trends, and relative valuations of proxies, there are no high probability scenarios where gold could rise and many scenarios where it could fall. Even in the scenarios where gold could rise, buying other related proxies may be the better option.
The recent 20% up move in gold did not represent a bottom, rather, it is an excellent opportunity to short for those who want a superior play on rising bond yields.
Disclosure: I am short GLD. I wrote this article myself, and it expresses my own opinions. I am not receiving compensation for it (other than from Seeking Alpha). I have no business relationship with any company whose stock is mentioned in this article.