Netflix (NASDAQ:NFLX) stock continues to impress, once again approaching $300 a share, giving it a market capitalization of just over $17 billion.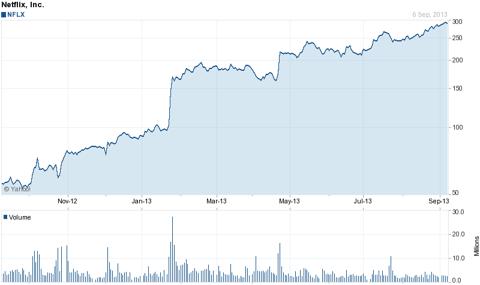 Click to enlarge
That is not bad for a company with revenues just over $4 billion at an annual rate and profits just above break even. It is hard not to like the company's service. The Netflix brand has become synonymous with streaming movies and just about everyone I know has a Netflix account on their phone, tablet or personal computer. My kids just love it.
So why am I negative on the stock? The answer lies in two areas. First, the balance sheet - not always the best place to evaluate a technology company that is growing quickly but certainly worth a peek. Netflix has tangible net worth of negative $577 million as of June 30, 2013.
Negative net worth is often a trifling issue for companies with dramatic growth and high profitability. Netflix certainly has high growth, with revenues growing about 20% year over year. Profits have not kept pace, however, as the company barely beat break even in 2012 and has earned only $32 million in the first six months of 2013.
These issues are headwinds but not the worst ones for a company with a high consumer appeal and a recognized worldwide brand. To date Netflix has dominated the streaming video space with a 32.3% share according to a recent study by Sandvine.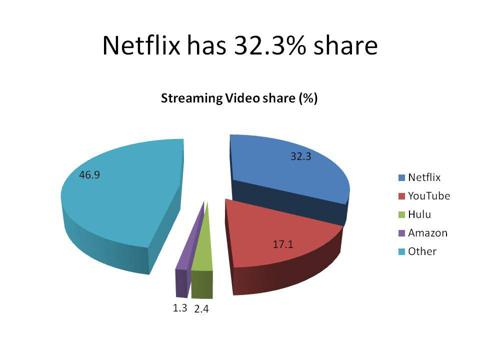 Click to enlargeThat may change.
Amazon.com (NASDAQ:AMZN) is taking a serious run at the streaming movie market and is not to be trifled with. Amazon now has about 20,000 titles available for download. You can bet Amazon's paltry 1.3% of the video streaming market is likely to grow.
Wal-Mart (NYSE:WMT) offers streaming movies under the VUDU brand name. And Sony's (NYSE:SNE) Crackle.com movie service has become a competitor to watch. Target (NYSE:TGT) has also joined the fray and will offer a video streaming plan and no doubt there will be more to follow. Google's (NASDAQ:GOOG) clever Chromecast device offers a low cost mechanism to stream video content directly to your TV from Google Play and, interestingly enough, from Netflix and YouTube as well. In Asia, alternatives to Netflix like Asian Rice, Yodrama and MovieAsian.com are available to consumers. In Korea, Sony and Disney have begun streaming movies still in theatres as a barrier to piracy, at least on a test basis. Microsoft (NASDAQ:MSFT) offers streaming movies on XBox Video.
The fact is the once novel idea of streaming movies has moved from "high tech" to mainstream very quickly, and the content providers are learning that they hold the upper hand in negotiations for the rights to distribute their movies. Netflix may keep the upper hand, but when big players like Amazon.com, Sony, Disney, Google, Wal-Mart, Microsoft and Target decide they are serious about the opportunities in streaming movies, the field becomes crowded pretty quickly.
I'm reminded of the growth and decline of Blockbuster, victim not only to the trend to movie downloads but also to the host of competitors who entered the space including virtually every convenience store in existence. While I don't expect to see convenience stores offering streaming video any time soon, I do think that the barriers to entry are low, the content costs likely to rise, and the profit outlook for Netflix likely to continue to be challenging.
Trefis did a very solid analysis of the content cost compression issue in May and concluded Netflix stock was worth something like $133 a share. Perhaps having second thought, Trefis currently calculated a value of $163 a share for Netflix. Notwithstanding, that is a long way down from the $300 level where it currently trades.
If Netflix continues to add subscribers and can keep its content costs under control, it will continue to advance both sales and profits. But those are big ifs. The math is pretty clear. One million new users adds $8 million a month to revenue or about $100 million a year. With a $17 billion market value and close to break even, and assuming new users are incremental at 60% added margin (giving Netflix the benefit of the doubt) it would take 23 million new users to add $1 billion to net income and bring Netflix to a more reasonable 17 times earnings. That is about 60% above its current 38 million users.
The demand for streaming content is high and continued growth is likely. Whether Netflix can grow into its current valuation is a judgment call. My bet is that the stock will correct before such growth takes place and Netflix share price is more likely to fall than grow.
The market is often optimistic about the perceived leader in a space that has broad consumer appeal, and is willing to bid the shares of such an entity to great heights. When reality sets in, it often has an unhappy ending for the last of the bullish crowd.
Netflix growth has already slowed from a blistering 50% pace in 2011 to about 13% in 2012, although it has picked up to about 20% year-over-year last quarter. Competition may keep that pace of growth in check as it increased the breadth and depth of its offerings.
Netflix stock may trade higher as it signs content or distribution deals like the one announced today with Virgin Media, which has the stock spiking higher.
I think it has oft been said that markets can stay irrational longer than most can stay solvent. For that reason, I believe holding put options on Netflix is preferable to a naked short. The recent spike makes those puts cheaper and I will very likely buy puts in the next day or two. I am bearish on the stock.
Disclosure: I have no positions in any stocks mentioned, but may initiate a short position in NFLX over the next 72 hours. I wrote this article myself, and it expresses my own opinions. I am not receiving compensation for it (other than from Seeking Alpha). I have no business relationship with any company whose stock is mentioned in this article.
Additional disclosure: I am long Microsoft calls.