It is hard to say what investors remember more, that it has been about a year since the iPhone 5 was released or that it has been about a year since Apple (NASDAQ:AAPL) hit its all-time high. In that year's time, Apple and Tim Cook have seen a growing amount of pressure to introduce a low-budget iPhone to appeal to developing markets. In its history, Apple's has never released a truly affordable iPhone to consumers - its budget iPhones are simply older models - and who wants that? Compared to Google's (NASDAQ:GOOG) Android 52% U.S. market share, Apple holds 40% of the market. Furthermore, Apple is more a minority worldwide at about 20%, compared to Android at 65% market share. And most troubling, Apple is only 6% of Chinese market share compared to 90% for Android. If it wishes is to remain a serious contender for smartphone sales, Apple needs a lower priced phone to attack the consumers with less spending power and begin to compete with Android again. Consequently, the single most important factor that will indicate the success of the new lower-priced iPhone is the price itself - almost all other details will certainly be minor.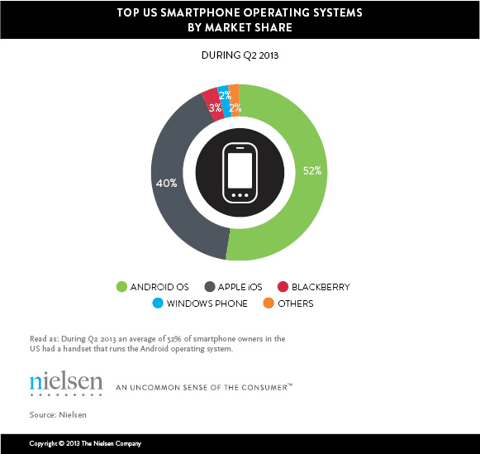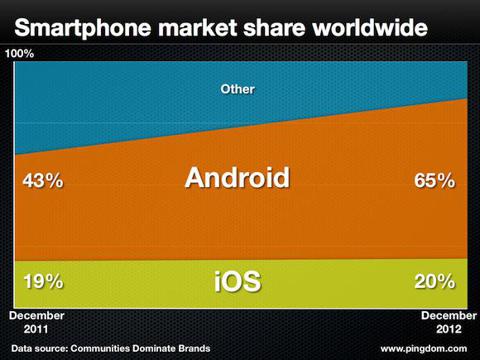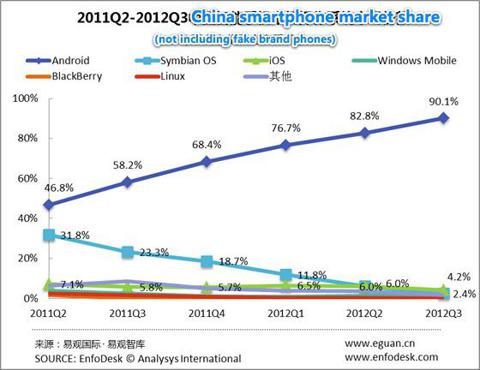 More important than the specs, the apps, the relationship with a carrier, or the name of the device - the price of the new allegedly "cheap" iPhone (iPhone 5C) will matter above all else. About half of the world's cell phone subscribers pay for a phone without a subsidy. Without a subsidy "top-shelf" smartphones would have a price of about $750 or more. This is the reason as to why iPhone has yet to make a considerable dent in the Chinese (or insert the name of any other developing country) market. In the US and some other markets, people with lower incomes can afford iPhones because they pay for them with the monthly service.
In developing markets like China where phones are sold without a subsidy, there are several tiers in which Apple can enter the market. The tier it chooses will almost certainly determine its success commercially. In USD, $100-$200 is the range where budget 3G Android phones are sold - the lowest price and quality of phones. The middle range is about $200-$400 - this tier offers a significant jump in quality compared to the lowest price range, and is dominated by name brands like Samsung (OTC:SSNLF) and HTC. The upper range for a market like China would be anything above $400 USD - this price and above would capture almost no new market that Apple seeks to gain with the iPhone 5C, since Apple currently has products in this tier.
If it wants to truly dominate again, Apple will need to price the iPhone 5C in the $100-$200 range. If Apple's iPhone 5C is in this range, investors can expect to see an absolutely massive jump in sales. If in this price range, Apple would go against budget 3G Android phones with little brand presence and could be expected to crush the competition. Selling into this price range has allowed Android to reach 90% market share in China, where generally all phones are unsubsidized. The U.S. market share is split about evenly since nearly all phones are subsidized by major carriers.
While I don't see Apple releasing a device in the lower tier range, since it does not want to commoditize its brand, I believe an iPhone 5C priced $200-$400 is most likely and necessary to capture much needed market share. If Apple is able to price at the lower end of this range, I believe it might even be able to capture some consumers from the lowest tier whom are willing to splurge to buy an iPhone. Apple still maintains its powerful brand, which might allow it to see some consumers buy slightly out of their typical smartphone price range. Using China Mobile's (NYSE:CHL) Hong Kong site as reference, and searching in the range of $200-$400 USD ($1550-$3100 HKD) the phones in this range are good-quality devices. For example, this price range includes the Galaxy SIII mini, HTC One S, and the Nokia (NYSE:NOK) Lumina 720 - each either a year old or a phone made specifically to be affordable for consumers in a mid-price range of phones. This is the niche that Apple should go after if it wants to both pick up a good number of subscribers and keep its powerful brand recognition.
In conclusion, if Apple wants to out-compete the already Android-dominated market in China, it needs to have a serious budget phone at about $100-$200; but this is unlikely. If Apple wants to gain decent market share in the mid-tier range and bring more users into its ecosystem, it should aim its price at $250 with a max being $400. However, if Apple positions the iPhone 5C as a premium product with a price of $400 or higher, it will not penetrate China or other developing markets quickly or easily. If Apple doesn't make a reasonably-priced phone, investors should begin to assume that its mobile future will look identical to its computer's market share and perception. Apple will continue to keep a certain number of dedicated users who believe its devices are superior but it will have minimal presence in the market.
While AAPL is the largest US company as measured by market capitalization and has many moving parts, the market is likely to focus on one factor in the near term - the pricing of the soon to be released iPhone 5C. The pricing of this product will ultimately influence brand perception, global market share, profit margins, and growth rates.
Disclosure: I have no positions in any stocks mentioned, and no plans to initiate any positions within the next 72 hours. I wrote this article myself, and it expresses my own opinions. I am not receiving compensation for it (other than from Seeking Alpha). I have no business relationship with any company whose stock is mentioned in this article.