As my portfolio is 100% cash from the recent trade of the BARE Covered Call, I was on the hunt for the next investment. I was able to uncover this next hidden gem by running my value scorecard screen, to find out this stock passes the majority of my value stock metrics.
EZCORP Inc. (NASDAQ:EZPW) acquires, establishes, and operates pawnshops and credit services shops. These shops function as sources of consumer credit and as value-oriented specialty retailers, primarily selling previously owned merchandise. The company makes non-recourse loans secured by pledges of tangible personal property, and imposes a pawn service charge as compensation. This charge is calculated on the dollar amount and duration of the loan. The company operates more than 280 pawnshops and 334 payday loan stores.
Here is my completed scorecard: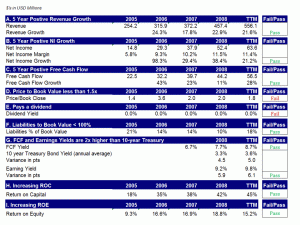 As you can see, the only metrics that this equity is missing is the price to book ratio and no dividend payments. I can accept no dividend payments with the ROIC metrics this company is achieving.
With this passing grade, I have decided to purchase EZPW and add it to my real money portfolio.
Trade Summary:
Buy 100 Shares at $13.99 on October 21st, 2009 for a total investment of $1,409.95
S&P 500 Index Level at the time of purchase: $1,081.40
Follow my portfolio through updates to my net worth link.
Disclosure: I am currently long shares of EZPW.