Video games have become a huge industry as both console gaming and mobile apps remain quite popular with consumers. In fact, the video game industry was recently valued at $67 billion, while growth is expected to put the total valuation at $87 billion in 2017. Given these figures, it is pretty clear that the trend is quite solid in the video game space and that an allocation to this growing market may not be a bad idea. One targeted way to do this is with one of the top makers of games currently on the market, Activision Blizzard (NASDAQ:ATVI).
Activision Blizzard in Focus
ATVI is a company that has a big reach in the video game industry as it is the producer of some of the segment's most famous products. This includes the "Call of Duty," "Guitar Hero," and "Warcraft" franchises, in addition to a number of mobile games with operations across the globe. The company has become a pretty big name thanks to many of these titles, pushing this California-based company to a $19 billion market capitalization. And with some new launches expected -- a fresh "Call of Duty" game is due out soon, while new consoles are coming online, too -- a further push up the charts is not out of the question.
ATVI Fundamentals
This is especially true when investors consider the analyst outlook for the company. Estimates have been jumping higher of late, as both the current-year and next-year periods haven't seen a single revision lower. Meanwhile, the magnitude of these revisions has been absolutely incredible, particularly when focusing on the next-quarter and next-year periods. For these two in particular, the consensus has risen from 57 cents a share to 77 cents a share in the past two months, while the next-year figure has jumped from 90 cents to $1.18/share over the same period.
With this kind of increase, some investors might be concerned that ATVI might have difficulty in living up to the hype, but the recent earnings history suggests otherwise. The company has thoroughly crushed estimates lately, beating out estimates by close to 50% over the past four quarters.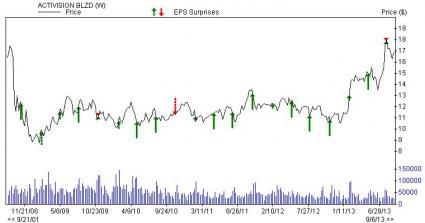 Clearly, the company is firing on all cylinders and is well positioned to take advantage of the positive trends in the video game industry. Analysts seem to agree, and that is why we have given ATVI a Zacks Rank No. 1 (Strong Buy).
Bottom Line
This strong buy rating means that we are looking for ATVI to continue its run and outperform other stocks in the near term. With its outperform Zacks Recommendation, the longer-term future is looking bright for this company as well. So if you are looking to get in on the quickly growing video game industry but don't know where to begin, consider starting with an allocation in ATVI. Activision Blizzard has several of the industry's most popular franchises, and with new titles and gaming systems on the way, growth could definitely be ahead for this industry titan for years to come.
Activision Blizzard: Free Stock Analysis Report (email registration required)