RadioShack (NYSE:RSH) stock has been on a tear, up 16% in the last week alone through Tuesday. The market is up and the shorts are getting squeezed. With one exception, the rise has been remarkably orderly, with small steps up once or twice a day. That exception was Tuesday at around 1:30pm, where new rumors broke suggesting that the company is getting "close" to securing new liquidity. The stock immediately jumped from $3.80 to over $3.95, then immediately dropped to $3.72, before continuing to rise through the rest of the day.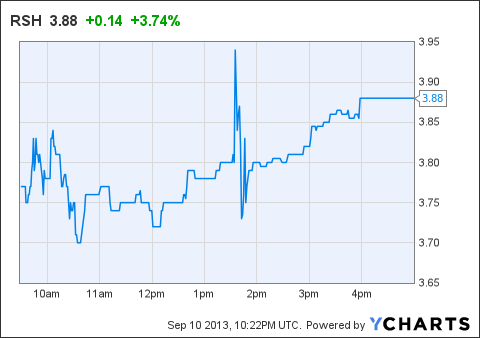 RadioShack has targeted early October as their deadline to get a deal done. With around three weeks to go, we are sure to hear more rumors in the near future. So what, if anything, has changed, and what kind of a deal can the company get done?
Today's rumor, which came from a DebtWire report, says that the company is shopping equity to strategic investors, including private equity funds, and additional secured debt as a fallback. The report then mentions that the company is seeking partnership opportunities with strategic partners, including Apple and other physical retailers. They are also looking to refinance their $100 million second lien term loan. So, they are looking at just about everything - equity, debt, partnerships, and refinancings. You may ask what they aren't looking at. And yet, apparently, they are "close" to getting a deal done. With three weeks to go before the self-imposed deadline, let's take on each one by one.
Raising Equity
Any capital raise would likely come from private equity, and the report identifies a few funds that have reportedly been contacted. This is the company's preferred option, obviously, as it provides an immediate liquidity injection and does not increase leverage or interest expense going forward. The only question is whether (1) an investor would be willing to purchase equity given the company's current and expected results and high leverage and (2) how much would current holders be diluted. Unlike other troubled retailers like Sears (NASDAQ:SHLD) and J.C. Penney (NYSE:JCP), there have not been many hedge funds interested in RadioShack, and it is unclear why private equity would be interested now. Of course, the company could offer a new investor various sweeteners such as warrants or preferred stock that make a deal more attractive.
Verdict: I believe this is unlikely. However, it may be possible if the company offers preferred stock and warrants that give a buyer big upside if the company succeeds.
Additional Secured Debt
According to the report, raising additional secured debt is a "fallback" option if they are not able to sell the equity. According to sources cited in the report, sources believe there is $50-$75 million of additional secured debt capacity based on the value of the company's assets and the size of the revolving facility ($450 million). This sounds optimistic given the recent decrease in the asset base to increase working capital and deterioration of the business since last year when the facilities were first put in place. Assuming they have permitted capacity under the first lien and second lien credit agreements, this may be possible.
Verdict: Possible, but I think only up to $50 million.
Strategic Partnerships
RadioShack is no stranger to strategic partnerships, having partnered with Target and various brands over the years. The report notes that the company may have contacted Apple as a possible strategic partner. We can only speculate as to what this could entail. The question is what RadioShack can offer to a partner like Apple, which is not exactly lacking distribution channels in the United States. Perhaps the offer would be more attractive to another consumer electronics company like Samsung that might be able to benefit from RadioShack pushing its products. Pushing one manufacturer's products is, however, somewhat inconsistent with the company's stated strategy of offering consumers a single place to find phones from all manufacturers and carriers so that consumers can easily compare across providers and producers.
It is also unclear what such a partnership would do to solve the company's liquidity problems? Would the partner invest in RadioShack through loans or an equity investment? It is difficult to see how that would be attractive to a partner unless RadioShack completely focused on that partner's products, which is a dangerous business strategy with many risks.
Verdict: Possible, but unlikely because major potential partners like Apple do not need additional distribution channels in the U.S. market. Even more unlikely that such a partnership would provide additional liquidity.
Refinancing the 11% Second Lien Term Loan
The report also refers to the company's goal of refinancing its $100 million 11% second lien term loan, but does not go into specifics on how this could be done. As I explain here, I don't see any possible solutions to how this could be refinanced other than a small portion being refinanced with any additional first lien debt capacity or with equity if they are successful in raising equity. Any refinancing would also require a $4 million prepayment fee, so the hurdles here are quite high.
Stay Tuned
With three weeks to go, it looks like the company is looking at just about all options, including raising equity or debt, strategic partnerships and refinancing the existing term loan, or a combination of some or all of these. And yet, the rumors are that the company is "close". To some investors, these rumors show that the company is aggressively looking to get a deal done, and any deal could send the stock higher as shorts continue to cover. To others, the company looks more like a headless chicken with no real direction or options. In either case, any small new loans or partnerships are not really a long-term solution. A strategic equity investment, however, would be a big boost for the company, albeit at the likely cost of substantial dilution to existing shareholders. But what private equity fund will take the risk, with negative EBITDA estimates and significant interest expense and cap ex on the near-term horizon? Stay tuned because we might find out soon.
Disclosure: I am short RSH. I wrote this article myself, and it expresses my own opinions. I am not receiving compensation for it (other than from Seeking Alpha). I have no business relationship with any company whose stock is mentioned in this article.