Since its short squeeze pop after earnings, Tesla Motors Inc. (NASDAQ:TSLA) has drawn a lot of negative comments. It has been called overvalued by the CEO Elon Musk, a professor at NYU's Stern School of Business, Aswath Damodaran, who specializes in equity valuation, Lazard Capital's Aditya Sarghare, Barclay's analysts, Citron Research, and many others. Then there are others such as yours truly, Goldman Sachs analyst, Patrick Archambault, Bank of America Merrill Lynch's John Lavallo II and John Murphy, Gradient Analytics, Donn Vickrey, and many other people, who have thought TSLA was far overvalued for some time. The price targets of some of these people are:
Tesla Motors CEO Elon Musk made the following comments about TSLA's valuation in an August 21, 2013 interview:
The market is being very generous.
They are giving us a lot of credit for future execution.
The valuation we have right now is more than we have any right to deserve.
Our stock price is obviously too high based on historical financials or even current financials.
In essence the above sound like Musk is trying to safeguard TSLA against investor lawsuits when the stock eventually plunges. This is what Musk clearly expects to eventually happen.
Then there are the battery supply problems pointed out by SeekingAlpha.com author John Petersen. Basically he cites huge competition for the available battery manufacturing capacity with other businesses. The other business can more easily afford to pass along higher prices to their customers. These are businesses such as: communications and computing, other portable electronics, power tools, eBikes, household devices, and other miscellaneous uses. Petersen believes TSLA will have a hard time competing on price with these many other uses. Petersen does not believe there will be enough capacity to supply even 100,000 TSLA cars with batteries that suit TSLA's high quality and technological demands today's "reasonable prices". Petersen suggests that the much lower battery capacity and technological demands of the combo cars are a much more efficient use of the available battery capacity. After all even fully electric vehicles only get a bit over the equivalent of 100 mpg; and the electricity to charge them is produced using other energy sources, which are often petroleum based such as natural gas.
Although Petersen does not mention this, there is also a limited amount of lithium capacity worldwide. This is growing, but that growth is being outstripped by electric vehicle growth and projected growth. One of the early solutions is to recycle old batteries. However, as electric vehicles proliferate, this will become problematic. The number of electric and combo vehicles is expected to grow quickly. As China and India with their huge populations (and huge smog problems) try to get more fully into the electric car market, the problem will become still more critical. Shaun Connell of SeekingAlpha.com analyzes the Lithium supply problems that may present themselves as electric vehicles proliferate. In essence, there is a problem as the industry expands.
TSLA says it uses no rare earth metals (generally rarer than lithium) in its Model S batteries and motor parts, so that is not a problem for the Model S. However, it is unclear that TSLA has the best solution in this area. Hybrid Electric Vehicle Technologies (HEVT) won the $250,000 grand prize in the national Cleantech Open competition in November 2012 with its patented switched reluctance motor. It owns this patent, and it seems likely that companies such as Ford (NYSE:F) and General Motors (NYSE:GM) will license it, if they do not develop their own solutions. This might put them ahead of TSLA in years to come.
HEVT is already working with the F-150 platform (a Ford pickup truck platform). They clearly intend to try to sell/license their technology to Ford in the near future. This technology may vault Ford ahead of TSLA at almost any time.
TSLA will likely have trouble staying ahead of "the world" in its attempts to make quantum leaps in technology. This is a pattern that has repeated itself in technology with virtually every product invented. When you are a small company to start with, it is unlikely you can keep ahead of the competition for a long period of time. There are huge numbers of geniuses in the world besides Elon Musk and some of his team.
I, a bevy of prominent auto industry analysts, and a number of battery industry analysts think that TSLA is far overpriced. They think it faces huge technological hurdles in order to grow its business to the levels that the pumpers and the company are forecasting it will. It faces alternative competition from the likes of BMW, Toyota, Honda (NYSE:HMC), Nissan (OTCPK:NSANY), Ford, GM, etc. All have cheaper combo vehicles or electric only vehicles.
Further, the technical analysts are now predicting a dramatic move downward in TSLA (Tom Kilgore of the WSJ writes). Some see support at $130 per share and further support at $115 per share. Many feel that buying on the dips is no longer a good strategy. Even those still bullish suggest that a decline to $139.22 is needed to consider buying on a dip. This translates into a $27/share decline at a minimum. If the bears are right, it translates into a fall to $130, $115, or $100 in the relatively near term.
Of course, just after pundits opined the above on September 9 & 10, 2013, TSLA announced its plans for European sales and European supercharging stations. On first glance, this would seem to be bullish for TSLA. However, in all of my industry experience with technology manufacturing companies, which is extensive, I have invariably seen new products hurt by their release in economically troubled times. A new release in Europe seems likely to be very troubled. For instance Ford closed its Genk plant in Belgium due to slow sales. Even with this closure, Ford is expecting to lose $2B in European operations in FY2013. General Motors expects European sales to be down 4%-5% in FY2013 from FY2012, when sales were the weakest in nearly two decades. This is the market that TSLA is trying to enter. If its stores stay fairly empty, that by itself will be a big negative for TSLA. When you consider that Ford and GM make a lot of the cars sold in Europe, you have to realize that TSLA faces a lot of regulatory and cost issues associated with importation that GM, Ford, etc. do not. Yet those companies are still struggling. There is a lot to worry about with European TSLA sales, and TSLA's European introduction strategy. If we see a further fall in European economies as further problems emerge in the PIIGS and elsewhere in the EU, the TSLA strategy will likely be severely troubled. Remember we already know that Greece needs a new bailout. Can Portugal, Ireland, Spain, and Italy really be that far behind?
Then too there is the concern that TSLA is running low on money. If TSLA has another stock offering, stock dilution may be the excuse the market needs to sell the stock off, especially if the company offers the new stock at a much lower price than the current stock price.
The two-year chart of TSLA provides further technical direction for a trade.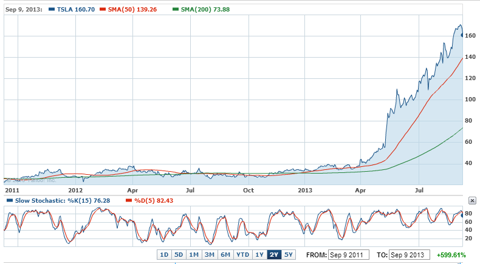 Click to enlarge
The slow stochastic sub chart shows that TSLA is overbought. It is even more overbought after its move up today on the European market strategy announcement. The main chart shows that TSLA is far overbought. Its price at the close on September 10, 2013 of $166.37 is more than twice the level of its 200-day SMA. This is an untenable situation longer term. The 200-day SMA is only at approximately $75. A journey down to even near its 200-day SMA would bring it down to $100 at least.
Technically TSLA is a sell. When you consider that it did not make money in Q2 on GAAP (it has no PE), it is more of a sell. When you consider the many battery problems TSLA faces as it grows, it is more of a sell. When you consider that three highly competent experts see the price at $84 or less, TSLA is even more of a sell. When you consider that institutions are starting to sell TSLA (-3.86% in their total holdings from the previous quarter to this one), TSLA is more of a sell. When you consider that the average analysts' five-year EPS growth estimate per annum is only 18.70%, one has to think that an FPE multiple of 96.73 is undeserved. An FPE of about 40 would be the logical upper limit for an FPE multiple with the growth estimate TSLA has. Reaching a more reasonable multiple would mean a more than 50% fall in the stock price. TSLA is a sell.
NOTE: Some of the fundamental fiscal information above is from Yahoo Finance.
Good Luck Trading.
Disclosure: I am short TSLA. I wrote this article myself, and it expresses my own opinions. I am not receiving compensation for it (other than from Seeking Alpha). I have no business relationship with any company whose stock is mentioned in this article.