The long awaited report on Kinder Morgan from Hedgeye Risk Management was finally released. A good summary of the report can be found on Barron's website. The Kinder Morgan family of companies consist of Kinder Morgan Inc. (NYSE:KMI), Kinder Morgan Energy Partners (NYSE:KMP), Kinder Morgan Management (NYSE:KMR), and El Paso Pipeline Partners (NYSE:EPB).
Hedgeye's case in a nutshell
In essence, the report claims that Kinder Morgan is understating its maintenance expenses and capex to boost its distributable cash flow, or DCF. According to Hedgeye, Kinder Morgan underspends on pipeline related routine maintenance. Hedgeye also notes that Kinder Morgan has also significantly lowered the amount of maintenance spending associated with its acquired El Paso pipelines to boost its DCF, in a similar manner to previous Kinder Morgan acquisitions. After years of under-spending, Kinder Morgan then replaces the pipeline and often increases its nameplate capacity. This allows Kinder Morgan to book the costs of the replacement project as expansion capex. By booking these costs as expansion capex, Kinder Morgan does not need to deduct these costs from its DCF and is able to raise capital, via debt and equity, to fund the projects. This raised capital is then required to pay KMI IDRs at relatively high levels when compared to other MLPs. This results in KMP having a high cost of capital and inflates KMI's IDR payments.
Hedgeye also claims that Kinder Morgan is exposed to commodity prices, as when adjusting for IDRs, E&P represent about 20% to 25% of KMP's DCF. In addition, Hedgeye claims that Kinder Morgan also understates its E&P maintenance expense requirements.
Market reaction to Hedgeye's report
It is quite telling that all four of the Kinder Morgan related stocks rallied heading into and after the report was released, with all 4 stocks up around 1.20% to 2.00%. KMI, which was the stock most impacted by the initial Hedgeye report, has basically recovered all of its Hedgeye tweet related losses.
Reuters notes that analysts have previously raised the issue about Kinder Morgan's treatment of maintenance expenses. However, Jason Stevens, an analyst with Morningstar, noted that Kinder Morgan's "maintenance capex is broadly in line with MLP industry practices."
Kinder Morgan responded to the report as follows: "Our business units perform a bottom up review of maintenance capital needs and operating expenses, with the objective being to increasingly reduce risk and improve safety for the benefit of the public and the environment..."
My thoughts on Hedgeye's report
Let us not fool ourselves, Hedgeye has had previous success in taking down stocks. Linn Energy (LINE) and LinnCo (LNCO) in particular have been savaged by Hedgeye's reports, with the stocks down significantly YTD. While some may argue that Hedgeye's claims against it are baseless, they have impacted the stock. While I do not agree 100% with Hedgeye's Linn Energy claims, they did make several good points. Linn Energy's maintenance guidance was probably too low and its hedging policy is aggressive when compared with other upstream MLPs.
However, as I noted in my previous article, Kinder Morgan is no Linn Energy. By enterprise value, the Kinder Morgan family of companies are the 3rd largest energy company in North America. Kinder Morgan's asset footprint is impressive, with energy related infrastructure throughout North America.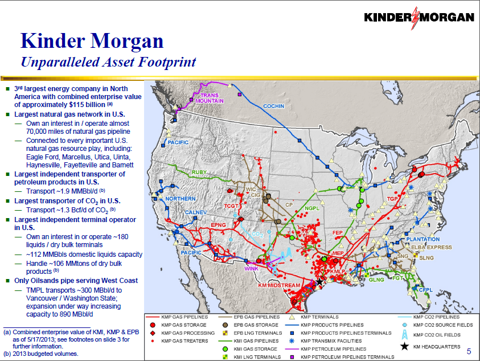 One area where I took particular issue with Hedgeye is in its calculation of Kinder Morgan's profitability. On pages 34 to 37, Hedgeye argues that KMP's 2012 return on capital is about 5.1% while its return on equity, or ROE, is 8.1%. This is in stark contrast to Kinder Morgan's presentations, which show an ROE of 24% for 2012. This massive difference is caused by Hedgeye adjusting for $1B of certain items, such as environmental and legal expenses, and $1.4B in KMI's IDRs.
Hedgeye's case is rather flimsy. They argue that KMI is "taking" an unfair amount of profits from KMP via IDRs. However, Hedgeye does not seems to be arguing that Kinder Morgan is not profitable, just that it's structured in a way that benefits KMI more than KMP. This is somewhat true, KMI profits are mostly from IDRs and distributions from KMP/KMR. As Hedgeye notes in its "Key Risks" summary on page 43, KMP could acquire KMI, which makes its profitability case mute.
Hedgeye seems to ignore the fact that KMI and KMP have a mutually beneficial relationship. When Kinder Morgan expands, either via acquisitions or growth projects, it is to benefit both companies. KMI has dropdown assets at very attractive multiples and has even foregone some of its IDR payments in order for these projects to make sense. Kinder Morgan is not stupid, they only expand when it is accretive to the limited partners unitholders, of which KMI is a major holder.
Also note that Hedgeye basically ignores El Paso Pipeline Partners in its report. EPB is basically the red headed stepchild of the Kinder Morgan family. Hedgeye notes that EPB would likely be merged into KMP, which is also my opinion.
Conclusion
Perhaps the strongest rebuke to Hedgeye came from Kinder Morgan CEO Richard Kinder, who bought about 500K shares of KMI for $18M. Mr. Kinder owns about $8B of various Kinder Morgan securities. As some have noted, would anyone really put this much of their savings into a fraud?
My view is that the Hedgeye report was a non-event. I was initially quite shocked that Hedgeye's tweets had so spooked investors that it caused Kinder Morgan to lose $4B of market cap. However, after seeing the stocks basically shrug off the report, I feel much more confident owning KMI.
Disclaimer: The opinions in this article are for informational purposes only and should not be construed as a recommendation to buy or sell the stocks mentioned. Please do your own due diligence before making any investment decision.
Disclosure: I am long KMI. I wrote this article myself, and it expresses my own opinions. I am not receiving compensation for it (other than from Seeking Alpha). I have no business relationship with any company whose stock is mentioned in this article.