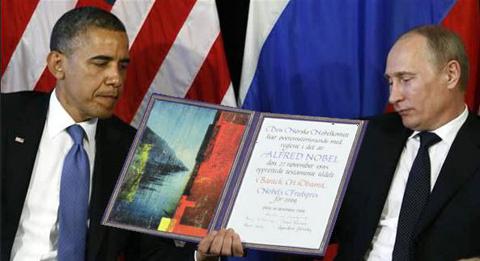 What's the buzz Tuesday? Plenty. It appears to many Putin has trumped Obama on Syria and may get his own Nobel Peace Prize. As we should recall, (but won't) Libya agreed to turn over all its chemical weapons when the Iraq invasion began in 2008. That turnover never happened and those weapons are still in that peaceful country. Seriously, you can't make this stuff up given the Middle East.
So, this relieved (for now) this latest market stress.
Meanwhile, back at Wall & Broad, markets rallied again putting two of three issues (Employment Report and Syria) behind us. Next is the Fed Meeting on the 18th with a taper on the agenda.
The other big deal Tuesday was the reconstitution of the DJIA, which is knocking out lower priced stocks like AA, BAC & HPQ, in favor of high-priced issues such as GS, V & NKE. In other words, the price-weighted index just got pricier and some believe this is misleading. (A shoe company?) This is why most professionals follow the S&P 500 as the proper and more market representative index. People on Main Street and the MSM follow the DJIA. To discuss this a little more, we posted a short public chart video of DIA (SPDR DJIA ETF)
China Industrial Output rose 10.4% which was another positive for markets.
Lastly, was the over-hyped new Apple (NASDAQ:AAPL) product rollout, which seems, given the grand promotion, rather lame. Ok, a $99 plastic phone for emerging markets to defeat counterfeiters and a new more expensive iPhone with fingerprint security. The stock lost over 2% on the day.
Markets rose overall on much of this news. Leading sectors were Tech (QQQ & QQEW), Semiconductors (NYSEARCA:SMH), Transports (NYSEARCA:IYT), Financials (NYSEARCA:XLF), Consumer Discretionary (NYSEARCA:XLY), Solar (NYSEARCA:TAN), China (FXI & GXC), Germany (NYSEARCA:EWG), Australia (NYSEARCA:EWA), Emerging Markets (NYSEARCA:VWO) and Europe Asia & the Far East (NYSEARCA:EFA). Lagging sectors included Gold Miners (NYSEARCA:GDX), Gold (NYSEARCA:GLD), Silver (NYSEARCA:SLV), Energy (NYSEARCA:XLE), Oil (NYSEARCA:USO) and Bonds (NYSEARCA:TLT).
Volume was light and breadth per the WSJ was positive.

Follow us on twitter and become a fan of ETF Digest on facebook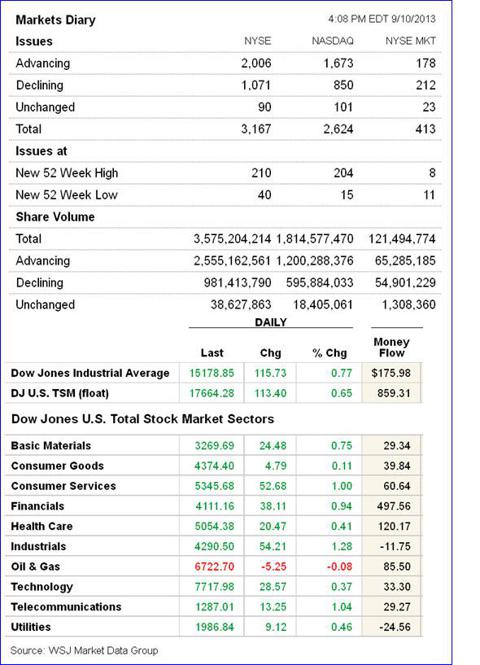 NYMO

The NYMO is a market breadth indicator that is based on the difference between the number of advancing and declining issues on the NYSE. When readings are +60/-60 markets are extended short-term.

NYMO

The McClellan Summation Index is a long-term version of the McClellan Oscillator. It is a market breadth indicator, and interpretation is similar to that of the McClellan Oscillator, except that it is more suited to major trends. I believe readings of +1000/-1000 reveal markets as much extended.

VIX

The VIX is a widely used measure of market risk and is often referred to as the "investor fear gauge". Our own interpretation is highlighted in the chart above. The VIX measures the level of put option activity over a 30-day period. Greater buying of put options (protection) causes the index to rise.

SPY 5 MINUTE

SPY DAILY

.SPX WEEKLY

INDU WEEKLY

INDU WEEKLY

RUT WEEKLY

QQQ WEEKLY

QQEW WEEKLY

FDN WEEKLY

SMH WEEKLY

XLY WEEKLY

XLF WEEKLY

IBB WEEKLY

ITB WEEKLY

IYR WEEKLY

IYT WEEKLY

TAN WEEKLY

TLT WEEKLY

UUP WEEKLY

FXE WEEKLY

FXY WEEKLY

GLD WEEKLY

GDX WEEKLY

SLV WEEKLY

GCC WEEKLY

USO WEEKLY

VEA WEEKLY

VWO WEEKLY

EWG WEEKLY

EPOL WEEKLY

EWA WEEKLY

AAXJ WEEKLY

EWY WEEKLY

EWZ WEEKLY

FXI WEEKLY

HAO WEEKLY
...
It seems only fair that Putin should get a Nobel Peace Prize don't you think? Perhaps Obama could give him his and he could keep the cash.
The market rally continues with only the Fed taper in the way now. A look at the NYMO above might advise you to wait on a move higher as we're almost short-term overbought.
The Apple move demonstrates when hyped new products disappoint. There's no big whiz-bang deal in these new products. There will always be pirating of products in Emerging Markets. If the price is $99 then some will find a way to offer them in the black market for $49.50.
Personally, I'm very suspicious of this change in the DJIA components. Again, it's a price weighted index and the three new issues have high prices while the discarded stocks are the opposite.
What's next? Wholesale Trade data and that's about it.
Let's see what happens.
Disclaimer: The charts and comments are only the author's view of market activity and aren't recommendations to buy or sell any security. Market sectors and related ETFs are selected based on his opinion as to their importance in providing the viewer a comprehensive summary of market conditions for the featured period. Chart annotations aren't predictive of any future market action rather they only demonstrate the author's opinion as to a range of possibilities going forward. More detailed information, including actionable alerts, are available to subscribers at www.etfdigest.com.
Disclosure: I am long QQQ, FDN, XLY, IBB, IYT, TAN, GLD, USO, VEA, EWG. I wrote this article myself, and it expresses my own opinions. I am not receiving compensation for it. I have no business relationship with any company whose stock is mentioned in this article.