Apple (NASDAQ:AAPL) held its long awaited product announcement Tuesday and it was full of excitement. The new, lower cost iPhone 5C was announced and it is a gem.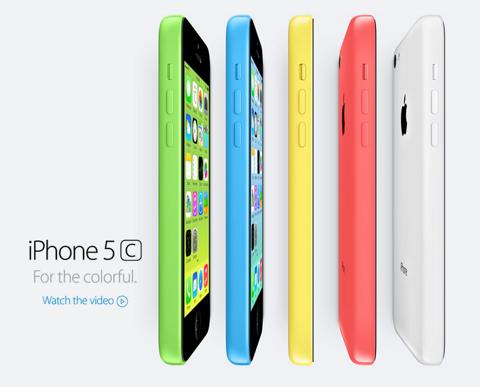 Colorful and powerful, the iPhone 5C will be released in days and is priced to sell at $99 for the 16GB version and $199 for the 32GB with a two-year contract.
The iPhone 5C will use the same processor as the existing iPhone 5. It should encounter high demand through carriers. Apple will sell an unlocked version on its web site for $550 which does not seem low-priced.
At the same time, Apple released its new high-end iPhone, the 5S. It also sports a lot of improvements including an upgraded A7 64-bit processor, fingerprint recognition, improved camera and iOS 7. This is an incremental improvement with no breakthrough technologies but a lot of nice features and should do reasonably well in the market. The fingerprint reader allows the user to log on without a password and buy from the iTunes store directly with the fingerprint ID rather than the usual log on name and password for the store, a real convenience in my view.
There was no iPhablet announced and this is more likely a positive than a negative since, although this end of the market is very popular in Asia, the cannibalization of iPad and iPhone could have been material. No China Mobile (NYSE:CHL) deal was announced, but that may come tomorrow as Apple hosts a launch event in that country.
The steps Apple has taken are aggressive and directionally the right ones. What do they mean for the stock?
The current quarter will not be much changed as a result of the announcements although there will be a few days of sales of the new phones. I think at best Apple will meet its guidance for the quarter more or less and the stock reaction will be moderate in either direction unless there is something dramatic in guidance. The real test is the holiday season. Last year in the quarter ended December 31, 2012, Apple sold 47.8 million iPhones and 22.9 million iPads.
With these new products out and plenty of time for Christmas, I am of the view that Apple has a shot at year to year growth in iPhone volume and could reach 50 million units. Average selling prices are likely to continue to fall somewhat, and my view is they will do well to hold onto a $550 ASP. iPad volumes have been under pressure and continued share losses are likely, so a good quarter might see 20 million iPads at an average selling price of $425. Sales of 4 to 5 million Mac computers are reasonably possible at an average selling price of $1,250 more or less.
That would give Apple revenues of about $49 billion for the quarter, allowing $6 to $7 billion for iPods, iTunes and accessories. Margins of about 35% are in the ballpark of reality and should total somewhere over $17 billion and operating expenses run about $4 billion, so pre-tax profit of $13 billion and after-tax profit of $10 billion assuming a tax rate of 25%. Not shabby but not much different than the $9.5 billion turned in for the December quarter of 2012.
If things pan out this way, Apple shares will head south again to reflect the maturing of the industry and the fact that the incredible profits of a few quarters ago are part of the history of the company but not its future.
A deal with China Mobile could materialize and add to these data. The best review of this potential in my view was recently published by Forbes based on analysis by Trefis, which sees a case for the stock in the $600 range over time.
While I am currently short Apple calls and puts at a $500 strike, I may cover the calls and the short puts ride if a China Mobile deal does come through, depending on its details, of course. Otherwise, I remain bearish on the outlook for Apple's stock but an admirer of the company and its products.
Disclosure: I am short AAPL. I wrote this article myself, and it expresses my own opinions. I am not receiving compensation for it (other than from Seeking Alpha). I have no business relationship with any company whose stock is mentioned in this article.
Additional disclosure: I am short Apple calls and puts both at $500 strike with expiry January 2014.