Apple's (NASDAQ:AAPL) September 10 iPhone event went pretty much as expected. There were the iPhone 5c and 5s phones with the expected colors and features, and iOS 7 which had been previewed back in June. But no larger screen iPhone or announcement of a deal with China Mobile (NYSE:CHL). For many Apple observers and investors, the only surprises were on the negative, and the stock lost over 2% on the day.
Smart Phone History
Nevertheless, Apple made history with the first ever 64 bit processor for a smartphone, the A7 SOC (system on chip), which will be in the new flagship iPhone 5s. Until now, all smartphone SOCs were based on 32 bit processing architectures from Intel or ARM Holdings (NASDAQ:ARMH). ARM had introduced 64 bit processor designs, but no one had put a 64 bit ARM processor into a phone.
Going to 64 bit processing means that the A7 is about twice as fast as the previous generation A6 SOC in the iPhone 5, according to Apple, and this speed scaling is typical for 32 bit vs. 64 bit processors. Presumably, the A7 is a dual-core design like the A6.
Almost as important, Apple has finally moved their fabrication process from the 32 nm of the A6 to a new 22 nm class process. This can be deduced from the Apple claim that the A7 has about 2x the transistor density of the A6.
Both changes are extremely important for Apple to be competitive with Android and Windows devices that will feature the new Bay Trail SOCs from Intel (NASDAQ:INTC). The Intel Atom devices will also use Intel's 22 nm process, and will also feature 64 bit processing.
In order to remain competitive, Apple had to move to a 64 bit architecture as well as a ~22 nm process. The exact nature of the A7 architecture and process are still TBD, and I wouldn't try to claim at this point that the A7 achieves performance parity with Bay Trail, but it probably keeps Apple close enough that it won't matter to consumers. No doubt, teardown experts such as Chipworks will have a go at the A7 as soon as the iPhone 5s is available on 9/20.
Despite the predictions of some Intel supporters that Bay Trail meant "game over" for the ARM ecosystem, the A7 bears out my expectation that both architectures will be able to survive and compete vigorously. Especially since the A7 arrives just a little ahead of Bay Trail and effectively about a quarter ahead of Merrifield, Intel's Bay Trail derived SOC for smartphones. Unless some other ARM manufacturer introduces a 64 bit processor, Apple will have the only 64 bit smartphone for at least the next 3 months.
The A7 also sets Apple up for a new faster iPad, which will probably feature an A7x SOC with even more graphics processors to support the iPad's larger screen size. This will help Apple compete against formidable Haswell equipped Windows 8.1 tablets as well as Bay Trail Tablets running either Windows 8.1 or Android. The competition for Apple will be very tough, but at least the A7(x) keeps Apple in the game.
As if to emphasize that the A7 is powerful enough to get serious work done, Apple is now giving away their excellent productivity suite iWork, which will be available for free download to any iOS 7 user.
Product Diversity Finally Comes to iPhone
For some time I and many other analysts have been advocating that Apple diversify the iPhone product line, especially with a lower cost iPhone, rather than merely offering older obsolete iPhones at a discount. At the event, Apple unveiled the low cost iPhone 5c, which will sell for roughly half the price of the iPhone 5 with the usual carrier contract. The lower cost iPhone 5c uses a polycarbonate case, but I expect that much of the cost saving also derives from moving A6 SOC production to the new 22 nm process as well, reducing the chip area and therefore the production cost per chip.
Hopefully, the 5c will be just the start of the diversification trend. Apple badly needs an iPhone with a larger screen. Yes, I know Apple has maintained that its current 4 inch screen is optimal, but the popularity of larger ~5 inch screen phones really can't be disputed.
Here we see Apple management still hamstrung by its own ideology. We've heard Cook repeatedly say that Apple "just wants to build the best" device. But what is "best" is in the eyes of the beholder. There really is no such thing as an objective "best" when it comes to consumer electronics. If consumers have a need for a larger screen phone, Apple should be willing to meet that need.
More to be Done
I'm confident Apple eventually will. When I wrote, "What Tim Cook Must Do to Turn Apple Around," I advocated lowering margins and competing on price, increasing R&D spending, and diversifying the iPhone and iPad product lines, and we've seen progress in all of those areas, although more slowly than I would like. In Q2, Apple's gross margin fell to below 37% and operating margin fell to 26% as R&D spending grew as a percentage of revenue to over 3%. With the iPhone 5c, Apple has shown that it's willing to compete on price as well as diversify the iPhone product line.
These changes are welcome, but they aren't happening fast enough. Apple's iPhone market share declined from 18.8% in Q2 2012 to 14.2% in Q2 2013, according to Gartner. Apple's tablet market share declined even more alarmingly, from 60.3% in Q2 2012 to 32.5% in Q2 2013, according to IDC. While iPhone unit shipments saw 10% year-over-year growth, iPad unit shipments actually declined by 14.1%. The new iPhones and forthcoming iPads will probably arrest these market share trends, if temporarily. These new devices simply should have arrived earlier.
Does Cook Get it?
The key to faster product introductions is greater R&D spending. I've compared Apple's R&D spending as a percentage of revenue to its key mobile competitors Microsoft (NASDAQ:MSFT) and Google (NASDAQ:GOOG), as in the table below.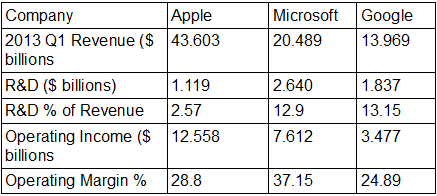 Some readers roundly criticized this comparison as unfair, because it was claimed that Microsoft and Google were "software companies," but in fact all three companies have evolved or are evolving into integrated devices companies in which they provide the mobile OS, applications, cloud services, and hardware. In Q2, Apple's R&D spending rose to 3.3% of total revenue.
I'm convinced that Cook understands the need to increase R&D spending, but it just isn't easy to spend that much money wisely. Doubling Apple's Q1 R&D budget, which I've advocated, would mean spending an extra $1 billion a quarter. To do this, new facilities have to be bought or built, researchers hired, and a mound of research proposals have to be sifted through for the ones most likely to succeed as consumer products. All this takes time.
I expect Apple's R&D spending to continue to increase. Apple's accelerated R&D spending has already yielded an important innovation, the A7 SOC, which will power a number of consumer devices. Investors should continue to monitor Apple's R&D both for spending as well as translation into compelling products. Product introductions in the coming months will be crucial.
But in the end, the most important metric for Apple investors in the near term is market share performance in smartphones and tablets. Further declines in market share will only serve to enhance the "Apple is on the decline" vision which drove down Apple's share price earlier this year.
Disclosure: I am long AAPL, INTC. I wrote this article myself, and it expresses my own opinions. I am not receiving compensation for it (other than from Seeking Alpha). I have no business relationship with any company whose stock is mentioned in this article.