Intel (NASDAQ:INTC) held day one of its International Developers' Forum (IDF) today and made a couple of major announcements which the market has largely ignored. First, it announced the world's first 22nm smartphone with LTE. Phones using this advanced Intel technology can achieve download speeds of 35 to 70 Mbps according to Intel. That makes streaming video to your phone a reality.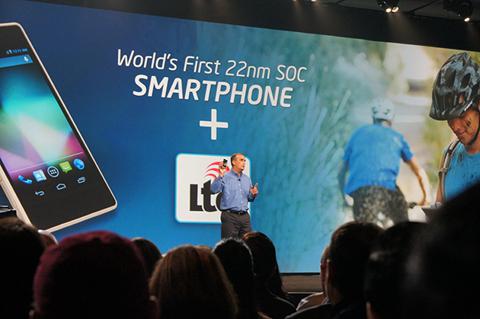 Click to enlarge
In parallel, Intel made a surprise announcement of a tiny chip designed for the Internet of things called the Quark. The chip is one fifth the size of an Atom chip, has more processing power and consumers one tenth of the energy.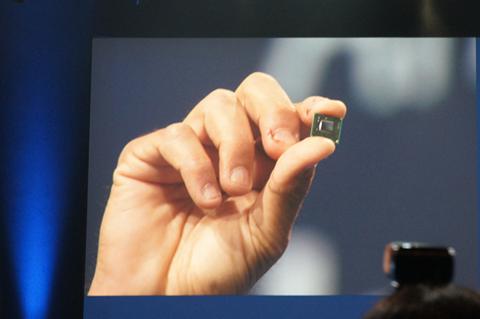 Click to enlarge
The Quark will find its way into dozens of future wearable devices and will have medical applications as well. It is easy to imagine hundreds of millions of these tiny chips in a myriad of new products in vending machines, cars, appliances, smart watches, toys and specialty goods.
Intel's pace of progress is so fast that it can only make competitors cringe, in my opinion. This is not the stodgy Intel of a couple of years ago.
PC Magazine reports that
"Intel wants tablets to be available with all types of Intel chips, on Android and Windows operating systems, at prices even less than $100-something he promised will be available for purchase by the holidays." (emphasis added)
Windows and Android tablets powered by Intel processors at less than $100 will, in my opinion, be massive volume items and will give Apple (NASDAQ:AAPL) iPad minis a real run for their money.
The tablet market is now about 200 million units with the growth greatest in lower priced tablets. Tablets selling for less than $100 should command at least 10% of the market and if half of these are powered by Intel chips an added $2 billion of revenue will find its way to Intel based on a $20 price per chip.
Intel chips are already finding their way into the upper end of the tablet market with both Windows 8 and Android devices. Best Buy lists over 100 variants of such tablets powered by Intel processors, and more are being released every week it seems. I expect we might find another 10% of the tablet market powered by Intel at the high end in 2014, this time at a price of more like $40 per chip, for another $4 billion in sales.
The company also reportedly showed off a fan less ultra book PC based on the 14nm Broadwell technology Intel plans to have in the market next year. According to the report, both i5 and i7 processors will be able to run without a fan and will offer 30% more power than Haswell based-systems just being introduced now. The pace of change at Intel has never been faster.
The new Haswell based ultra books are likely to spur an upgrade cycle which should really gather steam with Broadwell's release in 2014. All day battery life, thin fan less designs and more power than is found in any laptop today is a compelling combination. That upgrade cycle may stem the decline in PC sales that has plagued Intel and, when combined with modest growth in servers where Intel has also released new lower power consumption and more powerful processors, suggest that revenue from Intel's traditional source should at least flatten and might even grow.
In my view, 2014 will begin a reversal of Intel's fortunes with something like 8 to 10% revenue growth and net income north of $2.25.
The stock barely budged on the news out of San Francisco. There was no word on any contract wins that I could find, so perhaps that is why the market reaction is muted. But these advances are significant, the computing wars are in full swing and Intel looks like it has the armament to be a winner.
I am long Intel calls.
Disclosure: I am long INTC. I wrote this article myself, and it expresses my own opinions. I am not receiving compensation for it (other than from Seeking Alpha). I have no business relationship with any company whose stock is mentioned in this article.
Additional disclosure: I hold calls on 250,000 Intel shares