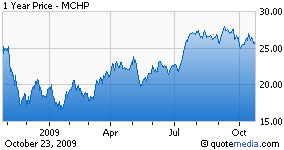 Microchip Technology, (NASDAQ:MCHP), a tech stock from our High Dividend Stocks tables has the second highest dividend yield, 5.13%, in the specialized semiconductors sub-sector. Like most other chip companies, they've been hurt in the downturn, as evidenced by their falling revenue and income for the period ending 6/30/09.
However, better news may be in store for investors when they report on Nov. 4th. Barron's recently reported that "channel checks and corporate booking trends suggest that chip companies will beat 3rd quarter estimates". Since chip companies have recently lagged the market, there should be some value in some of these stocks, such as MCHP.
MCHP looks good in our Industry Comparisons, besting their peers in several key ratios.
MCHP has a low debt-to-equity load of 23%.
The net annualized yield for selling April 2010 $25.00 covered call options on MHCP is approximately 19% NET, with MCHP's price of $25.29 Friday.
MCHP also has put options available. Just check our Covered Put Tables for the current annualized yield for selling puts on MHCP.
Value and Income investors looking for dividend paying stocks in the tech sector may want to follow MCHP's earnings report in early November.
Disclosure: No positions.