On Tuesday the entire world watched as Apple (NASDAQ:AAPL) announced that it will release two brand new iPhones on September 20. They will be available for pre-order this Friday. Everything was perfectly staged so that all viewers would give the company their undivided attention. The "free" presentation style that was perfected by Steve Jobs, is actually quite brilliant, and is now copied by many big tech companies introducing their new "sexy" devices to the public. Yankee Group analyst Carl Howe estimates that these events themselves generate $300 million in free publicity. This month Apple will sell its 700 millionth iPhone.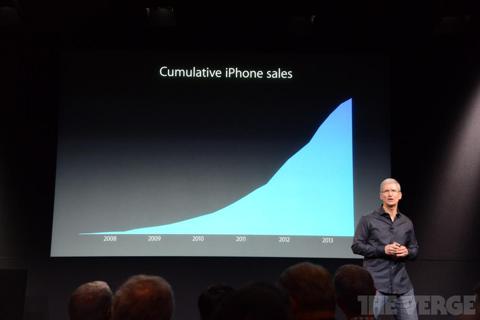 The Verge, my "go to guys" for this type of event did another excellent job of producing their live-blog. There was a lot of Apple news, which goes beyond the scope of this one article. But if you are interested in doing more research, I would suggest that you watch the event.
On September 18, iOS7 can be instantly downloaded to:
iPhone 4 and later
iPad 2 and later
iPad mini
iPad touch (5th generation)
At that time Apple's new exclusive iTunes radio will go live on iOS 7 devices. According to Apple CEO Tim Cook (pictured above), "iOS 7 will quickly become the world's most popular operating system". Craig Federight added that "hundreds of millions of people will download it "virtually overnight". As I noted on July 13, this is designed to make iTunes radio the largest streaming radio provider. At that time I was not sure if the older iPhones would get the new operating system. So this will add huge numbers to my original estimates. I predicted that the new service would pass Pandora (NYSE:P) by the end of the year, by virtue of registered listeners. However, I now think that target is wrong. It will happen much sooner than that. But Pandora investors have stayed the course, and the stock is up 100% for the year.
According to an article in The New York Times the new service is a threat to Pandora, but it is hard to know what the impact will be. Unlike Pandora which operates exclusively in the United States, Apple plans to eventually launch the radio service internationally. The iTune stores are currently in 119 countries:
"It's a huge opportunity on a global basis to accelerate the transition of radio listeners and advertising dollars from terrestrial to digital," said Stephen Bryan, the executive vice president for digital strategy at the Warner Music Group, which releases music by Green Day, Bruno Mars and hundreds of other acts.
Something that many analysts may not have considered is the fact that the service can and probably will advertise Apple products based on who the listener is (they will be registered by their device unlike Pandora), and what they are listening to. This will sell even more iProducts.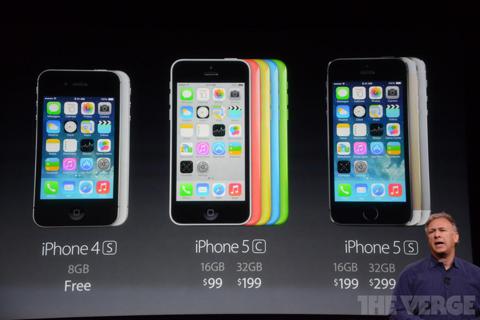 The new iPhone 5C which is an updated iPhone 5 with tough "unapologetic" plastic hardware will appeal to the younger budget conscience consumer. It comes in white and four other fun colors. The 16GB version can be purchased for only $99 with a two year contract. And as someone at the presentation remarked (not sure who) it is "Android free". But investors seemed disappointed that the price was so high without a contract:
Wall Street was expecting Cook to think different. Once the unsubsidized 5C price of $549 was posted on Apple's website, the stock sold off. After holding around $500 during the presentation, the stock dropped as low as $489.50 before recovering a bit to close at $494.64.
But as many analysts recently remarked, the share price may have had the new phones baked in to the shares which have jumped over $100 in less than 30 days. Many investors truly will "sell the news". I think that is what is happening with Apple, as we go into the "wait and see" period.
The 5C will have a higher than average gross profit (link above) compared to the rest of the company. This combined with booming sales would send earnings significantly higher.
Brian Marshall, who heads the technology analyst team at ISI, expects the 5C will have a gross profit margin of 40%, higher than Apple's overall 35.6% rate last quarter and likely better than the iPhone 4S. So growing mid-tier sales will help profits start growing again - a top concern of investors.
The new Flagship phone is the iPhone 5S which is absolutely glamorous. It comes in Slate, Gold and Silver, and will target a more sophisticated customer. There are numerous changes that have been added including the first ever 64 bit chip to be put into a smart phone.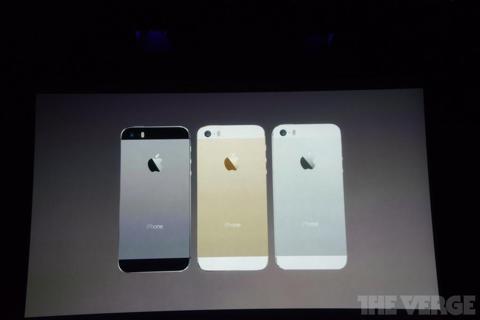 One of the biggest changes is to the camera, lens, flash and pixels. It is so nice to leave the big clunky digital camera at home now with all of the great new smart phone cameras on the market. And if the 5S did not have the new camera, I would probably settle for the new 5C. But the pictures from the 5S are incredible.
Another new feature is the fingerprint scanner, which is designed to add extra security to your phone. But some analysts remain skeptical, because the technology can be very temperamental:
Some laptop computer manufacturers began building such scanners into their machines more than a decade ago. But despite the 007-like cool factor, the technology proved too temperamental for most consumers.

"It was not reliable to use on a daily basis," said Kevin Mahaffey, chief technology officer of Lookout Inc., a mobile cybersecurity company, who tried to be an early adopter of the technology a decade ago when he bought a fingerprint scanner for his desktop computer.
According to the Verge, during the live "hands on" segment of Tuesday's event, there was not an opportunity to actually try out the new Touch ID scanner which is located directly above the sapphire crystal home button:
We watched the fingerprint sensor unlock the phone quickly and easily (though we didn't get to try it ourselves), but presumably these were ideal conditions with iPhones that were fully acclimated to their handlers. That's not to say we don't think the fingerprint will be a great and fast experience for most users - Apple has clearly put more effort into this sensor than the failures we've seen on some Android phones - but we can't vouch for it until we've tried it ourselves.
This might require a "wait and see". Usually problems will show up in the first few weeks, and at Apple the consumers are more vocal about problems than they are with other companies, in my opinion. The screams of "Scuffgate" last year were heard loud and clear by investors and analysts alike. Last October I wrote that if the iPhone 5 problems were not solved it would take a big chunk out of the share price as the revenue for 2013 would drop:
The cure is simple: find a new "non-chipping" finish for the phone. Until then iPhone5 revenue will continue to decline due to the lack of acceptable inventory.
And Tuesday Cook did the unthinkable. He discontinued the iPhone 5. The company took a huge step forward by changing the case completely on the 5C and removing the black aluminum phones from the 5S collection. Instead the slate, silver and gold will be much less likely to show scratches, while the user continues to enjoy the light weight phone. The new phones that came out today are going to sell like little hot cakes. And due to the changes in design, I do not see any production problems ahead. Barring any unforeseen macro problems, these iPhones should lift Apple back up to great new heights again. If you are anxious to buy the stock, do it. Buy this little dip. But if you are still not sure, wait a couple of weeks for the kinks to fall out. The only problem is that if there aren't any kinks, the price may have gone sky high when the first sales are announced.
Disclosure: I have no positions in any stocks mentioned, and no plans to initiate any positions within the next 72 hours. I wrote this article myself, and it expresses my own opinions. I am not receiving compensation for it (other than from Seeking Alpha). I have no business relationship with any company whose stock is mentioned in this article.