The smartphone market is dominated by just two players. Users activated 1 billion Android devices and 700 million Apple (NASDAQ:AAPL) iOS devices, leaving Microsoft (NASDAQ:MSFT) and Nokia (NYSE:NOK) a distant third. This only leaves Nokia vying to grow more in market share. Thankfully, there is hope for the Windows Phone platform. This is due largely to clever marketing, a massive marketing and R&D budget, and of course, Microsoft's acquisition of Nokia's phone unit. For these reasons, investors should expect that despite the nearly 40% rise in Nokia shares over the last week, more upside exists. There are five reasons to be bullish on Nokia.
1) Marketing, at the Expense of Apple
When Apple introduced the iPhone 5S and 5C, the company said the phone would be available in five colors: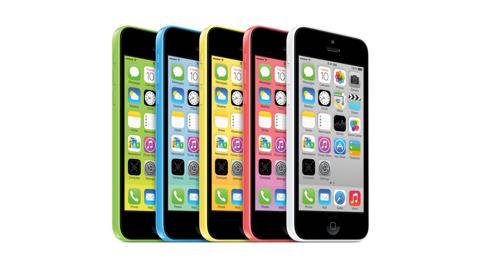 Click to enlarge
Nokia was very quick to tweet on twitter the color similarities the iPhone 5C will have to Nokia's line-up: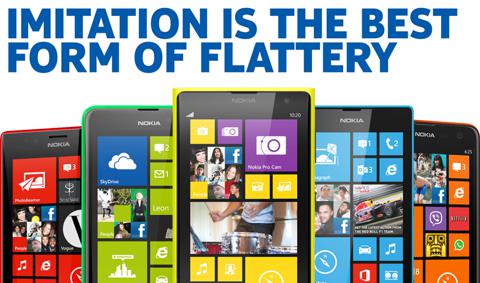 Click to enlarge
Source: Nokia (Twitter)
The post was made during Apple's announcement, demonstrating that Nokia's marketing staff is quick and aggressive in raising the public's awareness for Lumia. Since Lumia's launch, the marketing approach is bearing fruit. Its effectiveness is faster than initially thought: Windows Phone 8 reached third place in market share in May, 2013.
2) Value in Maps Realized
Nokia retained its map technology, but raised the value of it by licensing the HERE mapping geospatial location technology to Microsoft. The service already provides high value for location mapping, but Microsoft is now free to develop solutions around the location platform. Nokia is free to leverage the value of the asset in other industries.
The continued development could make the platform a viable competitor to Google (NASDAQ:GOOG) Maps. Nokia mapped over 190 countries. In the automotive sector, 4 out of every 5 cars with navigation systems use HERE maps. Very recently, Nokia partnered with Mercedes-Benz to create solutions for self-driving cars.
3) Higher Focus on Profitable Divisions
Nokia may now focus on its profitable units, especially its network division, now that its devices and services business is sold. The EUR 3.79 billion ($5 billion) price tag, along with an additional EUR 1.65 billion ($2.2 billion) from a 10-year licensing deal immediately improves Nokia's balance sheet. By giving Microsoft access to the 15-year license Nokia has with Qualcomm, Nokia is able to monetize this arrangement. Nokia also executed the option to borrow $2 billion, which will be used to help pay for its $2.2 billion buyout of its Siemens partner for NSN (Nokia Solutions Networks).
4) Expansion of Patent Licensing Activities
When AOL made a commitment to increase shareholder value by selling its patents, AOL shares soared. Nokia has 10,000 patent families, and 30,000 patents and applications. Nokia said that two-thirds of its patents will still be valid a decade from now. This means that over the long term, the value of its patent assets to be realized and returned to shareholders.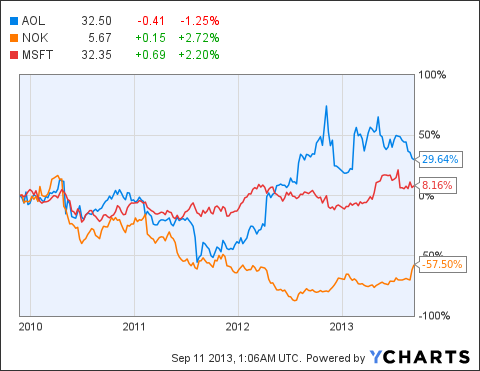 5) Special Dividend Possible
Nokia had USD $4.6 billion in cash, $4.41 billion in debt as at June 30, 2013. After the NSN buyout, Nokia likely has $6.6 billion in debt before the device and services sale to Microsoft. With $7.2 billion of proceeds from the sale, Nokia will build its excess cash levels as NSN operates profitably. Within the next few quarters, investors should expect a special dividend, a share buyback, or both.
Bottom Line
Further upside exists in shares of Nokia. Since Nokia is up 125% from a 52-week low, it would be desirable to add a position in the company on a dip. Unfortunately, positive sentiment for the company and the stock market in general for investors make this event unlikely. There are more reasons for shares to move up, which mean a greater reward for investors holding Nokia for the long term.
Disclosure: I have no positions in any stocks mentioned, and no plans to initiate any positions within the next 72 hours. I wrote this article myself, and it expresses my own opinions. I am not receiving compensation for it (other than from Seeking Alpha). I have no business relationship with any company whose stock is mentioned in this article.