Introduction
Last week it was announced that Microsoft (NASDAQ:MSFT) had acquired Nokia's (NYSE:NOK) Devices & Services division for $7B. Nokia's share price rose 45% as a response to the news, which indicates that the division is worth a lot more in the hands of Microsoft than for Nokia.
To understand the logic behind the acquisition, we first need to understand the threats it is facing.
The threats facing Microsoft
Microsoft earns the majority of its income through services such as Internet Explorer, Windows OS and Microsoft Office. Luckily for Microsoft, the entrance barriers into these businesses are quite high so Microsoft's competitors haven't historically been able to launch alternative services that have been a serious threat to Microsoft's monopoly. However, to some extent that has changed over the last couple of years. Apple has with the launch of the iPad and the iPhone been able to renew the popularity of iOS which has led to higher Mac sales.
Google is attempting to poke holes in Internet Explorers monopoly with Google Chrome. While Microsoft is still dominating the browser market in the industry, Google is using its status as the market leader in the smartphone industry to make consumers familiar with Chrome. Eventually it hopes that a high market share in handheld devices will affect its market share in the PC industry.
So to sum up, if Microsoft loses/gives up on the hardware business, then it may risk losing additional software revenue.
What the acquisition of Nokia accomplishes
While Nokia isn't dominant in the smartphone industry anymore, it is still in a decent position with the 3rd largest marketshare in the world. Over the next couple of years I expect its market share to increase as it has a good grip on some of the emerging markets with its low-end Lumia devices. While the division isn't likely to become profitable any time soon, it is important to understand that Microsoft didn't acquire it for its earnings potential. Microsoft is instead more likely to prioritize market share over high gross margins, which means that we should expect Microsoft to be willing to offer Lumia phone at a discount.
Nokia really had no other targets than to maximize earnings of its smart device division, which it attempted to accomplish by offering smartphones at reasonably high gross margins. Of course when Nokia realized it couldn't meet its sales targets at initial price offerings, it had to reduce the price of the phones in order to increase sales.
However, with Microsoft I expect that we will see a new strategy; instead of attempting to obtain decent margins on its smartphones, it will be much more willing to sell off all newly launched products at a discount. If Windows Phone has a high market in the smartphone market, Internet Explorer, Bing and Windows OS (to PCs) will be more likely to perform better as well.
So while Nokia was interested in maximizing earnings of its smart device division, Microsoft is interested in maximizing both software and hardware earnings.
Was the $7B price reasonable?
We have now established that there are clear synergy-effects between the smartphone business and Microsoft's other businesses. However, that doesn't imply that Microsoft didn't overpay for the acquisition. In order to estimate the fair value of Nokia (from the viewpoint of a Microsoft shareholder), we need to divide the acquisitions into 4 parts;
The I&P part, which was purchased for $2.15B
The Mobile phone business isolated
The market value of the smartphone business isolated
Synergy effects
Over the last twelve months, the mobile phone business had an operating profit of $555M. Since mobile phones are likely to grow at a negative rate in the future, I believe it should be valued at a low P/E-ratio. Let's use a ratio of 4 for that business, thus the fair value is roughly $2.2B of the mobile phone business.
For the smartphone division, Microsoft (in its presentation) estimated a market value of $15B which implied a global market share of 15% in 2017. However, that seems like quite an optimistic assumption. Let's instead try with some assumptions I consider to be more reasonable;
Lumia's global market share increases from 2.37% to 5.5% in 2017
IDC's forecast for the smartphone industry are assumed to be correct
Gross profit per Lumia is assumed to be $45
OPEX on an annual basis is assumed to be $2B
A discount rate of 10%
Growth after 2017 is expected to decline by 5% annually.
Given those assumptions, the estimated market value is $7.4B (below table). With these assumptions, Microsoft needs to sell roughly 60M devices annually to break even. This differs from my previous estimate of 44.5M as I now expect Microsoft to offer less profitable devices in its quest for market share.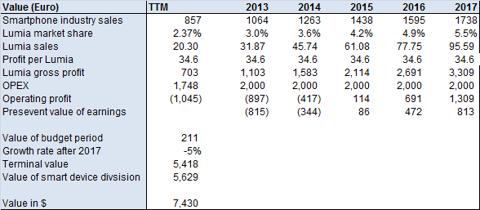 Given these assumptions, this is a fantastic acquisition for Microsoft's shareholders. However, in the below table I run the same numbers with one simple change: Lumia's market share will be constant throughout the budget period. Suddenly, you'll notice that the division is very unprofitable and Microsoft's shareholders appear to be the big losers.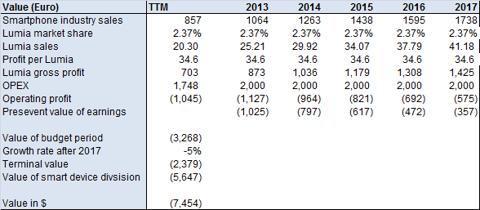 Final words
Take my estimated value with a grain of salt. The smart device division is too sensitive to changes in the assumption for these types of valuations to be truly useful. Instead, you should think about the acquisition in this way:
- If the market share is maintained: Synergy effects need to have a value of $10B or more to be considered a profitable acquisition
- If the market share increases: Even if synergy effects have little or no value, the acquisition will stay pay off.
- If the market share declines: Synergy effects will likely be too insignificant for the acquisition to be considered profitable.
Disclosure: I have no positions in any stocks mentioned, and no plans to initiate any positions within the next 72 hours. I wrote this article myself, and it expresses my own opinions. I am not receiving compensation for it (other than from Seeking Alpha). I have no business relationship with any company whose stock is mentioned in this article.