On Sept. 3, 2013, early morning, Microsoft (NASDAQ:MSFT) announced that it would acquire Nokia's (NYSE:NOK) (based in Finland) phone business and license patents for $7.2 billion. This strategic acquisition of Nokia by Microsoft is a move to compete in the mobile handset market which is predominantly captured by Apple and Samsung.
At the introduction of Nokia in 1995, it dominated the cell phone market, but in the last FY13, it ceded its leadership position in India to Samsung (OTC:SSNLF). Since its entry, it had an enormous market share of approximately 70%, which fell drastically to 27% as reported in 2013. Nokia's market share started declining when the concept of a 'dual-SIM handset' was launched by its competitors and to which it responded late in the market.
According to a survey released by a Telecom industry journal named "Voice & Data", it was revealed that Nokia India had to face two embarrassing blows in 2012-13. Firstly, Nokia ceded its leadership in terms of revenue to Samsung. Secondly, in a market where the industry's revenue grew by 14.7% and the revenue of its leading rivals grew in multiples, Nokia was inefficient enough to bag in revenues and tumbled down among the top 10 companies whose revenues declined by 18%, along with BlackBerry (NASDAQ:BBRY) who recorded a decline of 23%.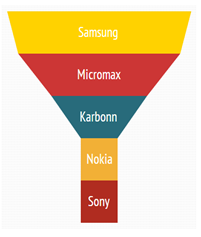 As per the analysts, the dramatic acquisition of Nokia's global cellphone segment by Microsoft will possibly reduce the prices of Lumia worldwide, including India, by the next year. This can possibly alter the dynamics of the fast-growing smartphone segment of the country. As per IDC, in the April to June quarter, India's smartphone market is currently captured by Samsung and is leading the market with an approximately 25% share which is followed by Micromax just a couple of digits behind with 22%. Karbonn is successful in bagging the third spot in the Indian smartphone market with 13%. Nokia and Sony currently hold only 5% of the market share.
The Senior Market Analyst with IDC's Client Devices group, Kiranjeet Kaur said, "The key for growth in this market, as with most emerging markets, is a low-priced phone equipped with a large screen and dual SIM slots. The dual SIM phenomena, which had accelerated the growth of local vendors in feature phone, turned to dual SIM smartphones flooding the Indian market. Topped with an attractive sub-US$200 price tag, these smartphones are highly attractive".
As per the industry executives and analysts, it is said that the deal will place Microsoft, the leading hardware and software service player, in a better position across the globe, and will efficiently help it to take on its competitors more aggressively in both the domestic and global market. They added that in India, only 10% of the 870 million cellphone users own smartphones, which can prove to be a key growth market for the company headquartered in Redmond. But there's an another side to it where it is felt that Microsoft means to exclusively focus on the smartphones and exit from the cellphone segment which accounts for 90% of cellphone users in India.
Manasi Yadav, a Senior Market Analyst with IDC India says, "The growth in the India smartphone market is driven by consistent performance by local vendors who accounted for more than half of the total smartphone market in 2Q13. These vendors have been scaling up operations owing to rising migration of the user base from feature phones to smartphone".
The fastest mobile-software platforms Windows with 20 million global sales; carriers like China Mobile (NYSE:CHL), AT&T (NYSE:T) and Verizon (NYSE:VZ) in the U.S. are choosing Lumia to bundle their service plans on; which registered a 33% QoQ growth in the previous quarter.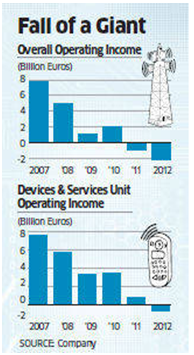 The former Managing Director of Microsoft India, Rajiv Kaul, has told Economic Times that this acquisition may positively help in flowing new devices at lower rates into the Indian Market. He said that the costs may be reduced by $30-40 (approx Rs. 2,040-2,720) per handset. He added, saying, "Much like Google, Nexus phones of comparable specifications are cheaper by $30-40 and in some cases even $100 (Rs 6,800) than rivals."
A senior practice director and a mobile devices expert who previously worked at BlackBerry and is now with ABI research's New York based market research firm, Nick Spencer, said that the prices of Lumia 520 may reduce to half of its existing price, which will cost less than $100 within few months after the close of the deal, which is expected to be in 1Q14. Nokia has a diversified portfolio of 12 Lumia handsets which ranges from Rs.10K to Rs.33K.
The sales of Lumia grew by 27% alone in India over the previous quarter. Nick Spencer agrees that Nokia has an opportunity in India but adds that it has to be seen in the context of current consumer preferences and the quandary it poses for Nokia India. "The high end is dominated by Android (Samsung) and iOS (Apple). Windows (Nokia) is not a competitor ecosystem-content and apps are not there," says Spencer.
Hari Om Rai, the co-founder of Lava remarked that there is likely a chance of such a price war front. He also said, "Microsoft phones will be cheaper than the current models they (Nokia) have, but only marginally, as the cost of hardware is almost the same for all players."
India is still the second largest market of Nokia, dominated by the feature phones, which account for a major chunk of sales for the Finnish company. Nick Spencer from ABI Research said that there might be possible chances where Microsoft moves the Nokia business from feature phones to focus more on smartphones. If Microsoft opts to roll out from the feature phone market which accounts for 90% of the overall handset market in India, it will open opportunities for other Asian phone makers.
Winning the Windows operating system will consume time. The chances of Nokia winning that battle lies in emerging markets like India rather than the western markets. In the developed markets, the smartphone has penetrated and captured around 50% of the market share, while in India it's about 10%, and the market is now experiencing the inevitable shift from feature phones to smart phones.
If Microsoft solely focuses on smartphones, it will be an attractive proposition, as India at the same time has an under penetrated and fast-growing smartphone market. According to the estimates of the consultancy firm McKinsey, it is stated that over 200 million Internet users in India are expected to switch on wireless mobile devices by 2015. "There's a huge untapped smartphone market in emerging economies from India, Asia, Africa to Latin America," said Katyayan Gupta, mobility analyst, Asia-Pacific, Forrester Research.
It is now up to Microsoft regarding its strategic decisions, in case of either focusing solely on smartphone productions or producing the feature phones as well. Nokia devices have now been named the "least favorable devices" and any new devices flowing from this deal can help Microsoft to lead the market and position itself as well as Nokia dominated the market in 1995.
The Managing Director of Nokia, Paul Balaji, believes Nokia has had a turnaround and will reap the benefit from a "multiplicative effect" characteristic of technology waves and said "A few quarters on, you will see us become significantly larger. That is for sure." He also added that Nokia will soon be a leading player.
Disclosure: I have no positions in any stocks mentioned, and no plans to initiate any positions within the next 72 hours.
Business relationship disclosure: The article has been written by an Analyst at ResearchCows, ResearchCows is not receiving compensation for it (other than from Seeking Alpha). ResearchCows has no business relationship with any company whose stock is mentioned in this article. Any analysis presented herein is illustrative in nature, limited in scope, based on an incomplete set of information, and has limitations to its accuracy. The author recommends that potential and existing investors conduct thorough investment research of their own, including detailed review of the company's SEC filings, and consult a qualified investment advisor. The information upon which this material is based was obtained from sources believed to be reliable, but has not been independently verified. Therefore, the author cannot guarantee its accuracy. Any opinions or estimates constitute the author's best judgment as of the date of publication, and are subject to change without notice.