Political tension and volatility in the Middle East play a large role in oil-related assets. However, U.S. energy infrastructure exchange traded funds are less affected by swings in oil.
For instance, the Global X MLP & Energy Infrastructure ETF (NYSEARCA:MLPX), which tracks midsized oil and gas pipeline operators, provides exposure to the growing U.S. energy industry without direct exposure to volatile oil prices, reports Javier E. David for CNBC.
"This is what some people refer to as the toll road business model in the energy space," Bruno del Ama, Global X's CEO, said in the CNBC article. "You in essence own a pipeline that connects refinery down to distribution. They are collecting a fee every time as long as there is natural gas or oil flowing through those pipelines."
These pipeline operators generate revenue through transporting oil and gas. Consequently, the businesses are more affected by how much they transfer and less about how much the commodity costs.
"It's the type of asset that's really not correlated with commodity prices, it's correlated with activity," del Ama added, describing the sector as a type of "arbitrage to move oil from point A to point B."
The Global X ETF's top holdings include Transcanada 8.8%, Enbridge 8.7%, Kinder Morgan 8.7%, Williams Cos 8.0% and EQT 6.6%. MLPX only allocates 25% of its holdings to master limited partnerships to limit tax hassles associated with MLP ETFs.
Global X's del Ama also points out that the fund will also benefit from the growing U.S. energy industry with its tilt toward smaller players.
"To the extent that the energy renaissance we've experienced, if that continues, it certainly is a positive for the industry," del Ama added.
MLP ETFs are also known for their dividend yields.
Global X MLP & Energy Infrastructure ETF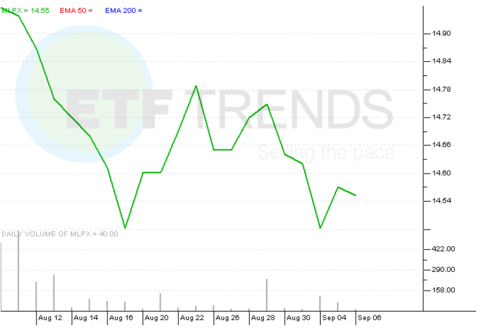 Click to enlarge
Max Chen contributed to this article.
Disclosure: I have no positions in any stocks mentioned, and no plans to initiate any positions within the next 72 hours. I wrote this article myself, and it expresses my own opinions. I am not receiving compensation for it. I have no business relationship with any company whose stock is mentioned in this article.