A number of positive peer-reviews evaluating Spectrum Pharmaceuticals (NASDAQ:SPPI) radio-immunotherapy (RIT), Zevalin® were published this month. The conclusions drawn in these reviews were made from unbiased medical professionals, and indicate that the prospects for Zevalin may be greater than I originally estimated back on June 12.
Based on the feedback received from a doctor whose opinion I value, I now believe Zevalin has blockbuster potential. In general, blockbuster drugs typically generate annual revenue of $1 billion or greater.
Preliminary Facts
On

September 4, 2009

, Zevalin was approved by the FDA for use as a first-line consolidation therapy in the treatment of patients with non-Hodgkin's lymphoma (NHL).

First-line consolidation therapy follows induction therapy. Induction therapy consists of a chemotherapeutic agent taken in combination with Rituxan® and is designed to induce remission in patients with NHL. Rituxan is manufactured and sold by partners Biogen Idec (NASDAQ:BIIB) and Roche (OTCQX:RHHBY).

On

April 28, 2008

, Zevalin was approved for first-line consolidation use in

Europe

where the treatment is marketed by Bayer Schering (OTC:BYERF). For details on 17 other Zevalin trials that are currently being conducted by Bayer Schering and other investigators, please reference this June 30 article.
I have followed both SPPI and Zevalin very closely over the past two+ years. Since June 12, I have covered the company and Zevalin extensively and tried to do it accurately and honestly. Interested investors should take some time to review my other articles and familiarize themselves with both this company and its very important drug for those afflicted with NHL.

In the September 11 article, supra, I argued Zevalin could eventually become a component of the standard of care treatment for NHL in addition to chemotherapy and Rituxan. This month, evaluations of Zevalin were published in The Oncologist that support that contention – Zevalin will likely become apart of the standard of care treatment for patients with various forms of NHL.

Summaries of the conclusions drawn from each peer-review are detailed below.

1. Radio-Immunotherapy for Patients with NHL
The favorable efficacy and tolerability profile of radio-immunotherapy (RIT) makes it a promising option for patients with relapsed follicular lymphoma (FL) and transformed non-Hodgkin's lymphoma (NHL). Furthermore, the recent approval of 90Yibritumomab tiuxetan (Zevalin) for first-line consolidation treatment of FL gives another option for these patients.In light of these data, it seems reasonable to propose the use of Zevalin consolidation therapy after first remission as part of a curative strategy in an effort to improve complete response (CR) rates and potentially improve overall survival (OS). Indeed, the recent European Society for Medical Oncology guidelines have recommended the use of Zevalin in frontline consolidation regimens.Although the wide variability among patients with NHL can mean that identifying the most suitable therapy is sometimes difficult, the suggested treatment algorithm in this paper may aid in the appropriate selection of patients who could benefit from consolidation therapy with Zevalin. It is interesting to note that recent guidelines on the use of RIT recommend that RIT be used for fit patients for whom a curative approach and significant improvement in OS are both a possibility.The use of RIT may provide benefit to a wide range of patients within a variety of treatment regimens, and the guidance provided in this review can aid physicians in appropriate patient selection for treatment with Zevalin.
Source: "Harnessing the Energy: Development of Radioimmunotherapy for Patients with Non-Hodgkin's Lymphoma," The Oncologist 2009; 14 (suppl 2): 4-16 www.TheOncologist.com
2. Consolidation to Improve Progression-Free Survival in NHL
Data from clinical trials suggest that radio-immunotherapy (RIT) consolidation therapy is an important treatment approach for patients with follicular lymphoma (FL), with striking phase 3 results recently published for 90Y-ibritumomab tiuxetan (Zevalin) consolidation following induction therapy in previously untreated patients.In particular, the high rates of complete responses (CR) observed may be a key factor in preventing the relapses that are characteristic of FL.Excellent rates of partial response (PR) to CR/CRu conversion with RIT consolidation have led to significantly longer progression free survival (PFS) times, with favorable tolerability and no unexpected toxicities.

Following the release of the Phase 3 Zevalin FIT data, the European Medicines Agency (EMEA) approved its use as consolidation therapy following remission induction in previously untreated patients with FL.

Emerging data suggest that the RIT consolidation approach may also be effective in the treatment of other indolent lymphomas, such as marginal zone lymphoma (MZL), and aggressive lymphomas, such as diffuse large B-cell lymphoma (DLBCL) and mantle cell lymphoma (MCL).With such superior therapy options, the potential impact of RIT on the current and future treatment of both FL and aggressive NHL may include a shift in our approach to therapy and the adoption of RIT consolidation as a standard of care in the first-line setting.
Source: "Rationale for Consolidation to Improve Progression-Free Survival in Patients with Non-Hodgkin's Lymphoma: A Review of the Evidence,"The Oncologist 2009; 14 (suppl 2): 17-29 www.TheOncologist.com
3. Radio-immunotherapy for Stem Cell Transplantation in NHL
Interestingly, in both chemotherapy-sensitive and chemotherapy-refractory disease, augmentation of high-dose chemotherapy (HDC) with radio-immunotherapy (RIT) prior to autologous stem cell transplantation (ASCT) appears to provide better clinical outcomes than with historical data for pure HDC pretransplant conditioning regimens. Preliminary data from phase 1/2 trials show that RIT may be safely used as a single agent or added at either a high dose or standard dose to HDC preparative regimens for high-risk B-cell non-Hogkin's lymphoma (NHL) histologies (diffuse large B-cell lymphoma (DLBCL), follicular lymphoma (FL), mantle cell lymphoma (MCL), and marginal zone lymphoma (MZL).Preliminary data also suggest that RIT in combination with reduced-instensity conditioning (RIC) in allogenic stem cell transplantation (alloSCT) may improve outcome, by better disease eradication and prevention of recurrence, while maintaining the low toxicity of RIC.All these studies indicate a promising role for RIT based conditioning regimens for stem cell transplantation (SCT), particularly in patients data, large-scale trials should be performed to investigate and further confirm these key observations who cannot tolerate HDC and/or total body irradiation (TBI).
Source: "Radioimmunotherapy for Stem Cell Transplantation in Non-Hodgkin's Lymphoma: In Pursuit of a Complete Response,"The Oncologist 2009; 14 (suppl 2): 41-51 www.TheOncologist.com
The Doc's Take
After reviewing these documents, I asked a recently retired oncologist, Jerry Kallas MD, for his thoughts about the conclusions made in the articles. It should be noted that prior to his retirement, Dr. Kallas spent over 40 years treating patients with various forms of cancer. Here's what he had to say:
Justin,

The articles from The Oncologist are so on target as to Zevalin's potential to become a standard of care drug therapy for Non-Hodgkin's lymphoma. I would agree with the statement that Zevalin has blockbuster potential.

My disappointment as a retired Medical Oncologist is that I retired too soon and missed the opportunity to use the many new oncology drug therapies that are now coming to market. Yttrium 90-ibritumamab (Zevalin) is such a drug. It is showing so much potential to increase Non-Hodgkin's lymphoma treatment response rates as well as progression free survival, and in some patients can be the catalyst for a cure. It is a treatment that the Medical Oncologists will readily prescribe due to its ability to improve response and quality of life survival, as well as its low toxicity, and will likely promote a shift in the approach to lymphoma therapy using consolidation radioimmunotherapy as a standard of care in a first line setting.

Jerry Kallas MD
For SPPI, The Show Isn't Over. It's Just Beginning.
Shares of SPPI remain terribly oversold and undervalued. Third quarter earnings will be announced in mid November. At that time, I expect the company will provide shareholders with some sort of guidance on Zevalin sales.
SPPI currently has 48.7 million shares outstanding. With solid Zevalin sales over the next 3 to 4 quarters, it is easily foreseeable that shares of SPPI could trade at or near my price target of $23 giving SPPI a market value of $1.12 billion.
Caveat Emptor
Due to the manipulation of corporate equity by short-sellers as the SEC has failed to reintroduce the up-tick rule to protect those who invest in US companies, investors should ALWAYS hedge their long positions to mitigate risk of loss.
A great way to hedge long positions is to purchase put options. I follow this strategy and especially when investing in small cap drug makers. I can honestly say that I have never regretted buying puts to protect my long positions. To ensure your long-term success, be smart with your money and don't assume unnecessary risks.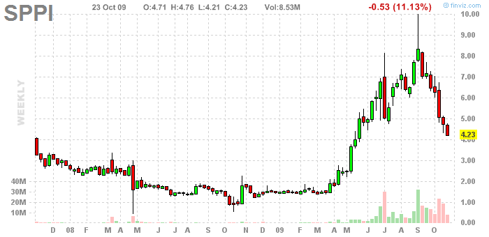 Disclosure: Long SPPI.