Several months ago when everyone was still gung-ho on Apple (NASDAQ:AAPL), I wrote an absurd article making the case that Apple needed to make several cheaper devices in order to compete with other smartphone makers (please consider: Why Apple Needs A Cheaper iPhone).
The reasons I stated then still have relevance today. They are the following:
Profits are the name of the game and not margins. At the end of the day it's how much you make and not what your margins are. If Apple could double its sales, it might not make double the money, but it will make more money.
Apple's worldwide market share has been stable at around 20%. While Apple cannot get 100% of the world market, it can achieve a higher penetration rate. In either case, Samsung (OTC:SSNLF) has won the market share game because it has a very wide diverse product portfolio that Apple does not. I mean, is there anyone that doubts that Google's (NASDAQ:GOOG) Android platform penetration is not a function of price?
China is a very important market and it is almost impossible for Apple to achieve higher penetration without a much lower priced device.
Unfortunately, Apple's new plastic iPhone 5C will not resolve these issues. As reported, in the U.S. an unlocked iPhone 5C will cost $549 and in China it will cost $730. I assume it will be in the range of $700 in Europe also.
Please remember that in most parts of the world people pay cash for their devices (something that is catching up in the U.S. also). As such, it is not easy paying a whole month's pay for an iPhone, no matter how great of a smart device it is. People simply will not buy it.
This is especially the case in China. And because the difference in price between the iPhone 5 and the iPhone 5C is miniscule (or not that big anyway), my guess is that Apple will not sell many 5Cs at all. People who intend to buy an iPhone will simply fork over a little more and get the real McCoy, the iPhone 5.
In addition, because of all the upfront costs involved to make the 5C, if I am right that Apple will not sell many 5Cs, then there is a chance that Apple's margins will be lower over the next few quarters, without the added benefit of higher profits. In other words, this whole plan might backfire for Apple in more ways than one.
I have always said Apple needs to have three main devices like Nokia (NYSE:NOK). In other words, it needs a high-end device like the Lumia 920 (the iPhone 5 covers this), the Lumia 820 (I think the 5C is in this category) and a much cheaper device in the $250 range like the Nokia 620.
Apple still refuses to cater to a wide variety of budgets. This will not be Apple's downfall or something, but in the long run it might cost in terms of market share and penetration.
Like I have said before, the iPhone is like a Maserati. You could buy a car that has similar performance to a Maserati at a much lower price, but if you had the money to buy a Maserati, you would. However, people would also prefer a cheaper Maserati as opposed to similarly priced car with better performance. The name Maserati carries a lot of clout.
By the same token, if Apple would make cheaper devices, people would prefer them as opposed to buying something with better performance characteristics for the same price. Like Maserati, Apple also carries a lot of clout. And in my opinion, Apple is missing out on sales by not having much cheaper devices.
And of course with the iPhone 5C in a wide variety of colors, Nokia took the opportunity to give Apple an under the belt blow with the ad below.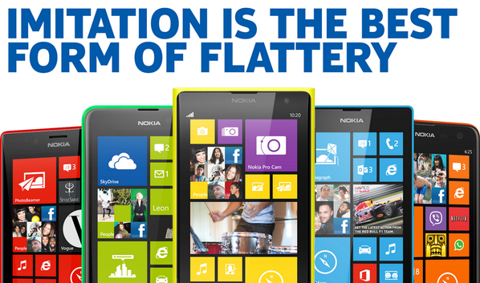 Disclosure: I have no positions in any stocks mentioned, and no plans to initiate any positions within the next 72 hours. I wrote this article myself, and it expresses my own opinions. I am not receiving compensation for it (other than from Seeking Alpha). I have no business relationship with any company whose stock is mentioned in this article.