For a company with some quite complicated insurance-based products, you have got to like the Aflac (NYSE:AFL) marketing image:

There are not many U.S.-listed companies which generate over 75% of their revenues in Japan, but Aflac is one of them.
Using information on the company's website, after initially offering a cancer insurance product in the U.S., the company introduced this product to Japan in the 1970s. Today the company is the number one life insurance company in the country in terms of individual policies in force, with over 84,000 sales agents selling their products. Rising awareness within Japan or not only the threat of disease, but also an acknowledgement that the national health system offered overall inadequate assistance, has driven its business. Cancer product market share for the company is about 80% in Japan (and for broader medical offerings around 20%).
Distribution is a huge factor in the company's success, with the Japanese bank channel being an important source of growth over the last three or four years. Looking forward the company hopes for a similar expansion of success with the branches of the Japanese Post Office after a distribution deal was struck in July. This should start to kick in more materially in 2015 onwards. It will also be targeting the 20-40 year old age group.
High market shares and strong distribution have led to strong returns (the target for group return on equity is 20-25% - very high for an insurance-related company) but also perceived volatility with the movement of the yen. Note on the 1-year share price chart below, the volatility/dullness of the shares in the first few months of yen weakness between November last year and April this year: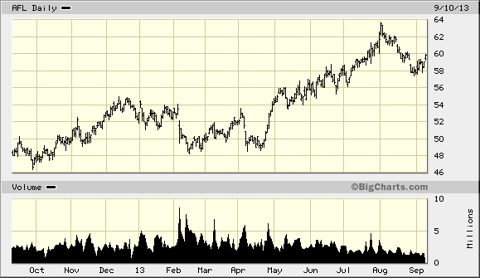 Hedges held by the company (in both the investment book of assets to counter liabilities) as well as to hedge profit repatriation are high but this factor lingers. Despite the recovery of the shares in recent months they are still only back to the level of a couple of years ago. Why is this?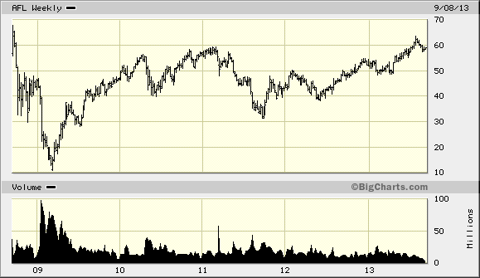 All insurance companies got hit by the volatility in financial assets during 2008-9 (and you can see this in the above chart too) but Aflac's weakness in late 2011 reflected a still large holding in European sovereign debt held as part of its investment book. The company has used stronger bond markets since that date to reduce this position. Because of this, the company never got the perceived 'benefit' from the strong yen up to 2012.
The U.S. business focuses on supplemental insurances. In the company's own words:
we primarily distribute our voluntary insurance products at the worksite on a payroll deduction basis in the U.S. The Aflac U.S. product portfolio includes a variety of voluntary insurance products, designed to pay cash directly to policyholders when a serious medical event presents financial challenges. These payments are made regardless of any other insurance the policyholder might have.

Our group products align well with our individual product line and gives us the ability to customize our product offerings for the brokers who typically sell to the larger accounts. This is especially relevant, because now more than half of voluntary insurance products sold in the United States come from group policies
Despite some regulatory uncertainties from the Protection and Affordable Care Act there is growth potential for the company especially, it believes, in the smaller company area.
The above legislative overhangs and tough comparisons/timing of product launches in Japan mean the company has talked about a 0-5% sales growth expectation for this year. With a seasonal Q4 bias there is still scope for some volatility here. Currently the company is sticking with its 4-7% increase in operating EPS for 2013.
Nevertheless, cash flow is continuing to be generated. The company pays a 2.4% dividend but still has enough cash to buy back at least US$600m of stock (another 2%+ of market cap). I note the average price it has bought stock back at year-to-date is just under $53.
And then there is the return on equity. With the company trading at x2 book, mid-range return on equity generation of 22.5% suggests 10% upside statically, with accretion each year. From a 2014 perspective I could get a target of nearer $68 than the current $58 share price.
You would not be quacking mad to look closely at Aflac.
Disclosure: I have no positions in any stocks mentioned, but may initiate a long position in AFL over the next 72 hours. I wrote this article myself, and it expresses my own opinions. I am not receiving compensation for it. I have no business relationship with any company whose stock is mentioned in this article.