In a surprise move, Mexico's central bank slashed the country's key rate to a record low, supporting the anemic economy and bolstering the country-specific exchange traded fund.
The iShares MSCI Mexico Capped ETF (NYSEARCA:EWW) was up more than 3% on Monday to follow up on Friday's rally. EWW is down 11.8% year-to-date.
The Bank of Mexico cut its key rate by 0.25% to 3.75%, Bloomberg reports.
"The rate cut is anchoring expectations for Mexican yields and provides a ceiling even if U.S. yields rise further," Bernd Berg, an emerging-markets strategist at Credit Suisse Group AG, said in the Bloomberg article. "The focus of the central bank might have shifted to support growth."
The central bank stated that economic risks have escalated and the economic expansion could be revised lower from their prior 3.2% to 4.2% forecast. Inflation levels dropped to 3.47% in July, its slow pace since 2009.
On the fiscal policy side, JPMorgan Chase warns that Mexico could propose new taxes on foods and soft drinks, reports Brendan Case for Bloomberg.
iShares MSCI Mexico Capped ETF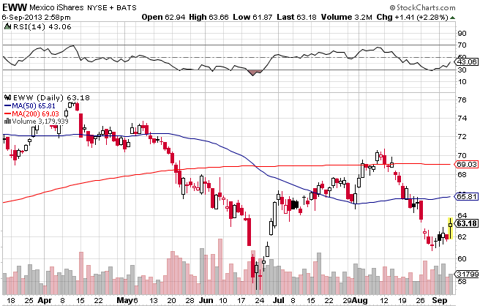 Max Chen contributed to this article.
Disclosure: I have no positions in any stocks mentioned, and no plans to initiate any positions within the next 72 hours. I wrote this article myself, and it expresses my own opinions. I am not receiving compensation for it. I have no business relationship with any company whose stock is mentioned in this article.