The market has spoiled investors over the past 7 months with one direction only: up. This Great Recession seems to turn into the Great Recovery. Are there any cheap growth stocks left for bargain-hunting investors?
I use following 8 criteria to select undervalued growth companies:
1. PE/Growth <1
A lower PE/G means that the stock is more undervalued.
2. P/E and Forward P/E both <20
3. Revenue Increased in the Most Recent Quarter
Profits grow might be through cost-cut. Sales-growth matters.
4. Price/Sales < 2
Enron had been named as "America's most innovative company" by Fortune magazine for 6 years in a row. However, it turned out that the company had used creative accounting tricks to inflate its results. Sales usually don't lie.
5. Entity Value/Free Cash Flow (FCF) <10
Many companies do not have positive free cash flow as they are investing heavily to rapidly grow their business. Companies with small cash reserves will suffer most from a potential resumption of the liquidity crunch.
6. Debt/Operation Cash Flow <5
Great companies generally don't load up their balance sheets with debts. Memories are too fresh of what had happened in the dot com bubble, when companies such as WorldCom and Global Crossing had collapsed under their heavy debt burden.
7. Market Cap >$500 million
8. Short Ratio <5
Followings are 12 such companies (sorted by PE):
They are in 3 sectors: Healthcare (healthcare plans, insurance and drug), Defense and Oil & Gas Equipment.
HealthCare Plans
Aetna (AET), Humana (HUM), Unitedhealth Group (UNH) and WellPoint (WLP) are healthcare services providers. This sector has lagged the market by a wide margin this year.
The reality is that America is aging. People need more healthcare services. Single digit P/E is one of reasons why Warren Buffett owns shares of UnitedHealth and WellPoint. But you have the overhang of health-care reform to worry about: there are so many aspects remain open to debate.
Following charts show revenue over the last 4 years for these companies (in $billion):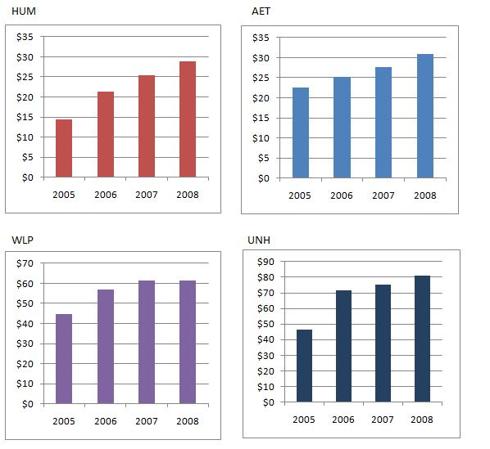 Click to enlarge
Health Insurance
Assurant (AIZ) and StanCorp Financial (SFG) are Accident & Health Insurances. The $829 billion health reform plan would require Americans to obtain insurance yet impose restrictions on insurance companies from denying coverage on pre-existing conditions. There could be a big upside for insurers if more uninsured Americans are forced or given incentives to buy health insurance.
Drug Companies

Omnicare (OCR) is a geriatric pharmaceutical services company while Endo Pharmaceuticals (ENDP) is a drug manufacturer. Regardless of the outcome of healthcare reform, the effect on drug makers probably will be negligible.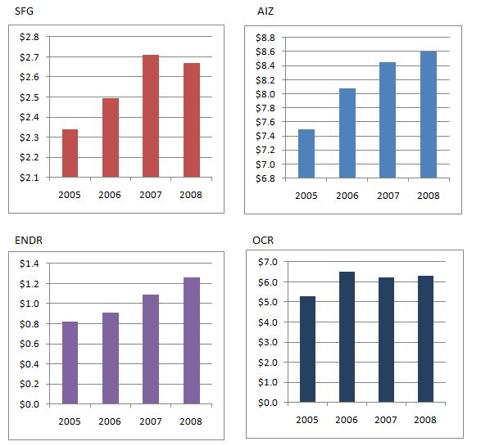 Click to enlarge
Health Care Select Sector SPDR (NYSEARCA:XLV) and Pharmaceutical HOLDRs (NYSEARCA:PPH) are 2 largest ETFs in this sector.
Defense
L-3 Communications (LLL), Lockheed Martin (LMT) and Raytheon (RTN) all belong to defense sector. Investors are concerned that the defense industry will underperform as the U.S. spends less on fighter jets and warships, especially since Obama won the Nobel peace prize.
Raytheon's large exposure to foreign markets and focus on high-demand areas of defense electronics might insulate it from drop off in US defense spending.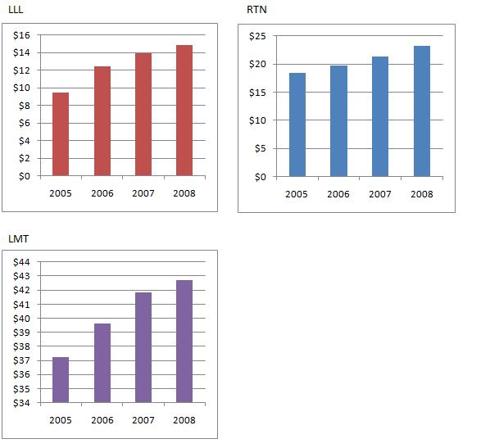 Click to enlarge
Oil & Gas Equipment
Cal Dive International (DVR) provides marine construction services to offshore oil and natural gas industry. Its sales almost quadrupled over the last 4 years: form 2005's $224 million to 2008's $857 million.
ETFs
With its potential for timely and ultra-targeted offers, Google's (NASDAQ:GOOG) new Wave application could potentially be a social media killer.
Facebook's progress as a marketing tool might be diminished by Google Wave. It is hard to predict tomorrow's winner.
ETFs address this issue. Followings are 10 biggest growth ETFs by assets:
| | | | | |
| --- | --- | --- | --- | --- |
| | | | | |
| | | | | |
| iShares Russell 1000 Growth | | | | |
| | | | | |
| | | | | |
| iShares Russell Midcap Gr | | | | |
| | | | | |
| iShares Russell 2000 Growth | | | | |
| | | | | |
| Vanguard Small Cap Growth | | | | |
| | | | | |
With P/E over 20, it is a lot risky to buy QQQQ now than 8 months ago, when I first recommended it in my March 1, 2009 article. Nonetheless, there is nothing wrong to "buy high', as long as you can "sell higher".
Conclusion
Double-dip recession can't be completely ruled out. The market could remain volatile and even irrational in the short run as investors struggle to discern the direction of the economy. For investors, the key is to find great companies at reasonable prices and not get mired down in short-term fluctuations. One of the smart ways is not to invest more than 5% of your portfolio in any single stock.
Disclose: I have long positions on RTN, PPH and QQQQ. All data is from Yahoo Finance as of Oct 23, 2009.