Beaten-down by Apple (NASDAQ:AAPL) and Samsung (OTC:SSNLF), BlackBerry (NASDAQ:BBRY) may be on its last legs, as it failed to bring significant revenue with its BB10 series, its last hope to catch up with smartphone leaders. Now, it seems all that is left is 3 billion in cash and a portfolio of patents whose value is yet to be determined.
In this desperate context, BlackBerry announced it would be looking into "strategic alternatives." This is equivalent to publicly announcing a sale, either in the form of an acquisition or a private equity buyout, which could materialize within the next two quarters. Does this sale make the company an interesting high-risk, high-reward opportunity?
Why BlackBerry failed?
The BB10 series have no reason to envy Apple's iPhone or Samsung's Galaxy series. Its Z10 flagship device is a 4G LTE ready smartphone, with an 8 megapixels camera and high resolution screen. Furthermore, it comes with one of the best chips in the industry, the Qualcomm Snapdragon S4.
In practice, nothing went as planned. Two months ago, BlackBerry reported a huge fiscal first quarter net loss and an even worse outlook for the following quarter. It only sold 2.7 million BB10 devices, well below the Street consensus. Services revenue and subscriber base declined 14% and 5% sequentially.
There are three theories to explain this failure:
-- The "too late" fatalist theory: Apple's iOS and Google's Android ecosystems are too widespread.
-- Not enough marketing: If BlackBerry wants to catch up, it will need to sell its smartphones at a great discount, and increase its marketing budget in emerging economies.
-- Poor user experience: The lack of certain key features (like the "back" button on the Q10 devices) or absence of meaningful applications (most of the 120,000 applications on its platform are said to be useless) could be forcing users to leave the BlackBerry world for Samsung handsets.
Can BlackBerry recover?
If the reason for the BB10 failure is the absence of aggressive marketing or attractive pricing, then selling the company could actually help BlackBerry. In the absence of pressure coming from investors, the company could spend more of its $3 billion in cash and short-term investments to launch an intensive global marketing campaign and price the handsets very aggressively.
How much is Blackberry worth?
Let us assume that BlackBerry's assets are only its cash and patents. The company finished the first quarter with $3.1 billion in cash and investments, and owned about 9,000 patents. Raymond James' analyst Steven Li said the portfolio of patents is worth roughly $1.6 billion. Under this scenario, the company is worth roughly $8.9 per share. With a $9 fair value estimate, Morningstar has a similar opinion.
However, value is ultimately generated by the laws of supply and demand, which put a price on every commodity, from a smartphone to a company. In this particular context, I'm optimistic because I believe there would be more than one institution interested in acquiring BlackBerry.
First of all, there's Lenovo (OTCPK:LNVGY). It's a well known fact that Lenovo has been interested in owning BlackBerry since early 2012. I believe they still keep a strong interest, because their exposure to the smartphone industry is now higher. In its fiscal first-quarter results, the biggest PC manufacturer in the world confirmed smartphone and tablet sales overtook its PC division. Lenovo's strategy has always been to offer the best technologically feasible quality and the lowest economically feasible price. Obviously, the company now wants to become the king of the smartphone world, surpassing even Samsung in the long run. BlackBerry could play a fundamental step in this process. Of course, this is very subjective. But keep in mind that in a recent interview with WSJ, when Lenovo CEO Yang Yuanqing was asked if he would consider BlackBerry as a potential acquisition, he "dodged the question nimbly and politely," just as one would expect.
There's also the possibility of seeing a private equity buyout, featuring Canada's pension fund. Prem Watsa's Fairfax Financial, BlackBerry's largest investor with a 10% stake, could also be present in the negotiation table. Rumors say the institution has put together billions of dollars as a preparation for a bid.
A third possibility arises from dividing BlackBerry into 4 units: the handset business, the BES 10.1 mobile device management division, the emerging BBM messaging service, and last, but not least, the patent portfolio.
The handset division is not only attractive to Asian players such as Lenovo, HTC or ZTE. Microsoft (NASDAQ:MSFT), which recently agreed to buy Nokia (NYSE:NOK)'s mobile phone business for $7.3B, could be interested in seeing BlackBerry's handsets running Windows Phone, because after all these years BlackBerry still means a lot to financial institutions, corporations and government customers.
With a strong reputation for its superior uptime and reliability, the BBM messaging service could be run as a single, no-hardware company or become an acquisition target for a company like Google. Google was probably interested in Whatsapp, willing to pay as much as $1 billion. BBM could feed Google's need to have a Whatsapp-like service.
And as Michael Blair explained, even the mobile device management division, which enables enterprises to manage complex fleets of mobile devices, could attract some buyers, including the new Nokia.
What the DCF says
Not surprisingly, the most optimistic valuation comes from the straightforward application of a discounted cash flow model.
Using Oldschoolvalue financial spreadsheets, I run a valuation using a 0% growth rate assumption for the next 10 years, a 9% discount and a 2% terminal growth rate, and obtained a fair value of $21 per share. That is a 100% upside. However, with a business in rapid decline and management issuing no guidance, it is too optimistic to assume a 0% growth rate. Could that actually happen? It's not impossible, if you take into consideration that BlackBerry already lost most of its customers and that those who still remain as BlackBerry users are either institutions attracted by its high security standards or individuals with a high degree of BlackBerry brand loyalty.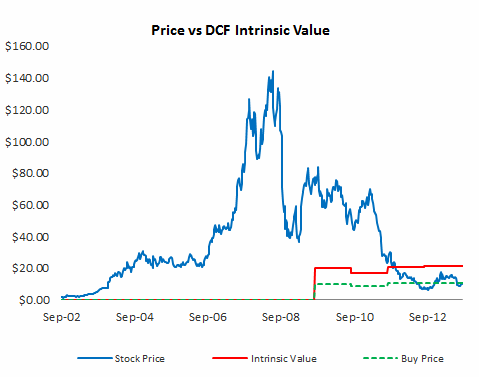 Source: Oldschoolvalue
Apple and Samsung also have their own problems
It seems to me that the market unfairly sees BlackBerry as the black sheep of the smartphone industry. But investors interested in gaining exposure to the smartphone market, expected by Gartner to double between 2011 and 2014, should not forget that even strong competitors like Apple and Samsung have their own issues.
With an authorized plan to buy back $60 billion in stock before 2015 and new iPhones on their way, Apple looks like an interesting alternative at first sight. But it is a well-known fact that iPhones and iPads are losing market share against Android devices. And it's still too early to know if the iOS7 announced on June 10th this year, and the recently released iPhone 5S and 5C could stop revenue from falling while keeping Apple's margins high.
Samsung, on the other hand, may be the biggest smartphone manufacturer in the world, but that does not mean the company is invulnerable. 2 months ago, the stock fell more than 6% in a single day after it became evident that Galaxy S4 shipments would fall short of the expected 80 million.
Naturally, I doubt Samsung's leading position can be replaced any time soon considering it has a device for practically every market segment. And Apple may not replicate its iPhone 4 (one of Apple's best selling devices) success story this time, but high brand loyalty guarantees the company won't leave the game any time soon, regardless of the probable success or failure of the new iPhones. My point is that both of them are not invulnerable. No smartphone maker is, simply because this is not 2009 anymore. Smartphones became necessary goods, commodities with low margins. And unlike BlackBerry, the market still keeps high expectations on both Samsung and Apple.
Scenario Analysis
| | | |
| --- | --- | --- |
| Event | Impact | Probability |
| A buyout takes BlackBerry private. Free from market pressure, management could use more cash to price the handsets very aggressively, and increase marketing spending. Investors would benefit from a 30%-40% premium. | Positive | High |
| Lenovo or another big player acquires BlackBerry's handset division, paying a generous premium, considering that there's more than one smartphone maker interested in owning BlackBerry's business. The new no-hardware BlackBerry would focus on software, its message application and mobile device management (BYOD) services. | Positive | Medium |
| BlackBerry is fully acquired by a single entity. | Very Positive | Low |
| With nobody interested in taking over BlackBerry, the stock remains dead money for several months. | Negative | Low |
The bottom line
A potential BlackBerry buyout could turn out to be a strategic move aimed at improving BB10 sales, because a management free of pressures from investors could use more cash to price the Z10 device lower, and spend more in marketing.
An acquisition also brings massive upside, considering the elevated price Microsoft recently paid for Nokia's mobile business and the fact that there is more than one party interested in owning BlackBerry or one of its divisions.
Both an acquisition or a buyout are positive catalysts. In my humble opinion, the company would be valued at somewhere between $14 and $15 per share, because I believe the Canadian company still has plenty of value left in patents and cash. On the other hand, downside risk is limited by the fact that the market already has very low expectations on the firm. In this context, I see more reasons to be long BlackBerry before the company says goodbye.
References
1.BlackBerry's useless applications: A single developer made 47,000 apps.
2. Raymond James' analyst Stephen Li on BlackBerry's portfolio of patents.
3. Morningstar on BlackBerry's economic moat.
Disclosure: I have no positions in any stocks mentioned, and no plans to initiate any positions within the next 72 hours. I wrote this article myself, and it expresses my own opinions. I am not receiving compensation for it (other than from Seeking Alpha). I have no business relationship with any company whose stock is mentioned in this article.