NTS Realty Holdings Limited Partnership (NYSEMKT:NLP) ("NTS Realty", "NTS") owns and operates commercial, multifamily and retail properties. Its real estate assets are located in Florida, Georgia, Indiana, Kentucky, Tennessee and Virginia. The company is headquartered in Louisville, Kentucky and incorporated in Delaware. NTS Realty is organized as a limited partnership and was formed in 2004 through the merger of predecessor limited partnerships, NTS affiliates and other assets & entities owned by the founder, J.D. Nichols. On August 31, 2012, Nichols and NTS CEO, Brian Lavin, announced a non-binding proposal to take the company private for $5.25 per unit. They subsequently raised the offer to $7.30 on November 20, 2012 and to $7.50 on December 27, 2012. The Board approved the transaction at $7.50 per unit, which represents a 144% premium over the August 31, 2012 unaffected unit price. Nichols, Lavin and NTS entities they control own 61.7% of NTS Realty. They secured a $32.1mm loan from Quince Associates to purchase the 4,229,421 outstanding units that they don't already own.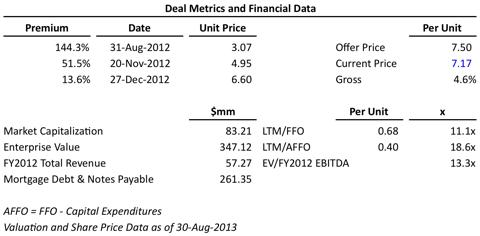 As the transaction nears the September 30, 2013 termination date, NLP is trading at $7.17 (4.6% Gross). Key among the red flags indicating that this deal is going to break is pending litigation related to the merger, which was filed more than 200 days ago. Although there is no litigation contingency in the conditions to the merger, the acquisition loan is conditioned on no litigation incident to the transaction [PRER14A], which sets up a very attractive downside risk-reward scenario.
Litigation…Déjà Vu
On January 25, 2013, a class action lawsuit was filed in Jefferson County Circuit Court of Kentucky against Nichols, Lavin, NTS and other related entities [Dannis, et al. vs. Nichols, et al. - No.:13-CI-00452]. The Dannis lawsuit alleges a breach of fiduciary duty based on two allegations: 1. Wrongful extraction of fees & other payments and 2. Self-dealing to coerce a sale of NTS Realty at a deep discount to fair value. Similar actions were filed on February 12, 2013 and February 13, 2013 in Delaware Chancery Court [PRER14A]. Lawsuits alleging a breach of fiduciary duty are routinely brought against companies in merger situations, but they are almost invariably dismissed or settled within weeks. This is especially true in Delaware where the business case law is well established and the courts have extensive experience in these matters. Perhaps this explains why on June 12, 2013, the Delaware plaintiffs voluntarily dismissed their case and joined the Kentucky action the next day. It is also true that Dannis' counsel was first to file and that cases subsequently filed against NTS Realty in other jurisdictions could have been bound to any judgment in the Jefferson County Circuit Court. The most likely reason the Delaware plaintiffs joined the Dannis suit is that nine years ago, precedent had been established in the settlement of a case against numerous defendants including, Nichols, his then wife, NTS Realty predecessor company, NTS Properties & related entities [Buchanan, et al. vs NTS-Properties, et al. - No.:C-01-05090; S-4/A]. In that case, allegations were made that are very similar to the ones being leveled in the Dannis lawsuit. In fact, the Buchanan settlement is what led to the creation of NTS Realty Holdings. Nearly two years after NTS Realty was formed, the court entered an order holding that the defendants had fulfilled the financial obligations required in the Buchanan settlement. After that order was entered, a related case which had been filed in Jefferson County Circuit Court [Bohm, et al. vs Nichols, et al. - No.:03-CI-01740; S-4/A] was settled for $176,000 [10-K].
All of this could be called a unique coincidence except that recently, a motion to dismiss the Kentucky action was denied by Judge Cunningham, who is presiding over the case, which means that the Dannis lawsuit is not going away and Nichols will once again be forced to reach a settlement.
Nichols' Options
Schedule a vote
Walk away
Raise the offer
Settle litigation
Schedule a Vote - "Not Realistic"
The Dannis plaintiffs hold 0.17% of units outstanding and do not have enough votes to block the transaction, which means that with all other conditions to the merger having already been met, Nichols could have called a limited partner meeting by now and gotten approval to do the deal. His attorneys would then return to the court and argue that since the majority of limited partners have voted for the deal, the offer price represents fair value. While this argument would not ensure a judgment in favor of Nichols, the optics of an approved deal would weaken the case against him. Entering the limited partner vote with pending litigation would be risky, but with the market having priced NLP at a 95% implied probability of the deal closing (since April 30, 2013), the odds would seemingly be in Nichols' favor to hold a vote. Instead, he has indicated that it is "not realistic" [10-Q] that a deal will close before September 30, 2013, signaling that a limited partner vote ahead of the termination date can essentially be ruled out.
Walk Away - The Path of Least Resistance
If Nichols allows the commitment letter termination date to expire without an extension, the market will price NLP at a discount to the closest peers based on: 1. NLP revenue growth has not translated into FFO growth, 2. Unit holder distributions have not grown in line with revenue and 3. Nichols and Lavin have not disclosed a plan to restructure NLP's weak balance sheet.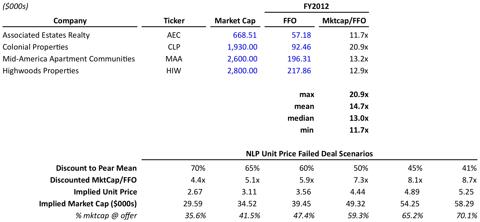 In the walk away scenario, shorting the deal presents a very attractive risk-reward. The unaffected unit price is the August 31, 2012 $3.07 unit price when the original $5.25 going-private offer price was announced. If Quince doesn't extend the financing commitment and no alternative financing plan is announced, then NLP should at least fall to the August 31, 2012 level. That represents a risk-reward of 12.42. However, the attractiveness of that trade must be balanced against the potential that Nichols raises the offer.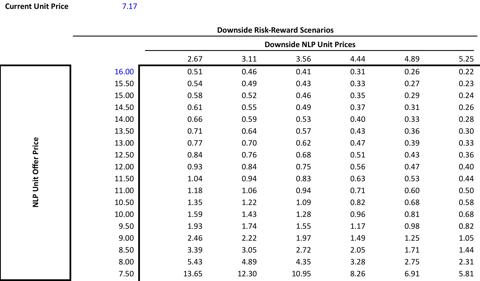 Raising the Offer - Financing "Commitment"
Why was the financing scheduled to terminate within the first quarter, when the company indicated to the market that it expected the deal to close in the second quarter?
Quince Associates agreed to provide a $32.1mm loan to fund the purchase of all the outstanding 4,229,421 limited partnership units of NTS that Nichols and Lavin don't already own. The financing represents 21% of Quince Associates' assets under management and is a considerable amount of risk for one investment, but there is no reason to believe that Quince doesn't have the money and if the firm ultimately cannot produce the financing, then there will be libel. The commitment letter termination date was initially set to March 15, 2013, fully three and a half months ahead of the estimated (worst-case) close of the deal. In the first amendment to the commitment letter on March 15, 2013, the termination date was re-set to April 30, 2013, two months ahead of the potential close. In the second amendment to the commitment letter on April 29, 2013, the date was pushed to the merger agreement walk-away date of September 30, 2013.
The backdrop to the moving termination date is the shift in monetary policy, which has been anticipated by the market and was first signaled by the Fed in May. Interest rates have risen significantly since Quince committed to the loan. On December 21, 2012 when the acquisition loan was priced at a fixed interest rate of 12% the US 10-Year Treasury was yielding 1.75%. By the time the first amendment to the commitment letter was signed, the yield on the 10-Year had increased 25 bps to 2.00% and since then, the 10-Year has increased as much as 100 bps. So, how strong is Quince's financing commitment and how much leverage can be supported by NTS Realty's business?
Under conservative growth scenarios, taking on additional debt if Nichols could secure it, would force him to lower his expense structure and/or reduce capital expenditures to maintain current AFFO levels.
For example, restating Centerboard's FY2012 AFFO Build-Up to reflect current deal terms while maintaining AFFO at 15% of consolidated net operating income, requires the expense structure to be reduced by 10%.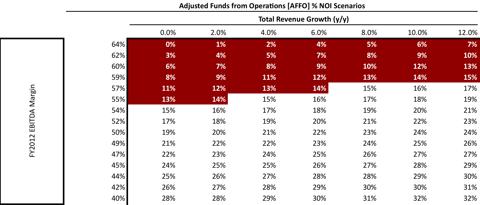 Adjusted Funds from Operations (AFFO) is very sensitive to capital expenditures growth. Just to make the current deal work, Nichols must be expecting to cut capital expenditures to 10% of consolidated NOI to maintain positive AFFO. Restating FY2012 AFFO as if the deal had occurred at the beginning of the year would result in -$122k AFFO assuming capex of 12% consolidated NOI versus $376.9k at 10% consolidated NOI. So, reducing capex leaves him very little room to pay more unless he can raise additional equity because the AFFO becomes very negative.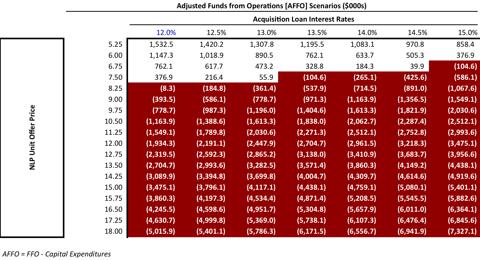 The financing for this transaction comes with exorbitant fees of $1.4mm (4.5% of merger consideration) including $238k/mo for any delay in funding. This means that after the transaction is approved in a limited partner vote and Nichols signs the loan documents but litigation is pending, then 30 days after signing, NTS Realty would start paying $237,905 per month (9% annualized) to keep the Quince loan available until the lawsuit is settled or dismissed. Clearly, these unfavorable loan terms reveal that Quince anticipated the very scenario that Nichols is facing right now. This fee structure makes no sense except to create a very high hurdle for a weak company who's founder's legal past could catch up with him and for whom there is no alternative to secure financing on more reasonable terms. With traditional term loans unavailable to the company, mezzanine financing with warrants or PIK interest could possibly be arranged, but would be priced at rates higher than the 12% offered by Quince. It is also unclear whether Nichols would give up equity to save his deal after steadily raising his stake in the company over the past nine years. One way or the other, negotiations have stalled, which indicates that the parties are far apart on value and Nichols is unlikely to raise.
Settlement - In Other Words, Raise
A settlement seems remote right now, but there are foreseeable scenarios. A settlement on the coerced sale allegation would mean that Nichols secures additional financing to raise the offer and take NTS private. In this scenario, the self-dealing allegation would likely be dropped if the raised offer is high enough. This outcome seems unlikely because the low end of the range where the plaintiffs want value is nearly double what Nichols is currently offering. Alternatively, Nichols' counsel could negotiate a settlement amount on the self-dealing allegation and get the plaintiffs to drop the coerced sale allegation, leaving him to continue running his business as a public entity. This outcome is tantamount to the walk away scenario and NLP would trade at a discount to the August 31, 2012 unaffected unit price. Although Nichols could be testing the plaintiffs with brinksmanship, settling one or both allegations will require him to raise more equity because the opportunity cost for the plaintiffs is low: 1. Due to the nature of class action securities litigation retainers, the plaintiffs may not have to pay any legal fees to realize their desired outcome, 2. They are emboldened by the past history of judgments against Nichols in securities litigation against him and his companies, 3. The plaintiffs are indifferent towards whether Nichols can actually afford to pay more and 4. Even if a plaintiff(s) drops out, it only takes one dissident unitholder to continue the class action. Lastly, a review of the company's most recent [10-Q] does not reveal any accrual amount for a pending settlement agreement.
At the next hearing in the legal process, both sides are expected to return to court to establish logistics and schedule a date for oral arguments. However, it is possible that the parties could enter into a settlement agreement any day.
Running Out The Clock
Why would Nichols want to take this company private anyway? Well, with his new wife and family trusts holding equity in the company and related entities combined with long-time associates both in executive management positions and sitting on the Board, the strategic rationale for private ownership is manyfold: 1. Maintain and grow his fee structure, 2. Lever up the business further without public market scrutiny, 3. Minimize cash distributions without pushback from investors, which have totaled $31.3mm and averaged $3.9mm annually since 2005 and 4. Eliminate public company costs, saving up to $2mm annually (est.). Further to that, the proxy indicates that he will run the business as he did before the transaction.
After evaluating Nichols' options, the best choice for him is to let the acquisition loan termination date expire. As a private company, Nichols stopped paying distributions to his limited partners as a result of refinancings that required NTS-Properties to accelerate repayment of principal. In response, Buchanan, et al., representing a class of limited partners, sued in California Superior Court. Nichols agreed to list the units in a merger as part of the settlement, which gave the Buchanan plaintiffs a liquidity path at the time. Listing the units was probably not part of his long-term plan otherwise. Now he has new dissident limited partners who are leveling the same allegations and he is boxed in. He cannot pay more without limiting the growth of his business and at this stage of his career he probably doesn't want to delay the deal only to try again in a few years when he is even older. Lastly, the rising interest rate environment has made alternative financing options too expensive.
Given all this, shorting NLP from here provides the most attractive risk-reward scenario. Other than the sunk costs of fees and expenses incurred by the Partnership in connection with the transaction as well as the $345,000 paid to Quince to maintain optionality on the financing through the extension period, there is no termination fee to be payable by buyer or seller, making the incentive to walk away an easy one for either party.
Disclosure: I have no positions in any stocks mentioned, and no plans to initiate any positions within the next 72 hours. I wrote this article myself, and it expresses my own opinions. I am not receiving compensation for it. I have no business relationship with any company whose stock is mentioned in this article.