There are two sources for most housing data in the United States. One source is the National Association of Realtors (NAR). Given that this organization represents only people who sell U.S. residential real estate for their livelihood, this is an extremely biased entity – with an obvious agenda. They represent the more reliable source for data.
The other major source of data is the U.S. government, itself. I have written volumes on the legendary excesses of the U.S. government in manufacturing numbers which are ever-further divorced from the real world. As an example, at the beginning of this year, when the Case-Shiller index was reporting that the collapse in U.S. housing prices had reached their most extreme level (a year-over-year decline of 19%), the U.S. government was reporting that U.S. home prices were rising.
As with many other U.S. government "statistics", I now pay absolutely no attention to government housing propaganda. While it is possible to critically analyze mere exaggerations, there is no analytical value to numbers which are simply invented – and in direct contradiction with what is actually happening in markets.
This leaves the biased NAR as the "best" source for most U.S. housing data. In a report released Friday, the NAR stated that existing home sales had increased to a level of 5.57 million units – the highest since July 2007, crowed the NAR. That was right about the time that the U.S. housing crash first turned really ugly. However, those days are already long-forgotten by the NAR.
Lawrence Yun, the giddy "chief economist" of this organization is claiming that U.S. "housing inventories" have now fallen to a level equal to 7.8 months of supply – and a supposed 15% decline from just the beginning of this year.
This is where the NAR severs all ties with reality. The NAR also acknowledged that "distressed sales" which include foreclosure sales, sales of "repossessed" homes (i.e. "walk-aways") and "short sales" accounted for just 29% of all sales in its latest report (similar to numbers reported for most of this year). Thus, with U.S. housing sales at their highest level in more than two years, the banks controlling all this "distressed" real estate are on pace to sell only about 1.5 million "distressed properties" this year.
In fact, foreclosures alone are on pace to hit about 4 million units this year – after more than one million foreclosures in the third quarter alone. "Repossessed" homes are on pace to add roughly an additional half-million "distressed properties" to this inventory. I'm unaware of any aggregate statistics on "short sales", but as a favored choice for both homeowners and banks (versus the alternative of foreclosure), these also obviously total in the hundreds of thousands (at least).
Thus, as I reported in a commentary on the U.S. housing sector about six weeks ago (see "U.S. foreclosures/repossessions on track to hit 5 million in '09"), the total amount of "distressed properties" in the U.S. - generated in just this year – is roughly 5 million units. With U.S. banks on pace to sell about 1.5 million distressed properties this year, this leaves 3.5 million additional units which are being added to the inventory of empty/unsold homes in the U.S.
What this means is that U.S. banks by themselves are holding as much inventory (from just this year) as Yun claims exists in the entire U.S. housing market. Put another way, the only way in which the NAR's "inventory" number would have any validity is if not one, single U.S. homeowner had a home listed for sale.
Returning to the real world, 25% of U.S. mortgage holders are "underwater" on their mortgages, with more than 10,000 additional U.S. homeowners entering the foreclosure process every day – and millions more homeowners only a (missing) paycheque away from joining that category. In other words, there are millions of highly-motivated sellers – easily surpassing the 3.5 million housing units which U.S. banks have added to their existing inventory of unsold homes.
Keep in mind that U.S. banks have been accumulating empty/unsold properties for roughly two years – as "distressed sales" have never kept pace with the rate at which banks are accumulating these properties since the U.S. housing collapse began. A conservative estimate is that they are currently holding roughly 5 million empty/unsold units – equal, by itself, to a year's worth of consumption.
Add to that the millions of U.S. homeowners desperate to sell in order to avoid foreclosure, and the return of large numbers of speculators to this market and this represents at least another 5 million units of inventory – since speculators don't buy-and-hold houses, but rather put them back on the market (either immediately, or after some cosmetic changes).
As a result, none of these speculator-purchases remove any inventory from this market. True, in theory, speculators can rent-out the homes they purchase. However, with U.S. housing vacancies already at their highest level in 23 years and still soaring higher (see "Rising U.S. vacancies mean ALL real estate going DOWN"), the combination of crumbling rental prices and huge over-supply means that any speculator foolish enough to become a "landlord" rather than simply trying to "flip" properties is doomed to be just another foreclosure victim.
There have been a number of recent reports attempting to "pump" this market – which actually claim that buyers are having a hard time finding "distressed properties" to buy. Don't believe a word of this nonsense. As a Canadian, I have been getting spam in my own e-mail every day - "alerting" me to the wonderful "investment opportunities" of buying distressed U.S. real estate. In recent weeks, this has increased to several pieces of spam every day. Presumably such spam is also bombarding Europeans, and investors in any other countries who actually have some spending power.
Ultimately, what this means is that in the real world, there are about 10 million units of "inventory" - which represents nothing more than "REO" homes (those held by the banks), the properties being flipped by speculators, and "distressed" homeowners who are desperate to sell. This estimate excludes any "normal" sellers in the market (i.e. people simply wishing to move to relocate of their own volition).
Thus, the "official" inventories of unsold homes represent less than 1/3rd of actual inventory, and most likely only about ¼. The reality is that U.S. housing inventories have risen to their highest level in history – and added millions of units to the 19 million empty homes which existed a year ago.
When stacked up against real inventories, the sales of only 5 million units this year sets up another nasty "leg" downward for this market by itself. However, as I (and an increasing number of other commentators) are reminding people the second spike in mortgage-resets for the dreaded "ARM mortgages" (adjustable-rate mortgages) is just about to begin.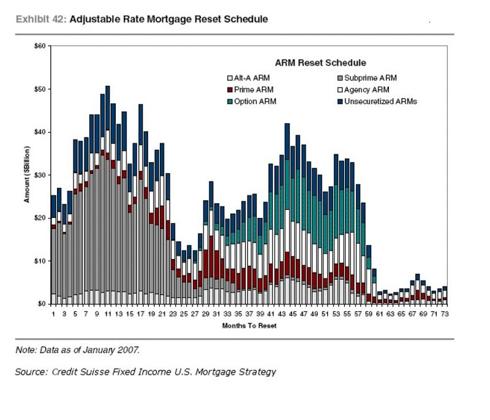 [Note: this chart only includes data up to January 2007, so it does not include all future, mortgage resets – since U.S. banks were still creating more of these mortgages in 2007.]
As the graph above illustrates, the U.S. has already suffered through the first spike in these mortgage resets – indeed, this market is currently in a brief lull, between the end of the last spike and the beginning of the next. The big difference between the first spike and the second is that unemployment was only beginning to be a serious problem for the solvency of U.S. homeowners during the first spike, while the 2nd spike will occur with employment conditions at their worst level in 70 years. ("Shadowstats.com" puts current U.S. unemployment at over 20% and rising).
Thus, the next spike in mortgage resets was also guaranteed to cause another down-leg in this market – by itself. Roughly $600 billion worth of such real estate (its current, nominal value) is due to implode onto this market over the next two years.
When we combine this with a "shadow inventory" of at least seven million units more than the laughable numbers from the NAR, and an unemployment problem which will be much worse next year than this year, the overwhelming evidence is that the next leg down for the U.S. market will be at least as bad (if not worse) than the previous leg down.
For the U.S. financial sector, this next crash in residential housing comes just as the crash in U.S. commercial real estate has worsened into a crisis of its own. Combine this with record rates of delinquency which are simultaneously occurring with every other category of bank credit to U.S. consumers, and obviously the losses ahead for the U.S. financial sector will greatly exceed the losses already incurred.
To my regular readers, I apologize for the continual need to repeat much of this analysis. However, as I have observed before, there is only one way to counter a relentless campaign of propaganda – through continued repetition of facts.
Stay focused on the "big picture" and do not allow yourself to be deceived by either fraudulent "statistics", absurd "spin", or the occasional, positive "blip" in this market. In even the worst crashes, nothing goes down in a straight line. Given that the U.S. experienced a collapse in its housing market more than three times worse than the worst year of the Great Depression (based on data from the highly respected housing economist Robert Shiller), a "dead-cat bounce" for this market was overdue.
At best, this lull in "the eye of the hurricane" will last to the end of this year. Early next year, the new spike in mortgage-resets will begin. At that point, U.S. banks (who have up until now totally ignored this oncoming disaster) will have to confront this next crisis – which will most likely be characterized by the U.S. media as a "surprise".
By this point in time, there can be no excuse for responsible adults to be "surprised" by developments in the U.S. economy. The same fools and shills who were "pumping" U.S. markets and the U.S. economy at the peak of the U.S. bubble (and Wall Street Ponzi-scheme) are pumping again. Meanwhile the fundamentals for the U.S. economy continue to deteriorate.
It is only the fact that the U.S. government pretends there is no inflation in the U.S. economy which allows it to pretend that some aspects of the U.S. economy are experiencing a tiny improvement. Even then, most of the statistics it spews are not improvements but simply a reduction in the rate of collapse.
The U.S. propaganda-machine has completely erased this important logical distinction. When the Titanic had already taken on almost enough water to drag it to the bottom of the Atlantic, would rational passengers on that doomed ship really be encouraged to hear that the ship was "only" taking on water at a slower rate - simply because most of the ship was already water-logged?