By Neal Rau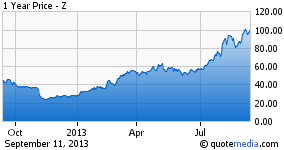 Zillow Inc. (Z) attracts more than 61 million unique visitors every month in the U.S., as many buyers and sellers now start their real estate ventures on the Web. Zillow's stock has climbed over 240% since the beginning of 2013. Zillow's shares fell over 7% after the company announced a secondary offering on August 19, but managed to reach new record highs of $103 just a few weeks later. Now, Zillow is trading about 6% off those record highs, so is the stock a buy, sell or hold from here?
Many investors sold on the news of the additional shares being added by the secondary. However, the following day Australian billionaire James Packer, saw the dip as a buying opportunity, and acquired a 9.4% stake in the company, becoming the second-biggest shareholder in the U.S. real-estate website. Packer must see Zillow maintaining its lead over rival Trulia Inc. (TRLA) and be confident that the U.S. housing market will remain strong.
Zillow's secondary offering was for 5 million shares, which represented a dilution of approximately 6-7%. The secondary included 2.5 million shares offered by Zillow, and 2.5 million shares offered by some existing shareholders, including co-founders Richard Barton and Lloyd Frink, and CEO Spencer Rascoff. The company said it intends to use the proceeds for general corporate purposes, including acquisitions or investments in technology and businesses that complement its existing operations. Zillow creates revenue by selling individual subscriptions to mortgage brokers, real estate agents, and brand advertisers.
The company is no stranger to making acquisitions.
Zillow acquired HotPads.com, a map-based rental housing and real estate search engine, for $16 million in cash in 2012. Zillow was looking to expand in urban markets like New York City, so the acquisition of StreetEasy was the company's latest target. StreetEasy has about 1.2 million monthly unique users, primarily residential real estate shoppers in the New York region. StreetEasy can help Zillow rapidly expand its presence in the largest U.S. market, and use its sales team to increase advertising and subscription revenue, as the company hopes to keep its lead over rival Trulia.
Zillow is trading over 100 times next year's earnings, while its closest competitor Trulia, trades at a multiple of about 54. Not everyone is bullish on Zillow's shares, as short interest represents 21.6% of the stock's total available float. We have Zillow rated strong long-term, and our live trading reports shows the stock close to a test of long-term resistance.
Zillow needs to continue to do everything it can to strengthen its network to stay ahead of Trulia. The Company has been willing to sacrifice profits in an attempt to capture more subscriptions from real estate agents and mortgage-loan brokers. In 2012, the company made $50 million more in revenue than its rival Trulia. Recent acquisitions could lead to even more traffic, which could interest more real estate agents, and create an even more solid revenue stream for the company.
Zillow shares briefly broke above long-term resistance, but failed to hold above converted support, and are now trading back below resistance. According to Stock Traders Daily, so long as Zillow is under long-term resistance, it is a sell/short for a durational trade. This is not a recent news play, but news does not make us money, stock prices do. According to the analysis we have conducted, the stock is at resistance, and for those that reason that news is good, news is also probably why the stock is at resistance in the first place. If resistance holds it is a sell, maybe even a short.
Disclosure: I have no positions in any stocks mentioned, and no plans to initiate any positions within the next 72 hours.
Business relationship disclosure: By Neal Rau for Stock Traders Daily and neither receives compensation from the public companies mentioned herein for writing this article.