Total (NYSE:TOT) is one of the world's oil majors, being the fifth-largest publicly-traded integrated international oil and gas company in the world. Currently, it yields above 5.5% which is quite attractive for income investors. Moreover, with the recent rise in oil prices Total may be able to deliver an increasing dividend over the next few quarters, making it a compelling high-yield investment. Total has a market capitalization of about $127 billion, and is traded in the U.S. on the New York Stock Exchange.
Company Overview
Total is a major energy operator, being an integrated company operating in every segment of the oil and gas industry. It also produces chemicals and develops and markets solutions involving new energy. The company was founded in 1924, has nowadays more than 97,000 employees, and has operations in more than 130 countries. Its major shareholder is Groupe Bruxelles Lambert (OTCPK:GBLBF) with an equity stake of 4%. The company's major competitors are other large integrated energy players like Royal Dutch Shell (NYSE:RDS.A), BP (BP) or Exxon Mobil (NYSE:XOM).
Following the restructuring of downstream operations in 2012, the company's operations are organized around three business segments: Upstream, which includes oil exploration and production and activities involving natural gas; Refining and Chemicals, which comprises refining, petrochemicals, base chemicals, fertilizers, specialty chemicals, and shipping activities; and, Marketing and Services, which covers the supply and marketing of petroleum products and new energy (mainly solar and biomass). Total is actively managing its portfolio since 2010, with disposals of over $28 billion since launching its new strategy three years ago. In 2013, the company expects to raise about $9 billion in asset sales.
Total's upstream business segment produced 2.3 million barrels of oil equivalent (boe) per day in 2012 and booked 11.4 billion boe of proved reserves. Based on the 2012 average rate of production the reserve life is 13 years, and the proved reserve replacement rate was 93% in the past year. Total is a geographically diversified energy producer. For instance, 13% of the energy reserves are located in Nigeria, followed by Qatar, Kazakhstan and Norway, each one with a 9% weight.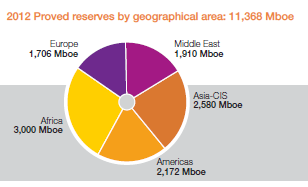 The upstream division is the company's most important segment, being responsible for the majority of its earnings. In 2012, four major discoveries in Argentina, the United States in the Gulf of Mexico, Nigeria and Norway were made as a result of the company's bolder exploration strategy, increasing even further its growth prospects over the long term. The company has a strong portfolio of new projects that will ensure growth over the coming years. It also sold some non-core upstream assets, such as stakes in pipelines in Norway or minority stakes in Nigeria.
Regarding its financial performance, the company has achieved very good results over the past few years. Moreover, the company is more efficient than its closest peers, being able to extract oil cheaper and achieve higher earnings per barrel of produced oil, only exceeded by Exxon. Total's sales increased by 8% to $266 billion in 2012, from $246 billion in the previous year. This increase is justified by a stable oil market, higher gas prices and higher European refining margins. Total's operating income was $33.2 billion, an increase of 2.4% from the previous year.
In the second quarter of 2013, upstream production advanced 1.3% to 2.29 million boe a day. The second-quarter production increase was the first year-on-year gain since the last three months of 2010. Going forward, Total has a target of 3% annual production growth up to 2015, supported by a good pipeline of new projects that should more than offset declining production at older wells. Total aims for output to reach about 3 million boe a day in 2017.
Dividends
Regarding Total's dividend history, the company has paid a stable dividend at €2.28 ($3.00) per share from 2008 to 2011. In 2012, the dividend was raised by 2.6% to €2.34 ($3.09) per share. However, for ADR holders its dividend history is more volatile due to exchange rates fluctuations. Total pays quarterly dividends, and the next payment ex-dividend date is September 19. The French withholding tax rate is 30%.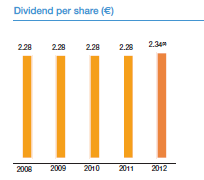 Its dividend payout ratio has been relatively low over the past few years, being below 50% for the past three years. In the last year, the dividend payout ratio decreased to only 43% despite the higher dividend per share. Therefore, Total has some room to increase its dividend over the next few years through an increasing payout, given its stable and highly profitable business. At its current stock price, Total's dividend yield above 5.5% is clearly attractive and above its sector average.
Total has increased considerably its investment program since 2010 to achieve higher production growth over the medium to long-term. Organic capital expenditure (capex) amounted to $23.8 billion in 2012, compared with $20.6 billion in 2011. For the year 2013, Total expects an organic capex budget of $28 billion, over 80% of which is dedicated to the upstream segment. In 2012, the company's cash flow from operations was almost $30 billion, which was enough to finance its capex and dividend outflows. Moreover, Total should be at the peak of its capex plan and at the bottom of its free cash flow cycle, thus as capex declines over the next few years the company should be able to distribute more cash to its shareholders and therefore a growing dividend.
Regarding its balance sheet, the company has a very solid financial position which supports its dividend policy. The balance sheet gearing is low and was further strengthened in 2012, given that Total had a net debt to equity ratio of 21% at the end of 2012, compared with 23% at the end of 2011. During the first six months of 2013, the gearing ratio has increased to 27% but remains at a relatively low level. Although Total's net debt was $19.6 billion at the end of 2012, its net debt to operating income ratio is very low at close to 0.6x, further supporting its strong balance sheet. Furthermore, as the company increases oil and natural gas production combined with this year's peak in capex, that means it will find itself in a cash positive position over the next few quarters.
Conclusion
Total offers a very interesting dividend yield above 5.5% and has the potential to increase it over the next few years. As the company decreases its capex it will have a higher free cash flow generation capacity, together with its strong balance sheet supports a higher dividend. The major risk for a growing dividend is a steep oil price decline, which given the current geopolitical tensions in the Middle East seems a negligible risk at least in the short-term.
Disclosure: I have no positions in any stocks mentioned, but may initiate a long position in TOT over the next 72 hours. I wrote this article myself, and it expresses my own opinions. I am not receiving compensation for it (other than from Seeking Alpha). I have no business relationship with any company whose stock is mentioned in this article.