The top 50 companies of the personal care products industry dominate the industry with 85% of the market share, creating a very concentrated environment. The companies in this industry are characterized by constant dividend payment to shareholders.
Kimberly-Clark (KMB) is one such company that has been paying dividends consecutively for the past 41 fiscal years, but is struggling to achieve a considerable increase in its topline, due to increased competition from KMB)" rel="nofollow">private label brands. Over the past few quarters, the company has not been able to showcase considerable growth in its revenue.
Competition from private label brands
With increasing price sensitive customers, Kimberly-Clark is facing a new wave of competition from private label manufacturers apart from its traditional competitors. Around 86% of U.S. shoppers are purchasing private label brands. Big retail players such as Wal-Mart (WMT) and Target (TGT) are using private labels to increase their profitability in the market, since it provides them with better margins. These retail players also have a competitive edge over national brands since they have PG)" rel="nofollow">point of sale data on consumer behavior available to them readily.
Private label sales increased at an annualized growth rate of 2.6% from 2009 to 2012 to $108 billion while national brands grew by only 0.9% for the same period. Assuming Kimberly grows at the same growth rate of 0.9%, the overall revenue of the company is expected to rise to $21.25 billion in 2014. Considering 45% attributed to the personal care segment, the overall revenue from this segment is expected to reach $9.57 billion, which is almost flat to what it achieved in 2012.
To boost sales and counter increasing competition from private label brands, the company has to make sincere efforts in research and development. The research and development expenses have only grown at a CAGR of 2.9% in the last 4 years. For now, Kimberly has been focusing on its FORCE (Focused on reducing cost everywhere) program. The company witnessed a 16% increase in its operating profit year over year in the first quarter, but its overall sales only grew by 1% for the same period. The company should focus on increasing research expenses in order to reduce its product cost so that it can experience the growth that private label brands are witnessing.
Will the dividend payment continue in the long run?
Kimberley is known for giving shareholders constant dividend, which has been increasing at an average rate of 9.5% over the last ten years. In the first six months of the current fiscal, the company paid a cash dividend of $602 million, a 6% rise from the same period last year. The company's dividend paying history is given below: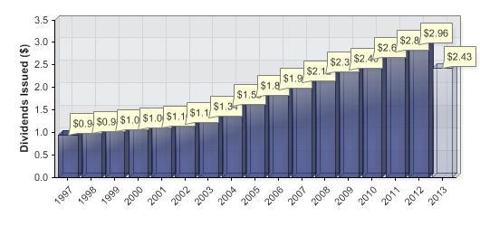 We expect that the company will continue its dividend paying strategy in the coming quarters since its cash balance has increased to $1.16 billion as of June 2013, a 4.8% rise in a six-month period. Its net income has also increased 9.8% to $1.098 billion over the same period. Moreover, it has already paid 82.09% of the dividends given in the last fiscal year.
On the other side, Kimberly-Clark also has plans to repurchase shares of $1 billion to $1.1 billion in the current fiscal year. The company has already repurchased $500 million from the market in the first quarter. Because of this repurchase, its trailing twelve months, or TTM, EPS currently stands at $4.69 and showed a 6.1% rise from the EPS it achieved in 2012.
Kimberly's net income has been increasing at an average quarterly rate of 13.70% over the last 4 quarters. Considering this growth rate and assuming that company makes a share buyback of $500 million, then the company is expected to make a repurchase of 5.3 million shares by the quarter ending in December 2013. With this company is expected to make a quarterly profit of $680 million and quarter EPS of 1.80 by December 2013 whereas last quarter EPS stood at $1.36.
Procter & Gamble (PG), like Kimberly, paid cash dividends of $1.7 billion and repurchased common stocks of $1 billion in the last quarter. Its present TTM EPS for second quarter stood at $3.86, a 24% rise from the same period last year. The company made a $6 billion share repurchase in the fiscal year ended in June 2013. Considering Kimberly's market cap stands at $35.81 billion, one sixth of its biggest competitor Procter & Gamble, Kimberly is giving consistent competition in maintaining investor's confidence.
Procter & Gamble is likely to make a share repurchase of $5-$6 billion in the present fiscal year ending on June 2014. Even if we assume that it will repurchase shares worth $2 billion by the end of 2013, then it can repurchase 26 million outstanding shares from the market according to present share prices. We also expect that earnings of the company are expected to reach $1.64 billion for the quarter ended in December, 2013 since its earnings are decreasing at an average rate of 6.5% from the last four quarters. Keeping this in mind the EPS of the company will be $0.60 for quarter ending in December, 2013, which isn't a significant return since the last quarter EPS was at $0.64.
We have covered PG in detail in our previous article. Please read: Procter & Gamble: Bulls Won't Regret It, And Neither Will You
Energizer (ENR) is another major player in the personal care segment. Its operating margin stood at 19.01%, or $211.4 million, much better than Kimberly's 15.11% in the last quarter ended in June 2013. Energizer is also a regular dividend paying company like Kimberly. In the last quarter Energizer announced to increase its quarterly dividend by 25% to $0.50 per share. We expect that it will continue to do so since its profit margins have been better than Kimberly, but unlike Kimberly and Procter & Gamble, it hasn't announced a buyback program since 2012.
A close analysis of Kimberly and its peers
| | | | | | |
| --- | --- | --- | --- | --- | --- |
| Company | TTM Dividend Payout Ratio | TTM Return on Equity | TTM EPS | Expected EPS in 2014 | Forward EPS growth over the present TTM EPS |
| KMB | 66.10% | 37.00% | $4.69 | $6.06 | 28.93% |
| Procter & Gamble | 59.30% | 17.18% | $3.86 | $4.67 | 20.98% |
| Energizer | 24.10% | 8.71% | $6.63 | $7.34 | 10.70% |
From the above table it can be easily inferred that Kimberly has the highest TTM dividend payout ratio among its peers with 66.10%. At 37%, Kimberly's return on equity is also considerably higher than Procter & Gamble's 17.18% and Energizer's 8.71%. With expected EPS growth also being highest, we can easily assume that the share repurchase will have a positive impact in the long run and ensure constant returns.
Conclusion
If Kimberly finds some new alternatives to reduce the cost of its products, than it can give stiff competition to private label brands in terms of growth. The TTM price to sales of Kimberly stands at 1.69, much lower than Procter & Gamble's 2.53 and little higher than Energizer's 1.35. A low price to sales metric indicates strong growth opportunity.
Disclosure: I have no positions in any stocks mentioned, and no plans to initiate any positions within the next 72 hours. I wrote this article myself, and it expresses my own opinions. I am not receiving compensation for it (other than from Seeking Alpha). I have no business relationship with any company whose stock is mentioned in this article. Fusion Research is a team of equity analysts. This article was written by Madhu Dube, one of our research analysts. We did not receive compensation for this article (other than from Seeking Alpha), and we have no business relationship with any company whose stock is mentioned in this article.