Over time, 3D printing, a process of making a three-dimensional object from a digital model, is expected to evolve into the next generation technology for manufacturing. Though, this technology is not a new phenomenon and the companies have been using this for prototyping and modeling their products since its inception in 1984, these machines required high capital investment.
With the passage of time, 3D printing has seen the introduction of new technology, which has expanded its use from prototyping, to direct digital manufacturing, which is the process of making the finished product directly through 3D printing. Additionally, it has reduced the capital investment required for these printers.
Direct digital manufacturing is cost effective, efficient, and can make complex design products. Looking at its benefits, industries like aerospace, automotive, consumer products, electronics, and defense manufacturing companies have started adopting digital manufacturing in their production processes.
The research firm Wohlers Associates and Citigroup estimates that this technology could manufacture 50% of jet engine parts. This demand growth has created a new opportunity for 3D Systems (DDD), which is a pioneer in 3D printers.
Survival of the fittest

Adoption of direct digital manufacturing by more industry verticals has resulted in the demand for 3D printers, which manufacture parts to the customer's requirement. 3D printing technology is the future of product development; manufacturers can incorporate advanced design development into their manufacturing. The 3D printing market has witnessed a transformation from complicated to user-friendly machines. The application of these machines has extended from industrial bases to households.
Looking at this demand growth, 3D Systems has been implementing initiatives to target a larger chunk of the 3D market. The company is a global 3D printing solution provider specializing in selling 3D printers and producing customized parts services. The company ranked fifth among the latest Forbes top 100 growing companies.
So what makes 3D Systems a powerful name in the 3D printing arena? Well, the answer lies in the company's expertise in 3D printing, which capitalizes on growth in prototyping and the direct digital manufacturing market. The company has a wide range of products that cater to prototyping, direct digital manufacturing, and the consumer segment of 3D printing.
To enhance its product offering, the company has been acquiring companies in the 3D space. The most recent acquisition was CRDM, which is U.K.'s leading provider of 3D printers, rapid prototyping, and rapid tooling services to sectors like automotive, aerospace, medical, and defense. Rapid tooling is the process of making a customized part of a model using computer aided designs. The company will integrate CRDM's services into its global Quickparts Solutions, which develops custom manufactured parts. CRDM's clients in the automotive industry include Formula 1, Aston Martin, and McLaren, while in its aerospace sector it has clients like Rolls-Royce. This acquisition will expand 3D Systems' product offerings and its footprint in the U.K.
As per the Vice President and General Manager of Quickparts Solutions, 3D Systems,
"CRDM is a strategic and geographically important addition to our rapidly growing 3D content-to-print services portfolio. With a proven track record in advanced manufacturing and rapid tooling, CRDM complements and expands our extensive range of custom parts services."
The global 3D printing market reached $2.2 billion last year, and it is expected to surpass $6 billion by 2017, as per Wohlers Associates report. Therefore, we are expecting that 3D Systems will leverage CRDM's expertise and customer base in the prototyping market for capitalizing on 3D printing market growth. The company reported 45% year-over-year revenue growth in the second quarter of this year, and with its initiatives, this growth is expected to sustain in the future.
Stratasys (SSYS) is another major player strategizing this 3D printing market growth. The biggest initiative was the completion of its $403 million merger with Makerbot in August of this year. Makerbot is a leading provider of desktop 3D printers, which are popular among households, entrepreneurs, small businesses, and designers, looking for a powerful 3D printer. This acquisition will set the stage for Stratasys to compete in the growing consumer and desktop market segment, where it has low presence since it previously focused on large industrial houses. Makerbot recently launched Digitizer, a desktop 3D scanner used to scan small objects to make digital 3D models.
This machine's biggest advantage is that it is user friendly and can be operated by anybody irrespective of his/her understanding of 3D modeling software. Therefore, this machine can be used anywhere.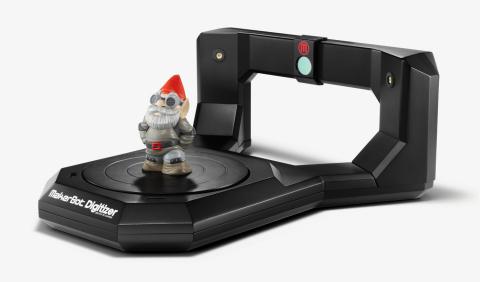 Apart from its user friendly appeal, these printers cost much less than professional scanners. Professional scanners cost around $10,000 per unit and are complicated to operate. Looking at the 3D printing market growth, Makerbot can expect demand growth for its new Digitizer due to its various benefits. Acquisition of Makerbot puts Stratasys in direct competition with 3D Systems in the consumer segment. But, with the market leadership of Makerbot in the desktop segment, and its new product launch, Stratasys is set to give 3D Systems a tough fight.
Another player in the 3D printers segment, ExOne (XONE), announced expansion of its production capacity through opening a new plant in Germany. This plant is expected to be operational by the end of 2014. We expect this new facility to provide double the capacity compared to the current capacity at its five leased facilities. This initiative will support the company's growth strategy to expand its footprint in the 3D printers segment, which 3D Systems and Stratasys currently dominate.
Peer analysis among 3D market

3D Systems and Stratasys control most of the 3D printing market and are the biggest players in this segment, followed by a small concentration of other companies like ExOne, which is into 3D printers for design and development of industrial prototypes. Although 3D Systems and Stratasys control the market, ExOne's growth initiatives are expected to increase its presence in the market. Let's take a look at these three stocks' valuation to find future growth potential.
| | | | |
| --- | --- | --- | --- |
| Metric | 3D Systems | Stratasys | ExOne |
| Trailing 12 months P/E | 122.26 | - | - |
| Forward 12 months P/E | 39.80 | 43.07 | 110.60 |
| EPS (trailing 12 months) | 0.43 | (0.55) | (0.73) |
All three companies' expected future performance is in line with the growth in 3D printing market. According to their P/E comparison, Stratasys and ExOne, which currently have negative EPS for trailing 12 months, are expected to generate earnings in the coming months. Looking at their forward P/E, all three companies are expected to increase their earnings, but 3D Systems and Stratasys are showing much more dispersion in their forward P/E metric as compared to ExOne, which indicates that investors can expect additional earnings growth from these stocks. This signifies the market leadership of both companies in the 3D market.
Conclusion:

Growth in the 3D printing market provides ample revenue growth opportunity for both 3D Systems and Stratasys. Looking at the current competition among 3D Systems and Stratasys, we feel that 3D Systems has an upper edge as its products provide an opportunity for growth in all three segments i.e. prototyping, digital manufacturing, and consumer. Acquisition of Makerbot provides Stratasys an opportunity to drive the consumer segment market, where it had low presence previously.
We are expecting that both companies will perform in line with the market expectation and have capitalized on 3D printing market growth with their initiatives. Therefore, we are expecting both companies to compete neck in neck.
Disclosure: I have no positions in any stocks mentioned, and no plans to initiate any positions within the next 72 hours. I wrote this article myself, and it expresses my own opinions. I am not receiving compensation for it (other than from Seeking Alpha). I have no business relationship with any company whose stock is mentioned in this article.
Additional disclosure: Fusion Research is a team of equity analysts. This article was written by Rohit Gupta, one of our research analysts. We did not receive compensation for this article (other than from Seeking Alpha), and we have no business relationship with any company whose stock is mentioned in this article