In the two years that I have followed Research in Motion (RIMM), there have been three consistencies: high revenue growth, extreme stock price volatility, and unrealistic analyst expectations. In those two years, I have remained bullish overall; however, I have moved in-and-out of the stock repeatedly and I believe that the market is giving investors a gift with RIMM's current valuation.
To recap RIMM's most recent quarter, second quarter EPS beat expectations by $.03 however revenue increased only 37% when the market was expecting 40%. As a result, shares plummeted approximately 25% in a matter of days. Seeing these tremendous expectations, I bought puts on RIMM and profited handsomely. Unlike many of its peers, RIMM increased its top line dramatically and was highly profitable but it merely failed to grow fast enough to match its inflated stock price. Was RIMM worth $88 in September? No. Is RIMM worth only $65 today? Unlikely.
Long term investors who can weather the volatility are presented with a tremendous opportunity to buy RIMM. Whenever one discusses RIMM, it is inevitable that the analysis must address Apple (NASDAQ:AAPL). I currently own Apple as well as RIMM; however, I find RIMM to be more attractive at its current valuation. Whereas AAPL is trading at a PE of 32.44, RIMM has a PE of 18.54. I must caution that RIMM trades at a significant premium to FCF: 83.65% versus 20.51. The intent of this article is not to debate which is a better investment but I felt it was necessary to at least proactively mention this. There are no rules that you cannot own both Apple and RIMM!
Now that I have laid the framework, I will present the support for my valuation. Based upon RIMM's compound earnings growth rates over the last five, three, and single-year periods, I forecast growth rates for the next five years. I began with what I felt to be conservative growth rates, and then I slashed them all by five percent per year to enhance the margin of safety. Utilizing the average growth rates for the three and five year periods, I utilized a DCF analysis assuming an 11% discount rate. This benchmark may be high in light of the current environment but again, I prefer to strengthen the margin of safety. Lastly, I took the intermediate and long-term valuations and I weighted the lower of the two more to once again be conservative (notice a theme?). As a result, I computed an 18-month price target for RIMM of $76.44, which is an approximate 14% discount to RIMM's current price of $65.77. The calculations are summarized below: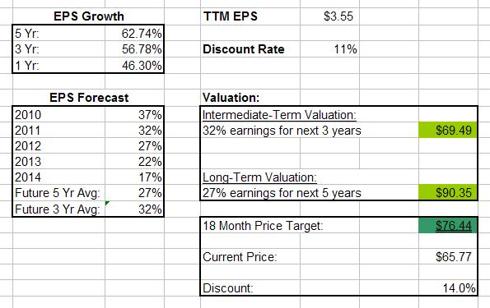 Click to enlarge
Now I am sure you are wondering what to do with this wealth of information presented above. Despite believing that RIMM is decently undervalued, I do not believe that it will appreciate significantly in the short-term. The market is highly volatile and your guess is as good as mine what will happen on a daily basis. What I believe makes RIMM extremely attractive right now is the value of the put options. I have highlighted four different put options that you can invest in depending on your risk tolerance.

Click to enlarge
First, if you are new to put options, a fellow contributor, Mr. Hickey has done a tremendous job in explaining how to use put options. Here is one of his articles that I suggest as a starting point.
Naturally there is also a wealth of information available on the topic elsewhere on the Internet. I have personally sold the November 65 puts last week for $1.90. If they expire worthless I earn $180 after commission for approximately 35 days worth of exposure. This requires that I set aside $6,500 so my return is 2.77% over the time period, or almost 30% on an annualized basis! If I am called away, I get to keep the $180 and buy RIMM at an attractive price. This then presents the opportunity to sell covered calls but that is a whole different topic! RIMM fell in price late in the week so now you can sell these options for even higher prices than I did. In sum, the choice of which put to sell is yours, or perhaps you prefer to just buy RIMM outright, but based upon the above analysis, I believe that Research in Motion is a superb long-term investment. Regardless of your strategy, go out and put RIMM in play!
Sources: Motley Fool, Reuters, Seeking Alpha, TDAmeritrade, and Yahoo Finance
Disclosures: I am long AAPL and RIMM. I am short RIMM Nov. 65 Puts.