You would think Whirlpool Corporation (NYSE:WHR) had moved to Silicon Valley and invented something revolutionary when you look at a chart of its stock price in the past 2 years. The stock has tripled.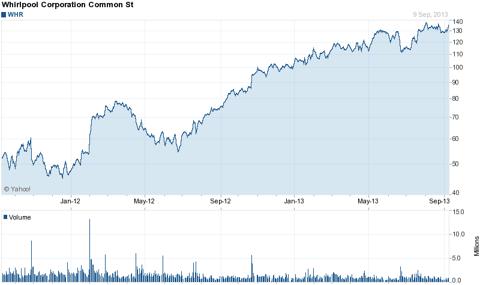 Click to enlarge
(Click to enlarge)
Whirlpool now trades at a price to earnings multiple of almost 17 times 2012 earnings of $8.04 per share and sports a market capitalization of about $17 billion. The stock price of $130 plus is twice book value.
Surprisingly, Whirlpool' returns on equity are about 15% after tax, about on par with the average for American industry based on PIMS studies done by General Electric (NYSE:GE) in the 1960's. For those readers not old enough to remember the 60's, PIMS was an acronym for Profit Impact of Marketing Strategy and among other things included a massive data base of corporate results. A typical manufacturing company - average really - earned 5% net income to sales (ROS) and 15% after-tax return on investment (ROI). Whirlpool's 3.53% ROS and 14.95% ROI in 2012 were a bit below average.
You can tell when the market is approaching a top when average companies in mature industries trade at premium earnings multiples.
Whirlpool was kind enough to publish its "Value Creation" targets for 2013.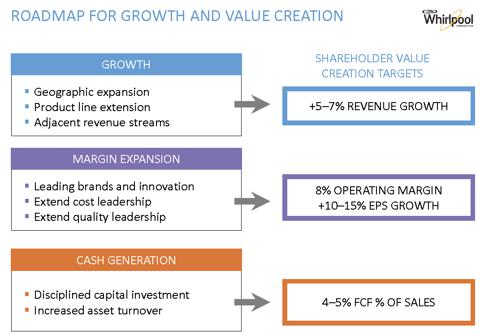 Click to enlarge
(Click to enlarge)
They include a blistering 5% to 7% revenue growth and 10% to 15% growth in earnings per share implicitly through cost reductions, since profits are targeted to grow faster than sales.
I think in my years in planning at Canadian General Electric Company Limited (CGE) I saw literally dozens almost identical charts with somewhat similar labels. I still have to resist the urge to yawn when I see one. Inevitably, reality caught up with planning and cost reduction could not go on forever. Some employees still wanted to be paid and the occasional landlord wanted their rent. Suppliers expected to be able to pass on their own cost increases with modest price increases, and the fact is it is hard to take much material out of a dishwasher or a refrigerator and still wash dishes or keep food cool. If anything, the addition of electronic features to these appliances has made them more costly both to build and to maintain.
As far as meeting the "Value Creation" targets, a lot of things have to go right. For the quarter ended June 30, 2012, revenues were just 5.3% up year-over-year for the quarter and a tepid 2.4% for the first half despite a strong housing market in North America. Unit sales year to date June were 2.4% ahead of the prior year.
Reality will eventually catch up to Whirlpool. Despite its very good run, its operating performance is only now reaching average levels for industry, and I expect it will continue to show modest improvement as the economy strengthens. But, as night follows day, there will be another downturn and when it begins, Whirlpool is on the front line of companies whose fortunes turn sour very quickly.
The average Whirlpool product sells for about $350 and contributes about $75 operating profit. An economic turndown could easily take 4 or 5 million units out of demand and $300 to $375 million out of pre-tax profit. The impact tends to be more pronounced in major appliances where purchases can be easily deferred when money is tight, and white goods are the higher priced Whirlpool products. With only 81 million shares outstanding, the impact to net income could be $2 or $3 per share and the stock will find its way back into single digit territory pretty quickly.
Whirlpool earned over $8.00 a share in. Those earnings fell to $4.34 a share in 2009 but recovered to $7.97 a share in 2010. In its 2010 annual report, Whirlpool set out its value creation targets for that year.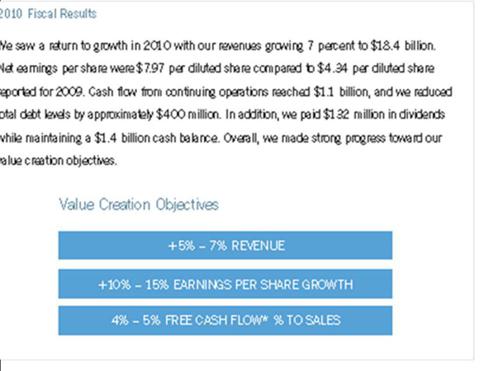 Click to enlarge
(Click to enlarge)
Look familiar? It should. It seems Whirlpool management has fallen asleep and repeats the same plan year after year. History has a habit of repeating itself. The stock price in 2010 ranged from about $60 to $80 a share. Today the same story commands a value of $130 per share. Go figure.
It is a good company. It is well managed. It makes products people need. It has a strong brand name. It is not worth 17 times earnings.
I am short the stock.
Disclosure: I am short WHR. I wrote this article myself, and it expresses my own opinions. I am not receiving compensation for it (other than from Seeking Alpha). I have no business relationship with any company whose stock is mentioned in this article. I am short 7,000 shares