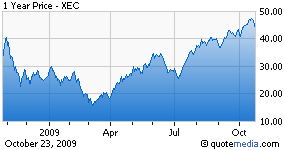 Buy-recommended Cimarex Energy (NYSE:XEC) has built up its best backlog of drilling projects while maintaining low debt, minimal hedging and generating cash at the highest rate of any stock in our income and small cap coverage. Shale gas in western Oklahoma, a 3-D seismic natural gas play in southeast Texas, and horizontal oil in west Texas, all appear to be working well. The prospects are reassuring because reinvestment effectiveness is especially important for companies generating high levels of cash.
At the same time, Cimarex's low-debt policy helped the company to gain ground on high-debt competitors during the turmoil of the past year. Nonetheless, management felt it necessary to take out some price insurance in the form of hedging to assure minimal operations to keep the organization on top of its game, among other considerations. XEC stock has appreciation potential of 9% to a McDep Ratio of 1.0 where stock price would equal Net Present Value (NPV) of $46 a share. NPV could be higher considering a somewhat low unlevered multiple of Present Value to Ebitda compared to the ratio of Adjusted Reserves to production. We may also be entering the phase of the cycle where natural gas price moves up while drilling costs lag, the most favorable conditions for Cimarex's active drilling strategy.
Volume and Price in Cycles
During the immediate four quarters ahead, producing volume may decline while natural gas and oil price may be rising. Volume is responding on a delayed basis to last year's reduction in drilling that in turn was triggered by last year's decline in price. Such are the industry dynamics reflecting the lead and lag of the classic price and production cycles in business and economics. Now Cimarex is expanding drilling again and volume should turn up in future quarters.
Cimarex creates shareholder value through a combination of volume, price and costs. Real growth requires increasing volume per share over the cycles. Cimarex's business model calls for reinvesting all its cash flow as opposed to distributing it in dividends or stock repurchase. The Cimarex organization has the experience and capability to reinvest effectively, we believe. Some expectation of energy price increase is already built into stock price. Should energy price increase more, a likely prospect in our view, Cimarex stock should also increase and vice versa. Costs are mainly determined by how much oil and gas can be produced relative to the effort expended on drilling and production.
Recent experience gives management the confidence to expand drilling as we discuss below. We need management to deliver on volume and costs, as we believe is the case, because in the end our interest in the stock is in the upside potential of oil and gas price.
Cana Shale Economic at Low Price
A representative well drilled into the Cana Shale in Oklahoma can earn an annual rate of return of 15% at a natural gas price of $3 a million btu and 60% at $7. Those attractive numbers are what one would expect for an active drilling play. At the low end, a driller can justify incremental activity. At the high end a driller can make enough profit to carry the rest of the company in its activities leading up to finding a drilling play and then getting the commodity to market. Operating 3 rigs in 2009, Cimarex now looks to run 4-6 rigs in the Cana Shale in 2010.
Big Well Boosts Gulf Coast Program
Emphasized in the second quarter analyst call, the Two Sisters well may have reserves of 20 to 40 billion cubic feet, or some seven times the average for the Yequa/Cook Mountain program. In its September 29 presentation, management talked of drilling 6-8 wells in the area in 2009, up from 5-6 two months ago. The company is in its seventh year of drilling in the Gulf Coast play.
Horizontal Oil Rig Count Increasing
Finally, Cimarex is also expanding its activity in its third major area of concentration, oil in the Permian Basin of Texas and New Mexico. The current three rigs running is to expand to 4-5 by year end. An unattractive return at $40 oil early this year becomes quite attractive at $70 oil today.
Originally published on October 2, 2009.