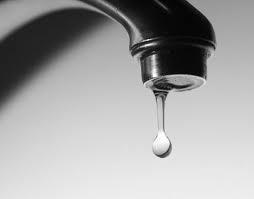 Global demand for clean water is growing strong due to a number of fundamental factors: population growth in arid regions like the Middle East and North Africa, pollution of fresh water resources in highly populated countries like China and India, and the effects of global warming (drought & rising sea levels) affecting fresh water resources in places like Florida, California, and Texas. In addition, after years of tight credit due to the financial crisis, infrastructure lending is picking up and projects now appear to be moving forward at an accelerated pace. As a result, investors should consider a broadly diversified water resource ETF as a way to participate in this fast growing market trend. This article will compare two such ETFs.
Background & Market Trends
Recently two large capacity seawater reverse osmosis ("SWRO") plants issued contracts and are moving forward. The huge SWRO plant in Carlsbad, California will supply Southern California with 189,250 cubic meters/day (50 million gallons/day) of desalinated water. The Jubail Project in Saudi Arabia will double existing capacity by adding an additional 100,000 cubic meters per day of potable water. These two projects appear to be typical of a wave of new desalination plants needed to satisfy global fresh water demand.

My initial foray into this market segment was in individual companies like Consolidated Water (NASDAQ:CWCO) and Energy Recovery (NASDAQ:ERII). CWCO is a small cap company that designs, builds, and operates SWRO plants. The company operates mainly in the Caribbean but it is branching out. CWCO pays a 2.3% dividend and you can read more about it here. Energy Recovery is a more speculative play based on growing market demand for its patented PX product line of isobaric pressure exchangers. You can read more about ERII in articles here and here. Although I normally prefer to invest in individual companies like these (I recommend and own both CWCO & ERII), the growing global need for fresh water appears to be such a fundamentally strong trend it makes sense to invest in a broadly diversified sector ETF. Here are two water resource ETFs investors should consider.
First Trust ISE Water ETF (NYSEARCA:FIW)
This ETF tracks the ISE Water Index - a benchmark of firms that derive a substantial portion of their revenues from the potable and wastewater industries. You can read more about this ETF on its webpage. The Index selects the top 36 stocks in the industry by market capitalization and rebalances twice a year. FIW has a total NAV of $131.6 million and expenses are contractually capped at 60 bps in annual fees through April 2014. One thing to consider is the typically light trading. The funds' top-5 holdings are:
| | |
| --- | --- |
| Watts Water Technologies, Inc. (NYSE:WTS) | 4.31% |
| The Gorman-Rupp Company (NYSEMKT:GRC) | 4.28% |
| Rexnord Corporation (NYSE:RXN) | 4.13% |
| Energy Recovery, Inc. | 4.12% |
| Pentair, Ltd. (NYSE:PNR) | 3.99% |
The fund has a 3-year NAV return of 17.5% while the one-year returns is 25.4%.
PowerShares Global Water Portfolio (NASDAQ:PIO)
The PowerShares Global Water Portfolio ETF is based on the NASDAQ OMX Global Water Index. The fund typically invests 90% of total assets in companies listed on a global exchange that creates products to conserve and purify water for homes, businesses, and industries. The expense ratio is 0.75% and the fund holds 36 securities.
| | |
| --- | --- |
| Roper Industries Inc. (NYSE:ROP) | 8.39% |
| Pentair Ltd. | 8.31% |
| Flowserve (NYSE:FLS) | 8.08% |
| Veolia Environnement S.A. (VE) | 7.68% |
| United Utilities Group PLC (OTCPK:UUGRY) | 6.99% |
49% of the fund's holdings are in the United States. While the fund's one-year return is 15.59%, the three-year return has lagged benchmarks with a 6.94% annualized return. You can read more about this ETF on its factsheet.
Summary & Conclusions
Increasing demand for fresh water is forcing governments and companies to step-up investment in infrastructure to recycle, manage and desalinate water resources. Fundamental factors such as growing populations in arid regions, pollution of existing fresh water resources, and the global warming effects of drought and rising sea levels threaten fresh water supplies for highly populated regions around the world. A broadly diversified sector ETF enables investors to participate in the sector without the risk of picking a small number of individual companies. Of the two ETFs covered in this article, I would recommend FIW due to its superior 3-year return as compared with PIO, as well as its lower fees.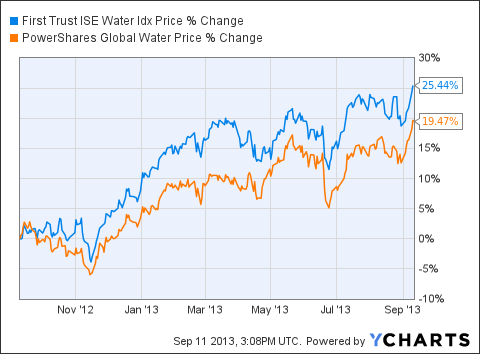 Disclosure: I am long CWCO, ERII. I wrote this article myself, and it expresses my own opinions. I am not receiving compensation for it (other than from Seeking Alpha). I have no business relationship with any company whose stock is mentioned in this article.
Additional disclosure: I am an engineer, not a CFA. The information and data presented in this article was obtained from company documents and/or sources believed to be reliable, but has not been independently verified. Therefore, the author cannot guarantee its accuracy. Please do your own research and contact a qualified investment advisor. I am not responsible for investment decisions you make. Thanks for reading and good luck!