ShopHouse, a southeast Asian fast casual concept by Chipotle (NYSE:CMG), isn't all that new. The unique noodle and rice bowl concept opened its first store in 2011 with food inspired by cuisine found in Thailand, Vietnam, Malaysia, and Singapore. The restaurant has been a bit slow to develop in recent years, but it's growth rate actually mirrors that of it's burrito based predecessor.
So, with four operating stores two years later, it's time to ask: will ShopHouse take off?
Food Diligence
Both of my visits at the new Georgetown location in Washington, D.C were telling. Only weeks apart, the second was a much better experience than the first. The store boasts an appealing simple desing, and the staff was incredibly accomodating and friendly. Yet both times, I was the first customer in the store, once for lunch, once for dinner. Caught taking pictures outside, I was lucky enough to get invited in, for a bowl on the house.
I began due diligence with my patented secret recipe approach:
Go To ShopHouse
Eat Food
Results: Interesting. The flavor is bold and unique.
I tried a total of three different bowl combinations. First visit: jasmine rice, grilled steak laab, green beans, spicy red curry, pickles, and roasted garlic. Second visit: chilled rice noodles, grilled satay chicken, green beans, green curry, green papaya slaw, roasted garlic. And finally, I also sampled a chilled rice noodle, pork & meatball, tamarind vinaigrette bowl.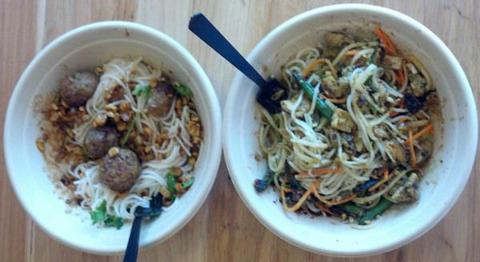 The flavor found in a giant Chipotle burrito is one well known in North America, a taste of our close neighbor. The flavor found at ShopHouse is a bit undiscovered, and comes from geographies further away. This may present a unique challenge, and I question whether the American palette will accept this bold and unique flavor. The flavors aren't very diverse, and only the vinaigrette changes the taste away from a common theme of charred and crunchy.
With a bit of time to get the recipe right, and the recent surge of both sushi and Thai restaurants, I think ShopHouse stands a chance. Personally, I like unique and bold flavors, as well as spicy dishes (the concept boasts a line of Sriracha bottles on the wall as their only condiment). But I also know, some people don't care for these flavors, and breaking that trend will be key to open the floodgates for ShopHouse success.
I did notice a lack of marketing, and I can't tell if this is by design. The glass in front of the store is empty, and the sign (pictured above) sits a good 20 feet above the sidewalk. I observed people walk by the store clearly not understanding what it is, and thus never entering.
They have one small paper menu (just like Chipotle), and never once asked if i'd like to take it. They're either testing word of mouth, or doing a terrible job on the marketing front. Given all the experience gained via Chipotle growth and their position on marketing found in annual statements, I have to assume the former.
A Look Back At Chipotle
Many years ago I visited the first Chipotle location in Denver, where Steve Ells set out to offer "Food with Integrity". The burrito chain founded by Mr. Ells in 1993, only had 14 stores four years later. Two years following the original store, Chipotle added store numbers 2 and 3; a similar pace to ShopHouse growth. As of June 2013, the multi-billion dollar food chain had over 1,500 stores operating with the average location's sales exceeding $2 million / year.
One of the big catalysts in the Chipotle story formed when McDonalds (NYSE:MCD) made a strategic investment in 1998. At the time, Chipotle only had 16 operating stores. The fast food super giant exited out of their 87% stake in 2006, leaving Chipotle with best-in-class training in real estate, accounting, legal, and other core operational services. Chipotle also had the ability to leverage McDonald's food distribution network and relationship with Coca Cola (NYSE:KO).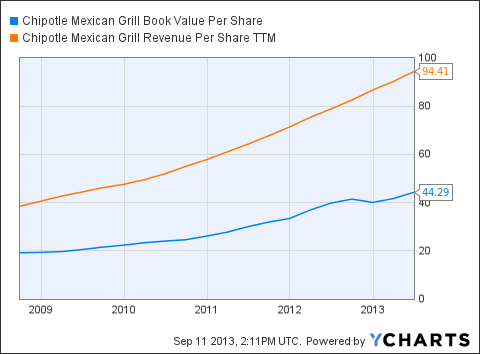 CMG Book Value Per Share data by YCharts
The success and growth rate of the popular burrito chain has been exceedingly impressive. The food is excellent, and almost everyone I know with a love for Mexican flavor enjoys Chipotle.
Chipotle Growth Slowing?
I think we are super-saturated with Chipotles. Much as it feels there is now a Starbucks (NASDAQ:SBUX) on every corner, it feels as though a delicious burrito is always no more than a few miles away. Given the company's rampant growth, I'd wager Chipotle begins to slow new store openings over the next few years.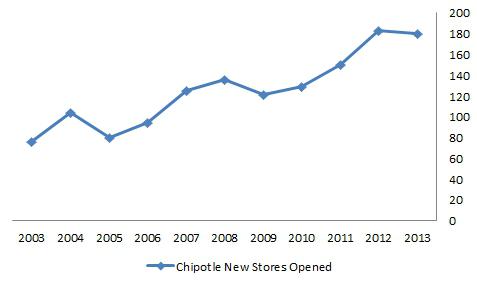 If Chipotle store growth does in fact slow, and consumers begin to take at least the littlest break in burrito consumption, investors should look to see if ShopHouse openings can fill the gap.
Comparing ShopHouse to Chipotle
The two concepts are extremely similar in many facets. From a simple menu and clean interior build out, through the initial growth story thus far. Analysts might be able to grab a Chipotle model and simply add stores to model ShopHouse growth. Given seemingly less-expensive ingredients, and even fewer choices (bowls only, no tacos), ShopHouse has the potential to run better margins than Chipotle.
Taking Out a Summary
Chipotle has done great across the board. When it comes to ShopHouse, I sit on the fence, unable to decide whether it can truly grow like Chipotle. The organic and responsibly raised food approach is there. The simplified menu is there. The great staff, and all the other operational benefits ingrained from years of running Chipotle is clearly there.
The only true question that remains is, will everyone like it? And, will they like it as much as a burrito, taco, or burrito bowl?
Some investment questions to consider:
With a 44.x TTM P/E, 4.3x P/S, 9.4x P/B is Chipotle priced too high?
Is ShopHouses' potential growth already priced in?
If Chipotle comes down, and ShopHouse stores start going up, is it a buy?
Disclosure: I have no positions in any stocks mentioned, and no plans to initiate any positions within the next 72 hours. I wrote this article myself, and it expresses my own opinions. I am not receiving compensation for it (other than from Seeking Alpha). I have no business relationship with any company whose stock is mentioned in this article.