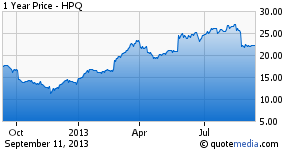 Hewlett Packard (NYSE:HPQ) has been at the center of financial news over the past several months. Against the backdrop of a shrinking PC sector, the tech bigwig is struggling to not only regain its footing, but turnaround its stock as well. Currently trading at $22.27 (as of this writing), bears argue that it will not go past its 52 week high of $27.78.
In the third quarter, HP's revenue declined 8.2% year on year to come in at $27.2 billion. Likewise, adjusted EPS fell 14% to come in at $0.86 a share. Desktop revenues slipped 10% while notebook revenue declined 16%, bother year on year. All this culminated into an 8% overall dip in unit sales as well as an 11% decline in overall revenue for the personal systems segments. Other segments similarly recorded declines in their top lines.
Going by the disappointing third quarter earnings, and worse still, the management's bleak outlook for fiscal 2014, the notion that there is limited upside to HP is not without reason. However, the bear case, albeit compelling, does not shed light into every corner. A closer look at some vital fundamentals suggests that HP could still have some upside potential.
When you stack HP against Dell (NASDAQ:DELL), a close competitor that is on a sure path to going private, you will realize that although both of them recorded declines in their past quarters, there are profound differences. In their past quarters, HP's operating margins in the personal systems segment came in at 3% compared with Dell's 2.2%. In the enterprise segment, HP's operating margin came in at 15.2% compared with Dell's 4.1%. However when it comes to revenue, the scales tipped in favor of Dell, with Dell posting significantly higher revenues relative to HP in key segments.
HP's new model consistent with changes in the wider market
HP is making an undisguised tradeoff between revenue and profit while Dell is doing the opposite, sacrificing margins for revenue. In the conference call, HP CEO Meg Whitman stressed that the company would continue directing its efforts toward profitability.
On the surface, Dell's approach passes by as wiser. Conventional business wisdom dictates that numbers are a far greater asset to have. In line with this said conventional business wisdom, Dell can always leverage its market share, as indicated by the comparatively higher revenue, to make good of whatever opportunities that come along the way. However, if past history is anything to go by, investors should learn that there are no definite conventions in the tech sector.
Let's piece everything together and you will understand why HP's model in the current tech context radiates promise. Looking back at HP's earnings, you will note that the company's operating net debt position improved by $1.7 billion, marking the sixth consecutive quarterly reduction above $1 billion. And in addition to the ongoing cost cutbacks, HP has said that it is on the lookout for acquisitions of up to $1.5 billion. The company could ink multiple deals within the $100 million to $300 million range, all cumulatively running up to $1.5 billion.
Implications of the change in strategy
By reducing debt, trimming the numbers, maintaining profitability and looking for new acquisitions, HP will be able to achieve strategic positioning, or rather gain a competitive advantage, in this fast changing tech sector.
Microsoft (NASDAQ:MSFT), which provides software for the vital personal systems segment, is now a devices and software company. Though not on paper, it has openly ditched its former OEMs in favor of its new gem, the Nokia phone business. And seeing that everything is going mobile, Microsoft is likely to concentrate its efforts toward tailoring software for mobile devices and in specific, future phones and tablets manufactured under its newly acquired phone segment. As this scenario unfolds, HP will be left in the cold.
By HP trimming numbers, it will remain with only the loyal customers who are willing to pay a premium for advanced devices and great innovation. Consequently, the willingness to pay a premium will allow HP to make a solid, frictionless foray into mobile devices as well as software. Similarly, remaining profitable, reducing debt and looking for small acquisitions will allow HP to broaden its product portfolio as well as hedge against risks in the tech sector. All this could set HP on a new growth pattern as it will reposition itself to minimize setbacks and maximize gains amid a fast changing tech landscape.
Conclusion
As is, HP has shown that it deserves a straight ten when it comes to corporate governance. Despite the mounting challenges it faced in the past quarter, the board and management upheld shareholders' interests and signed off to $283 million in share buybacks and dividends. If this new strategy of trimming market share, enhancing profitability, and broadening the product portfolio through acquisitions pans out, there is no doubt that shareholders will enjoy great growth as well as reasonable income from their investment. There is still some upside in HP.
Disclosure: I have no positions in any stocks mentioned, and no plans to initiate any positions within the next 72 hours. I wrote this article myself, and it expresses my own opinions. I am not receiving compensation for it (other than from Seeking Alpha). I have no business relationship with any company whose stock is mentioned in this article.