Summary:
The IP video surveillance camera market is undergoing a fundamental disruption, driving strong secular growth (23% CAGR 2013-17). While the key IP camera vendors are based outside the US, and thus harder to invest in, Ambarella (NASDAQ:AMBA) is well positioned to profit from its dominance in semiconductor video encoders. Currently, AMBA is trading at a very modest P/E multiple of 11x ex cash based on a FYE (January) 2015 EPS estimate of $1.12. Given the competitive dominance & growth profile, we believe a more reasonable P/E multiple is 18x ex-cash, which leads to $25 price target.
Many discussions regarding Ambarella focus on its sports camera business. This is understandable, as GoPro cameras account for a significant portion of Ambarella's revenue, and GoPro is a highly successful and visible consumer product. However, we believe that the IP camera market will be the key growth driver for the company, though investor focus on this market has been modest. In this article, we would like to provide a better picture of the secular growth of the market and why Ambarella is well positioned to benefit from it.
IP Camera Industry Overview:
The IP camera market consists of the traditional, business-focused (enterprise and SMB) video surveillance camera market and a nascent consumer IP camera market. Between these two markets, the traditional video surveillance camera market accounts for the majority share of the current TAM. The consumer IP camera market, although small today, is expected to grow rapidly, as the hardware price approaches impulse-buy level and the ease-of-use and functionality are substantially improved.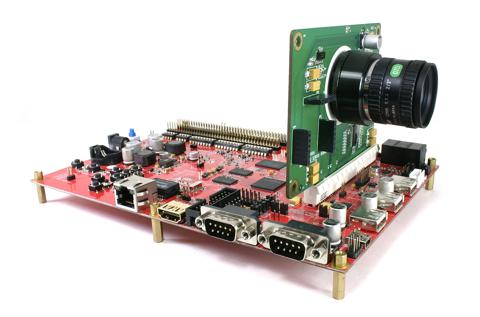 Click to enlarge
(Click to enlarge)
Figure 1: Ambarella's S2-based 4K ultra HD IP camera reference design showing key silicon components.
Video surveillance equipment was a $12.6 billion market in 2012. According to the market research firm IHS Inc., this market is expected to grow by more than 80% over next five years to $23.2 billion, representing a 13% CAGR. This market can be further divided into two segments: analog cameras and IP cameras (a.k.a. network cameras). Currently, IP cameras account for 37% of the global surveillance camera market, and is estimated to increase to 57% by 2017. Because of the TAM expansion and share gain of IP vs. analog, the IP camera segment will grow at 23% CAGR during this period.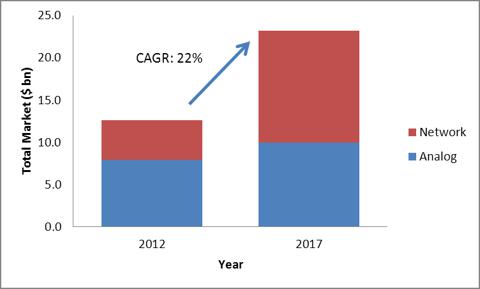 Click to enlarge
(Click to enlarge)
Figure 2: Growth in Video Surveillance Equipment market (source: IHS Inc.)
The growth of enterprise IP cameras is driven by a number of factors, including:
A greater acceptance of video surveillance,
Better video quality,
Lower total cost of ownership,
Intelligent video analytics, and
Expanded use of surveillance cameras in retail operations.
In the wake of terrorist attacks, the public is becoming more receptive towards video surveillance in public locations, such as airports, stadiums, and schools. While video surveillance systems cannot prevent terrorist attacks, they help law enforcement agencies identify suspects and alert the public with relevant photos of the suspects. A recent New York Times article (link) reports that "Americans overwhelmingly favor installing video surveillance in public places."
Before the advent of IP cameras, the surveillance camera market was served by analog cameras. The resolution of a good quality analog camera is comparable to that of standard definition TV. In contrast, the resolution of IP cameras typically starts at 1MP, which is basic HD quality. Higher resolutions, such as 2MP, 3MP and 5MP, are common, and high end IP cameras resolutions can go much higher. For instance, Avigilon's (OTCPK:AIOCF) HD Pro camera offers a whopping 29MP resolution (link). The substantially higher video resolution makes the video footage more informative and useful.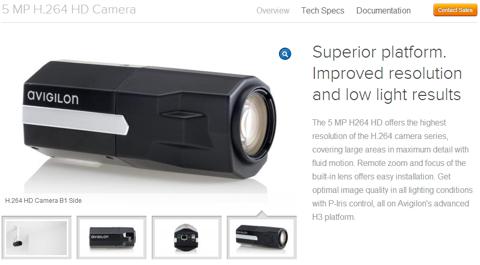 Click to enlarge
(Click to enlarge)
Figure 3: Avigilon's 5MP HD IP camera
Another driver for the adoption of IP surveillance cameras is the reduced total cost of ownership. While IP cameras typically cost 20%-30% more than analog cameras, they offer significantly lower cabling costs and greater per-camera area coverage. Cabling cost is a substantial cost component of large video surveillance installations. Cabling cost is driven by the number of cameras to be connected and the number of cables per camera. Large projects often benefit from much reduced camera count because IP cameras' greater resolution can cover a much bigger area and can still produce high quality video. Furthermore, IP cameras today use power-over-Ethernet (PoE) technology. Thus, instead of pulling separate signal and power cables, a single Ethernet cable can deliver network and power to the camera, thereby reducing cabling costs.
Higher video quality also makes intelligent video analytics possible, such as facial surveillance, license plate recognition, advanced object tracking, demographics, queue line analysis, people counting and dwell time and loitering monitoring. Retailers are increasingly aware of the power of sophisticated real time analytics and are adopting such solutions to analyze their shoppers' in-store behavior to optimize sales. This article (link) reports Nordstrom's (NYSE:JWN) experiment of tracking their in-store shoppers.
Competitive Landscape Highlights
The IP camera market has several large players and many smaller players. Axis Communications (Stockholm-AXIS), a Swedish pure-play IP camera company, is generally considered a leader in this space. Its cameras are sold through distributors and system integrators worldwide and are widely used in large projects. The company currently uses its in-house ASIC to implement video encoding and proprietary analytics functions. The company launched the first network camera in 1996, and has been growing steadily at 15% topline growth year on year.
In recent years, two Chinese companies, Hikvision Digital Technology Co., Ltd. (Shenzhen:002415) and Dahua Technology Co. (Shenzhen:002236), have experienced phenomenal growth. Both companies are focused on the large China market.
Avigilon Corporation is a Canadian video surveillance system company. Unlike other players, Avigilon offers end-to-end solutions, from cameras to digital video recorders to video management system (VMS) software. Furthermore, it directly partners with system installers to have better control of the end market pricing.
These companies are all benefiting from the secular trend of IP cameras replacing analog cameras. This is evident in their stock performance.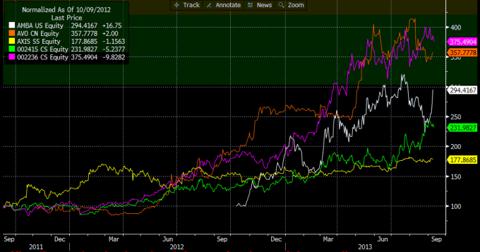 Click to enlarge
(Click to enlarge)
Figure 4: Stock performance of IP camera vendors and Ambarella
Ambarella : Enabling the IP Video Revolution
Similar to digital still cameras, IP cameras have a CMOS image sensor made by companies like Omnivision (NASDAQ:OVTI) or Aptina, a processor to control the camera's overall functions (made by camera vendors in-house or by CSR). However since the viewing and storage of the video is located somewhere else on the IP network, IP cameras require an encoder chip (such as Ambarella's A5s), which compresses the high-bandwidth raw video feed from the sensor to H.264 format so it can be transmitted efficiently with much reduced network bandwidth requirement. Maintaining high compression ratio in addition to solid image quality is a key requirement for the encoder chip. Furthermore, CMOS sensors are sensitive to operating temperature. Many image sensors become unusable at above 50-60 degrees Celsius due to high thermal noise. For example, the data sheet of Omnivision's security and surveillance 720p/60 HD image sensor indicates a stable image temperature range between 0C and 50C. Similar limitations can be found in Aptina's image sensor data sheets. Because the camera enclosure is a poor thermal conductor, the encoder chip must operate at low power to prevent the sensor from overheating.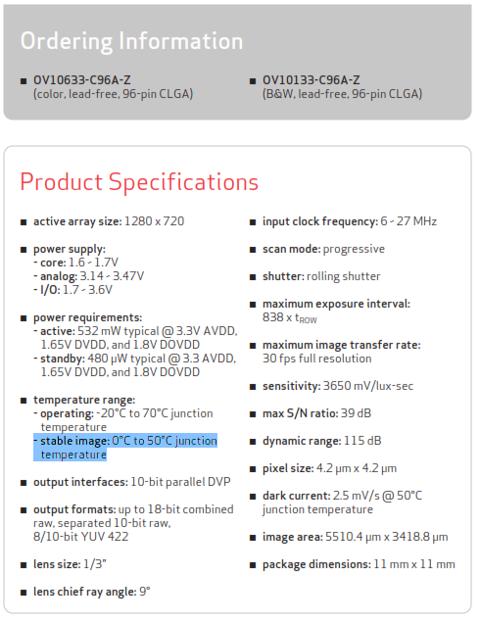 Click to enlarge
(Click to enlarge)
Figure 5: Omnivision's image sensor datasheet, showing temperature sensitivity
Key merchant silicon vendors in the IP camera video encoder space include Ambarella, Texas Instruments (NASDAQ:TXN) and HiSilicon (private). Among the three, Ambarella is gaining market share because of the technical superiority of its encoder SoCs. For instance, its SoC consumes only 700mW of power (including the external DRAM), while other vendors often shy away from quoting power consumption at a whole system level. For instance we think , Texas Instruments' TMS320DM368 SoC power consumption for 720p/30 encoding application is 1027mW (see Section 4.2 in this document link). This alone is higher than the power consumption of Ambarella's encoder with external DRAM. We estimate that Texas Instruments' solution consumes at least 50% more power consumption is substantially higher for an equivalent configuration. Furthermore, management has stated that Ambarella's solutions offer twice the encoding efficiency for the same video quality.
Even though switching encoder chips is a non-trivial project for IP Camera vendors, Ambarella is gaining share. On its FQ1'13 earnings call, Fermi Wang, CEO of Ambarella, announced a design win at HikVision. Based on our offline conversation with management, it seems that Ambarella displaced a Texas Instruments' incumbency. As we learned from our primary research, IP camera vendors prefer to use a single encoder vendor so that they can leverage their software development across a family of IP Camera product lines. For this reason, camera vendors do not switch encoder chips for insignificant reasons. This design win is a solid testament to the superiority of Ambarella's solution.
As the demand for higher resolution IP cameras increases, Ambarella's low-power encoder architecture will further set its SoCs apart from other players. Furthermore, we believe Ambarella will be able to defend its leadership position by further integrating differentiated capabilities, such as on-camera analytics functions.
Today, a large percentage of IP camera encoders are designed in-house by IP camera makers. We see the inevitable adoption of merchant solutions over time, as merchant vendors innovate at a faster pace and can better amortize R&D investments across multiple customers. Ambarella is in a strong position to gain share versus in-house solutions.
We estimate that IP camera revenue accounts for about 30% of the company's total revenue, based on management's comments. Therefore, besides the booming sports camera market and the automobile camera market, the 23% growth of IP camera market, along with continued encoder market share gain by Ambarella may lead to surprising revenue growth for Ambarella in the years to come.
As a fabless semiconductor company, Ambarella enjoys high gross margin of over 60%. This is a testament of its impressive technology in video compression efficiency and quality and low power architecture. Furthermore, the high price points for enterprise IP security cameras mean there is little price pressure on encode chips. By increasing its market share in this market, Ambarella should be able to sustain its gross margin as long as it maintains its technology leadership. With its margin profile, a relatively small enterprise value and attractive growth, it is conceivable that the company makes a very attractive acquisition candidate.
Valuation
Given that most of the pure-play IP camera vendors are private or listed on foreign exchanges, AMBA is represents one of the best investment vehicles to capitalize on the strong secular growth of the IP camera market. The stock is currently trading at a very modest multiple of 11x FY15 EPS ex-cash.
Considering the company's strong competitive position and the strong growth of its end markets (not just the IP camera market), we think that a forward P/E multiple ex-cash of 18x is justified based on the comparables, including Nvidia (NASDAQ:NVDA), Texas Instruments, Sigma Designs (NASDAQ:SIGM) and CSR (CSR). The consensus EPS for FY15 is $1.12. Therefore, in our view, it is not a stretch for the stock to trade up to $25.
Disclosure: I am long AMBA. I wrote this article myself, and it expresses my own opinions. I am not receiving compensation for it. I have no business relationship with any company whose stock is mentioned in this article.