Company: Ardmore Shipping (ASC)
Mkt Cap: $243.7 million
Price: $13.50
Ardmore Shipping was set up in 2010 by Greenbriar Equity Group (a transportation-focused PE firm) to take advantage of a historical low point in the shipping industry (in terms of charter rates and asset values). Reginald Jones (Chairman), Tony Gurnee (Chief Executive Officer) and Mark Cameron (Chief Operating Officer) each have 20-30 years of maritime operating/financial experience - notably, each has worked for/with Teekay Corp (NYSE:TK). The company is incorporated in the Marshall Islands, with its principal office located in Cork, Ireland.
The lukewarm success of the company's recent IPO reflects continued investor aversion to the shipping sector, which is now into the 6th year of its current downturn (but showing signs of recovery). The IPO price was originally indicated at $15-17, but was ultimately fixed at $14, and the shares haven't traded higher since - 10 million shares were sold for net proceeds of $128.7 million. This will reduce Greenbriar's (plus directors and officers) stake to 44.6%, which is subject to the usual 180 day lock-up period. A fairly minimal $0.40 annual dividend is promised for the moment.
Ardmore now operates a fleet of 8 mid-range product and chemical tankers, with another 12 tankers on order (for 2014/15). The focus is on fuel-efficient product tankers (80%+), with an average 40 K dwt and an average age that will drop from 5 to less than 4 years. (By comparison, the current industry average is over 9 years). In terms of capacity versus flexibility, this category of tanker is considered the work-horse of the industry. Management believes the company's overhead and operating expense (per vessel) is among the lowest of its industry peers. The current strategy is to focus on the spot market and short-term charters, with higher day rates expected in due course.
Let's put that into context: In 2009, the spot market averaged $8,190/day - while YTD 2013, Ardmore's fleet time charter equivalent per day was at $12,932. Longer-term, the market has (violently) fluctuated between a $3,490 low and a $49,273 high (per day) in the past 10 years - with the 10 year average at $21,346/day and the 20 year average at $16,797/day. (By comparison, the company's current fleet operating costs per day are at $6,471). A similar story can be seen with asset values - newbuilds are currently averaging about $33.5 million, with 5-year vessels trading around $25 million. This compares to 2007/08 peak values of over $50 million (for both new and 5 year). These charts are useful: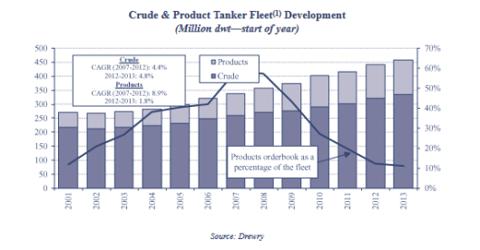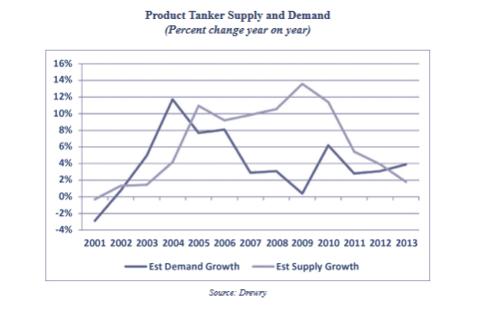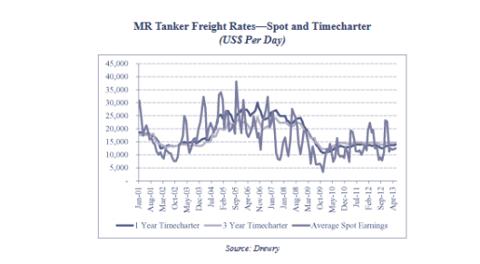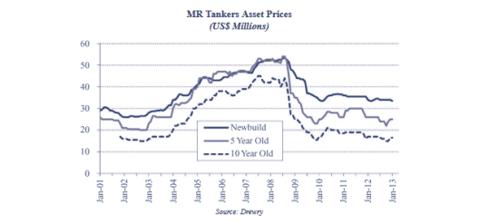 Now, I should add some additional perspective: The product and (particularly) the chemical tanker markets are more specialized than the dry bulk carrier market, and tend to attract less speculative capital. Which means charter rates have also been that much less volatile, versus the rather insane volatility we've seen with the Baltic Dry Index:

(Note: Take a look at the medium-term chart - we've just seen a spectacular break higher from key resistance around 1,250. But the chart above may temper your overall bullishness - the collapse in the past few years may simply have returned the BDI to its pre-2003 range...).
This can also be seen within the respective order books. The chemical tanker order book stands at just 4.5% of the current fleet - a level which hasn't been seen since the 1980s. Orders for product tankers still stand at a much higher level of 12.2%. However, considering the duration of the order book, plus scrappage levels, product tanker supply is only growing a net 1-2% per annum at the moment, versus estimated demand growth of 3-4% in 2013. By comparison, here's the dry bulk order book…ugghh: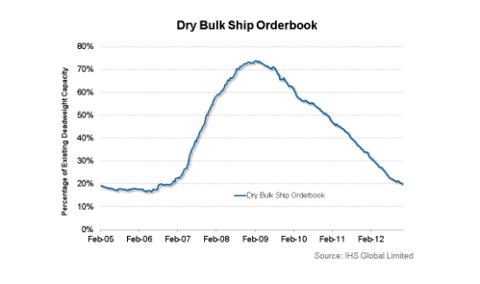 This all looks potentially promising for Ardmore, but how do things currently stack up for the company? Well, since inception, the P&L run-rate has averaged around a $3-4 million loss per annum - which is pretty marginal. That actually translated into $4 million of positive operating free cash flow (excluding vessel purchases) in 2012. We're now seeing a steady improvement in 2013, with FY revenues likely to be up at least 30% - while H1 losses were reduced to $(1.2) million, accompanied by $5.6 million of operating free cash flow (albeit with some positive working capital assistance).
The end-June balance sheet has $201.6 million of vessels (for 8 tankers, this carrying value looks about right, perhaps even conservative), plus $16.5 million of vessels under construction. This is all funded with $107.2 million of equity (pre-IPO) and $125.1 million of debt/capital leases (company also has $9.9 million of cash) - that's a vessel leverage ratio of about 57%, which is not unusual. Of course, post-IPO, Ardmore's currently in a net cash position. But ultimately it intends to revert to a fairly similar leverage ratio - its order book (costing about $350-400 million) will be funded with the IPO proceeds, plus a new $235 million credit facility (hopefully, to be confirmed shortly).
Now, the company's current P&L and cash flows clearly don't deserve a premium valuation. On the other hand, most of the shipping industry is in much worse shape (and likely to see further write-downs) - so cheap(er) peer valuations may not represent such a bargain. A 1.0 Price/Book valuation makes the most sense here, which leaves the shares trading just over fair value.
But if you're a (slightly nervous) shipping bull, Ardmore may still prove attractive - its product and chemical tanker fleet offers more conservative exposure, it's cash flow positive, and it's currently in a net cash position (albeit with a substantial 2014/15 order book, and a credit facility to be confirmed). This offers the luxury of time if you're unsure of the timing and scale of a potential shipping market recovery - there are very few shipping companies out there which offer a similar proposition.
Price Target: $13.07
Upside: (3)%
Disclosure: I have no positions in any stocks mentioned, and no plans to initiate any positions within the next 72 hours. I wrote this article myself, and it expresses my own opinions. I am not receiving compensation for it. I have no business relationship with any company whose stock is mentioned in this article.