Micron (NASDAQ:MU) is not resting on its laurels after completing the acquisition of Elpida at what looks like a steal of a price. At the Intel (NASDAQ:INTC) International Developer Conference it announced DDR4 ram with a substantial performance improvement over existing DDR3 comprising not only up to 50% higher bandwidth, allowing data rates reaching 2,400 Mbps now and reaching 3,200 Mbps in the future, but also a 20% reduction in power consumption compared to DDR3. Power consumption is becoming a key competitive weapon in the smart device market as it becomes clear that consumers want both power and long battery life.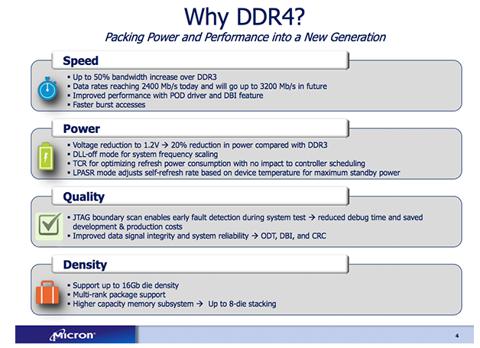 The lower power consumption arises from a host of incremental innovations which all contribute to sizable reduction in power usage.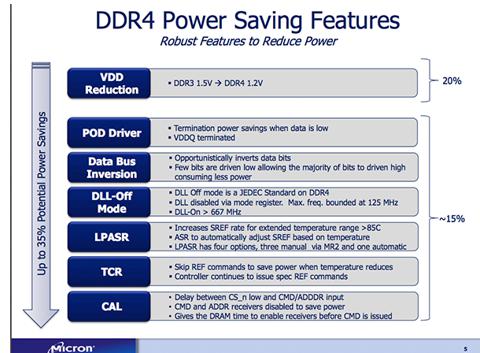 The new DRAM chips show improvements on virtually every measure over the pre-existing DDR, DDR2 and DDR3 ones now in the market.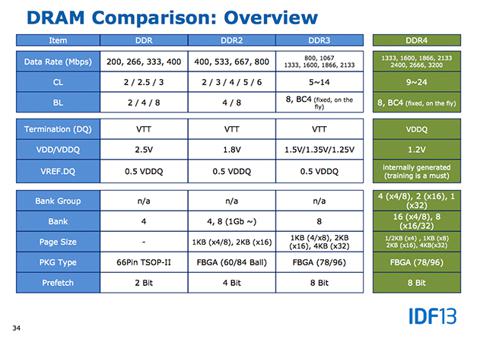 The DDR4 launch will see the product in servers this year and clients next and should outstrip DDR3 by late 2015. IHS forecasts growth to come from mobile reaching 44% of bits installed in 2015 versus about 29% today.
What this means for Micron is substantial. With Elpida it has a virtual doubling of its capacity. With its new DRAM products it is well positioned to capture a major share of the growth in demand at a time when there is more likely to be a shortage than the surplus that has plagued Micron in past years.
DRAM is not the only product Micron makes but Russ Fischer has already written extensively about the market strength for NAND which suggests a robust outlook for Micron in that area.
While it is hard to put figures on the result, my view is that Micron has a good chance of growing sales 50% or more in the next 2 years to reach the $25 billion revenue level, and profits should follow at about 10% of sales to reach $2.5 billion more or less. At 15 times earnings this could take Micron stock to a market capitalization of $38 billion or so, about double where it is today.
There is always the possibility of a takeover of Micron as well as Apple (NASDAQ:AAPL) seeks to reduce its reliance on Samsung (OTC:SSNLF) in their war over smart device market share.
I am long Micron calls and short calls at a higher strike as a bit of hedge.
Disclosure: I am long MU. I wrote this article myself, and it expresses my own opinions. I am not receiving compensation for it (other than from Seeking Alpha). I have no business relationship with any company whose stock is mentioned in this article.