Broadcom (BRCM), a leading communications chip provider, announced a mixed bag of numbers last week. Revenues increased by 21% Yoy in its fiscal third quarter and this nice uptick in revenues boosted operating margins sequentially by ~600 bps to 7%.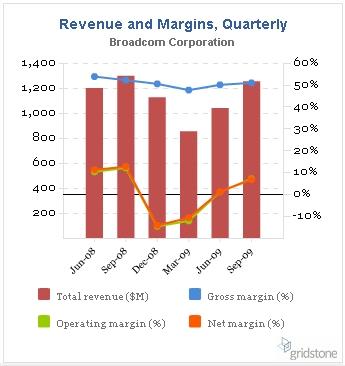 Source: Gridstone Research
Semiconductor stocks have clearly turned the corner and are now looking at a more stable external environment to focus on growth and expand their market reach. Growth has however been driven primarily by the Mobile & wireless business which rakes in revenue from both handset sales and 3G infrastructure deployment.
Segment Revenues By Quarter

Click to enlarge
Segment Revenue Growth By Quarter

Click to enlarge
Source: Gridstone Research
This is going to be Broadcom's sweetspot in the quarters to come as the adoption and deployment of cutting edge wireless technologies in cellular networks across the world drives topline. While other broadband technology deployments (Digital TV, Broadband Video) are yet to pick up steam, they will propel toplines in a year or two. The enterprise networking segment is however a concern. While service both service provider and corporate spending has picked up significantly, its looks less likely that this segment will act as a growth platform for Broadcom. But Broadcom does mention that orders have picked up in this segment last quarter and this segment also had the highest sequential growth.
Excerpt from 3Q09 Earnings Transcript:
...Broadcom's enterprise networking business delivered the highest sequential growth rate in the third quarter at approximately 37%. Growth in the quarter was broad based, as our customers in the enterprise and service provider markets began to roll out new platforms. Based on feedback from our customers, it appears this target market reached a trough in the second quarter...
What is of concern in Broadcom's numbers is that margins, though better, could have come in at much higher levels. The last nine months was a good opportunity to align cost structures and improve margins. But the margin improvements for Broadcom, in the last six months, have been more due to top-line growth than expense control.
No Operating Leverage Improvement In The Past Nine Months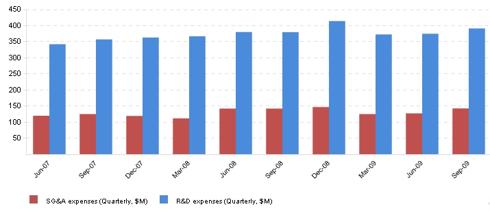 Click to enlarge
Source: Gridstone Research
Broadcom does attribute the high costs to multiple reasons - higher bonus accruals, higher legal costs etc. Broadcom fares poorly on a margin comparison with semiconductor majors (NYSE:TXN) or with other communication chip providers (like Atheros (NASDAQ:ATHR)) quarter after quarter.
Operating Margin Comparison With Texas and Atheros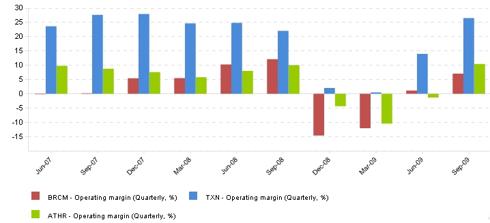 Click to enlarge
Source: Gridstone Research
I'm not able to understand why Broadcom has such low margins despite having an 'asset light' strategy while Texas Instruments commands far superior margins with a integrated design+manufacture model. Also Broadcom should have seen relatively better margins(thanks to no under-utilization charges) when the semi industry was down in the dumps in the first half of 2009 and this too does not seem to be case.
Yet Broadcom has traded at a premium to Texas Instruments in terms of market cap to sales ratio and is at par with Atheros.
Market Cap To Sales Ratio - Broadcom, Texas Inst. and Atheros

Click to enlarge
Source: Gridstone Research
Though Broadcom has fared better than Texas Instruments in terms of revenue growth, clearly it is a laggard in absolute profits growth in comparison to both Texas and Atheros

Click to enlarge
Source: Gridstone Research
Since P/E is not a good indicator due to a pathetic 1H09 for semi stocks, it would be better to look at them in terms of absolute profit growth. In that aspect, current valuations (BRCM last close was $28.5, down 7.2% on last traded day, giving it a market cap of $14.1B) seem stretched in comparison to semiconductor peers. It does look like there could be more downside for Broadcom in the short-term.
Disclosure: No positions