I recently traveled at my own expense to the city of Suzhou in Jiangsu Province to visit two apartment complexes developed by Xinyuan Real Estate (NYSE:XIN). One of the risks commonly cited about the Chinese economy is overinvestment in real estate (see 60 Minutes: "China's Real Estate Bubble" and WSJ:China's Gleaming Ghost Cities Draw Neither Jobs Nor People ). Unfortunately, reports such as those usually pick the most extreme example they can find and then imply that it is typical of the whole country. The rebound in home prices and sales volumes in 2013 despite very strict limits on mortgage terms suggests that China does not have a national real estate bubble, but in order to better understand Xinyuan I thought it would be helpful to get a first-hand understanding of the extent to which it might be exposed to a problem of regional overbuilding.
These observations are not intended as an overview of the complete company, its financial performance, or its corporate governance. Those areas have been reviewed in reports by SeekingAlpha contributors Charles Zhang and Charlie You. Investors interested in the company should read the company's Presentation, Annual Report, and become familiar with Chinese real estate developers listed in Hong Kong (financial reporting available in English through the HKEX website). Merrill Lynch, Citigroup, and several other US brokerage firms provide useful research on the Chinese real estate industry. Fitch initiated credit coverage of Xinyuan in May.
Background
Suzhou is the one of China's wealthiest cities with a GDP per capita of about US$25000 and an urban population of about 5.5mm. Economic development over the past twenty years has been driven by a well-educated workforce (25 colleges and 70 research institutions produce over 50000 graduates each year). The city has a 2500 year cultural history, parks and waterways, and comfortable modern lifestyle. Suzhou is close enough to Shanghai to benefit from its infrastructure and cosmopolitan appeal, but free from its dense congestion. Suzhou's largest industries are now Electronics and IT Services.
Xinyuan has completed 3 projects in the city of Suzhou and has 1 more under construction for a combined total floor area of 611,001 square meters, about 11% of the company's total project portfolio. The company also has a development in Kunshan, about halfway between Suzhou and Shanghai.
Xinyuan Colorful Garden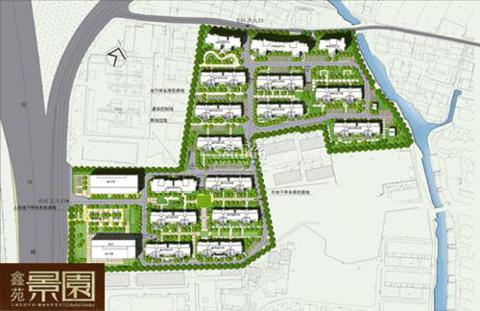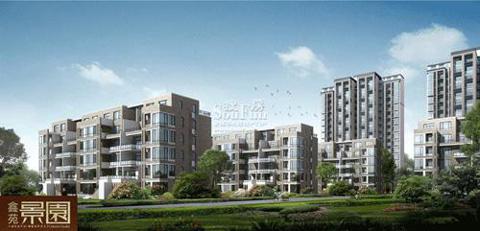 Xinyuan Colorful Garden was completed in April 2009 with 967 apartments holding a total floor area of 80,474 square meters. 607 apartments were sold at 12/31/08, 942 were sold by 12/31/09, and 964 were sold by 12/31/10. The company estimated that it earned a gross margin of 18.7% over the life of the project. The Soufun.com web page for the project includes plenty of additional information.
As shown in the layout above, the property is located right next to a main road. Shop spaces in the entry plaza were all leased and operating: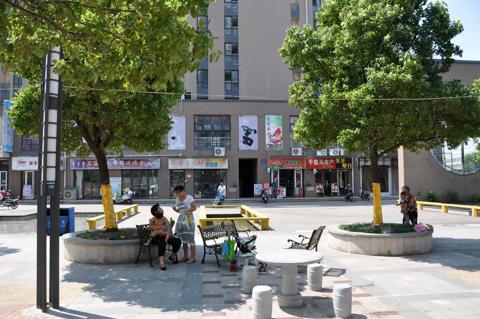 Open Spaces were neatly landscaped but mostly unoccupied in the blazing July heat: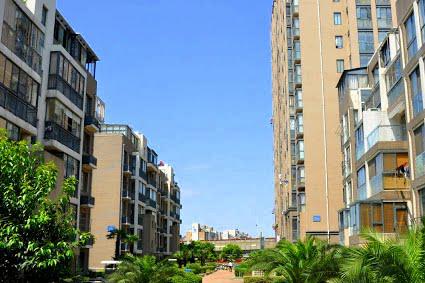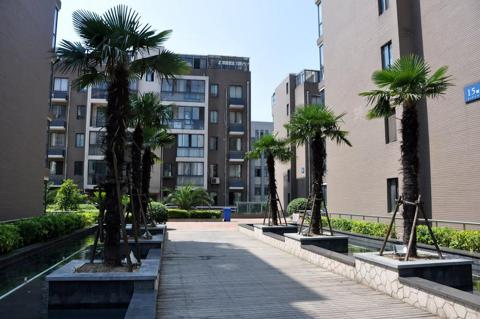 Notably, exposed balconies and windows suggested that every apartment in the complex is occupied. Shades and curtains were all in varying positions. Laundry was drying in the sun and possessions were stored on balconies.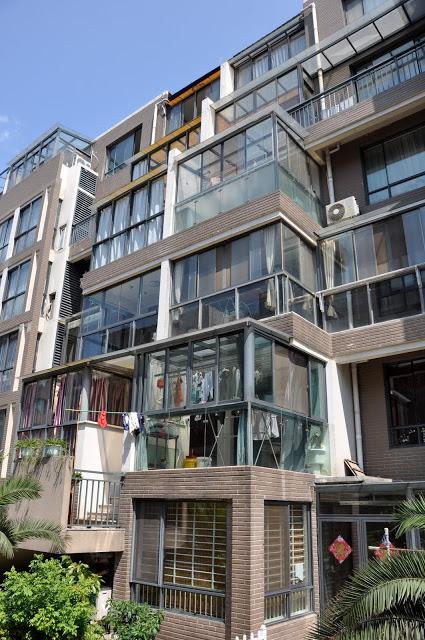 These apartments were sold in 2008-2009 at average prices ranging from 7500 RMB/sqm to 8900 RMB/sqm depending on location and layout. Soufun data show current secondary market prices around 10800 RMB/sqm. Buyers all have gains, but the recent trend has been a bit weak (source: Soufun.com).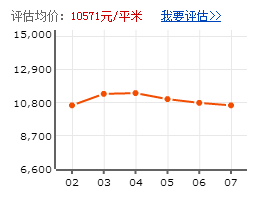 Xinyuan staff explained that the location next to the main road is convenient, but brings extra noise and pollution. The awkward shape of the project (as shown in the first layout picture) also limits the scale of the open spaces.
Xinyuan International City Garden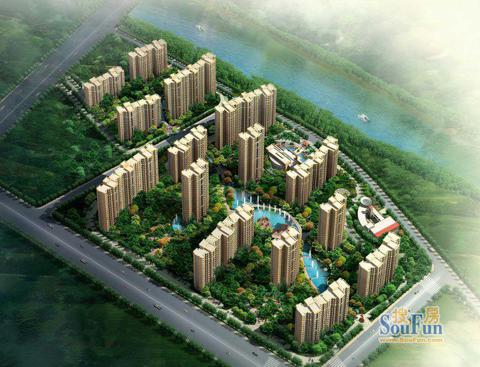 Xinyuan International City Garden was completed in December 2011 with 2,436 apartments holding a total floor area of 204,882 square meters. 846 apartments were sold at 12/31/09, 1206 were sold by 12/31/10, 1651 were sold by 12/31/11, and 2430 were sold by 12/31/12. The company estimated that it earned a gross margin of 22.7% over the life of the project. Land for this project was acquired during the strong market conditions of 2007, but demand was very soft when apartment pre-sales commenced in late 2008 so the company ended up recording an impairment charge, but then strong sales in 2010-2011 led to an attractive cumulative return. The Soufun.com web page for the project includes plenty of additional information.
The rendering above shows that the project is attractively situated adjacent to the Grand Canal. The rectangular parcel allows for considerable landscaped open space within the site: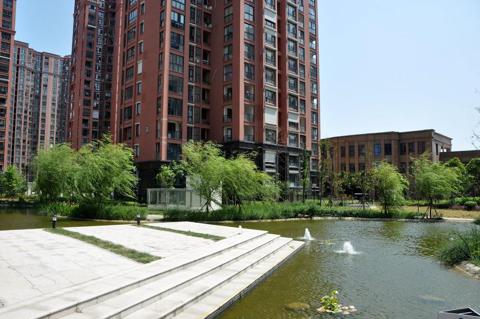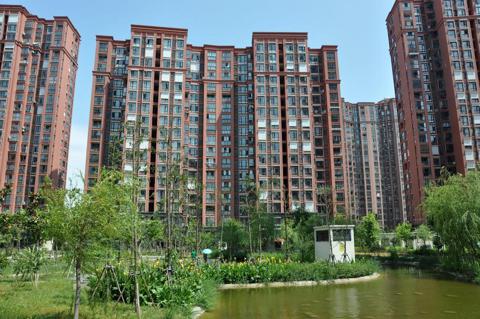 As at the Xinyuan Colorful Garden, the varied positioning of curtains and shades demonstrates that all these units are occupied. Xinyuan provides ongoing property management services including organization of community events like film screenings in these outdoor spaces. With the complex completely sold out, the Sales Center (tan building below) is being converted into a fitness center with a swimming pool that will be free for all residents: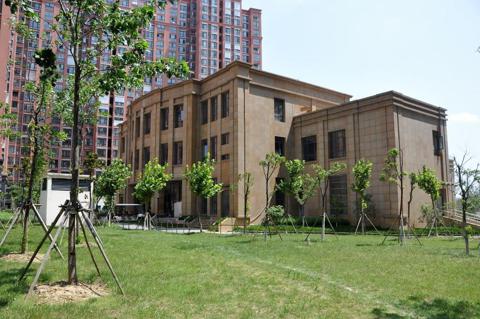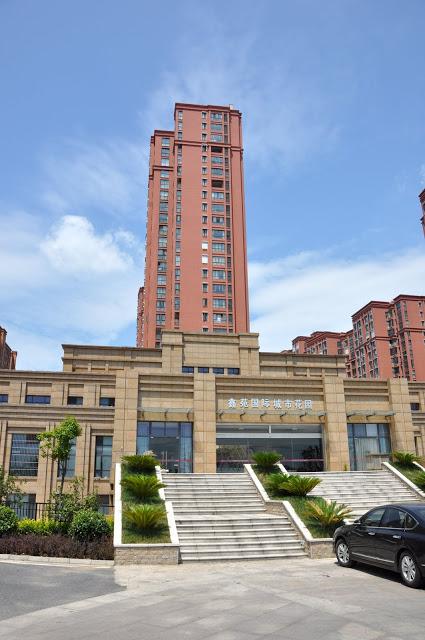 When local governments make plots available for auction to developers, they typically set parameters for the scale of development and may mandate inclusion of some infrastructure. In conjunction with the International City Garden project, Xinyuan built a kindergarten that was turned over to local authorities for management. Approximately 200 children age 3-6 are currently enrolled at the school, about half from the Xinyuan community.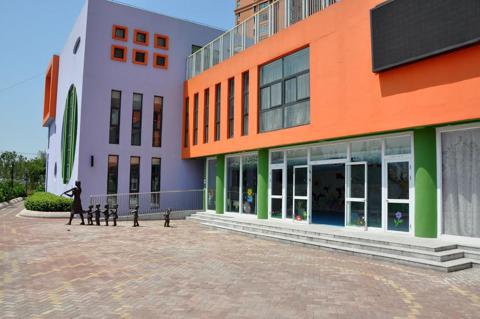 The target market for the development is families of managers working at Suzhou's nearby industrial parks, the China-Singapore Suzhou Industrial Park and the Suzhou National New & Hi-Tech Industrial Development Zone. These apartments were sold in 2009-2011 at average prices around 10000 RMB/sqm. Soufun data show current secondary market prices around 12500 RMB/sqm. So buyers all have gains and the recent trend has been favorable (source: Soufun.com):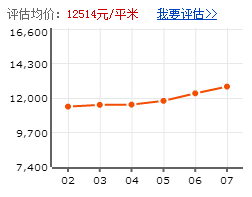 Insights
Xinyuan has sold all of the units at these two developments so the company has minimal direct exposure to the health of these communities. Residents pay Xinyuan a low ongoing property management fee of about 2-4RMB/sqm per month (about $0.025 to $0.034 per square foot) to cover security, landscaping, community services, events, and the fitness center at the International City Garden.
Seeing the developments in person demonstrated that Xinyuan's business is based on providing families with a comfortable modern home and community at a very reasonable price (about $150000 for a 1000 sq-ft apartment). Note that low monthly fees and zero property tax significantly enhance the overall affordability of these homes compared to similarly priced units in the United States. Investors have become extremely cautious about investing in Chinese companies, but young families are also understandably cautious about committing all the money they have in the world to a down-payment on an unfinished building unit. Xinyuan's experience in Suzhou is similar to other cities, returns on a first project are a bit below average, but subsequent projects do better once the company has established a reputation. The success of International City Garden will directly benefit Xinyuan's new Suzhou project which will commence sales in September. Xinyuan's most consistently profitable projects are in its hometown of Zhengzhou where the company was founded over 15years ago. This suggests that the company is well regarded in the market where buyers know it best.
A platoon of Xinyuan staff graciously accompanied me on my visit :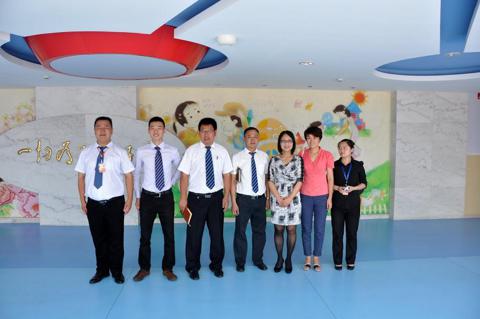 The woman at third from right is Ms. Ma, Xinyuan's regional manager. She frequently appears in local media (example, example, example) providing expert commentary on the property markets and promoting Xinyuan's business.
Perspective on Xinyuan Shares
Real estate development is a highly competitive business. A visitor to a dozen rival developments in Suzhou would probably find attractive aspects of many of those properties. I am not in a position to judge whether Xinyuan builds the best homes in Suzhou, but I saw Xinyuan is delivering a good quality community to genuine owner occupiers and Xinyuan shares are clearly much cheaper than those of other small-mid sized Chinese developers.

Xinyuan stands out in two respects:
Low Debt/High Asset turnover. Xinyuan is the only small developer with cash in excess of debt. Most developers pursue a landbanking strategy of locking up development sites 3-5 years in advance of construction. During that idle period the land purchase cost must be financed with debt. In contrast, Xinyuan typically only buys land for immediate development - this minimizes the debt financing requirement and quickly recaptures the capital spent on land acquisition.
Low Valuation. Despite holding cash in excess of debt and earning margins in line with competitors, Xinyuan trades at the lowest P/E multiple in the sector. For other developers there is a clear relationship between indebtedness and share valuation - lower debt is correlated with a higher price/book valuation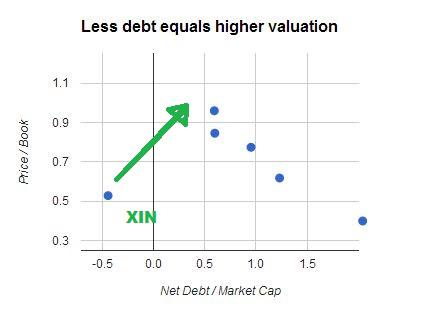 Most analyst and media commentary about Chinese equities tries to forecast cyclical changes, but the 20-30 year record of the most successful Hong Kong businesses shows that they were able to use cyclical downturns to their advantage. For example, amidst widespread concern in mid-2012 about a Chinese "hard-landing", Peter Woo's Wheelock and Company boldly invested HK$5.1Bn in an overleveraged developer (Greentown China) when its shares were at HK$5.20. At the time many analysts were skeptical about the move, but just over one year later Greentown shares are trading around HK$15. Xinyuan itself acquired no land for development during the frothy market of 2010-2011 and then was well-positioned to make significant acquisitions in late 2011 and 2012 (Zhengzhou, Xuxhou, Suzhou, and Beijing). The best approach to long-term investing in well-managed companies is likely to be buying when valuations are cheap and then letting management apply their experience to risks and opportunities created by market cycles.
Considering Xinyuan's successful record over the past 15 years and notably during the volatility in property and financial markets over the past 5 years, it would not be surprising to see the share price appreciate towards book value and for book value to compound at 15% per year. The combination of those factors would produce a share price of $33.67 in 2020.
Disclosure: I am long XIN. I wrote this article myself, and it expresses my own opinions. I am not receiving compensation for it (other than from Seeking Alpha). I have no business relationship with any company whose stock is mentioned in this article.