As a contrarian investor, the current environment is ripe with opportunities. The pendulum has swung to the extremes of overvaluation for the general stock market with bursts of euphoric blow-off, short covering fueled moves in momentum names, while simultaneously swinging to the extremes of undervaluation for commodity stocks and emerging markets. I initially profiled the opportunity in commodity stocks in my July 1st article titled "The Coming Rebound in Commodities, Coal, & Coal Stocks." In the article, I pinpointed June 27, as the likely bottom in prices, and thus far, that prediction has been on target. A large number of commodity stocks that I profiled in that article have rallied materially and are showing their best relative strength in years. I think that the commodity stock rally is just getting started, and I look for further absolute and relative outperformance versus the broader stock markets. In addition to commodity stocks, which are my favorite investment right now, emerging markets offer outsized opportunity. Commodity stocks and emerging markets are highly correlated, and both have been bludgeoned relative to the broader U.S. stock market since April of 2011. As a result of their underperformance, emerging market stocks trade at attractive valuations relative to developed market equities. Michael Gayed does a nice job of articulating the bullish case for emerging markets in his recent article titled "The Ultimate Contrarian Trade." Needless to say, I am in agreement. As I have thought through this analysis and articulated my views to clients, one thing that I am consistently challenged on is the outlook for China, which is the largest emerging market and biggest purchaser of commodities. Due to negative sentiment that is nearly universal, improving fundamentals, low valuations, and years of relative underperformance, Chinese stocks represent a compelling contrarian investment opportunity.
Cresting Negative Sentiment And Improving Fundamentals
There has been no shortage of bearish prognosticators on China with Jim Chanos leading the charge, and the crescendo of gloom and doom may have reached its peak in the second quarter of 2013 as short-term and 7-day repo rates surged in June. A funny thing has happened, though, as the bearish forecasters have grown louder in volume and broader in number, the underlying fundamental economic data has reversed course and shown sharp improvement. Since the beginning of August, China's economy has surpassed growth estimates for PMI, services PMI, credit growth, industrial production, money supply, retail sales, and fixed asset investment. This has sparked a rally in Chinese stocks as shown by the iShares FTSE China 25 Index Fund (NYSEARCA:FXI):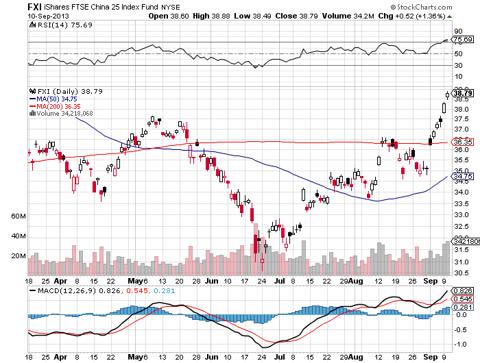 The FXI has rallied by more than 25% from its late June lows. This has helped to drive a broader rally in the emerging markets including a 10% gain in the iShares MSCI Emerging Markets (NYSEARCA:EEM) over the same time frame. Importantly, both the FXI and EEM have significantly outperformed the S&P 500 Index (NYSEARCA:SPY) and the Dow Jones Industrial Average (NYSEARCA:DIA) over this timeframe.
Rising Shipping Rates Validate Stronger China Data
While some investors will question the reliability of Chinese economic data, other ancillary measures have shown clear-cut improvements indicating that China's economy is strengthening. Standing out among these metrics is the recent rise of the Baltic Dry Index, which measures the shipping rates on bulk commodities for various vessel sizes. The Baltic Dry Index has rebounded sharply, picking up steam in September of 2013 as indicated in the following graph: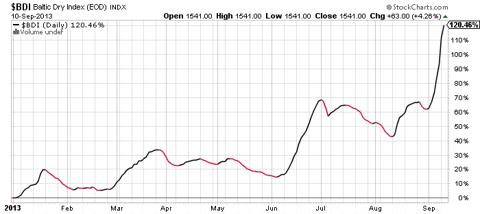 Recently, the Baltic Dry Index posted its sharpest single day percentage gain in four years on September 9, 2013. For 2013, the index is up a stunning 120%. While there has historically been some seasonality in shipping rates, the size and scope of the current move has validated the improving economic data points coming out of China.
New Orders Spur Commodity Stock Rally
In measuring the Chinese economy, one of the best leading indicators has been the steel sector. On that note, steel mills are reporting robust ordering activity: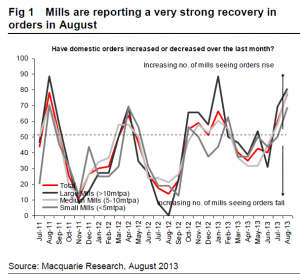 Confirming this move higher, metallurgical coal and iron ore stocks have surged since the beginning of July, led by Walter Energy (NYSE:WLT) and Cliffs Natural Resources (NYSE:CLF):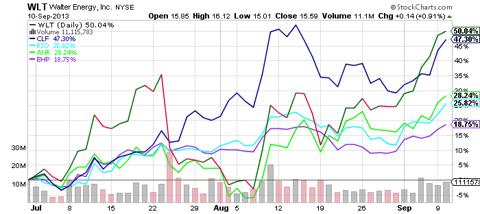 Valuations Are Compelling
With the recent rally, mainland Chinese stocks are trading at approximately 10 times earnings. This is a discount to the historical earnings multiple of 19, as detailed in this excellent overview by Neuberger Berman's Frank Yao. Further, Chinese stocks are expected to see double-digit earnings growth over the next year, bringing forward price-to-earnings ratios (P/Es) and price-to-book ratios (P/Bs) even lower. After rising nearly 600% in its 2006-2007 rally to the 6000 price range, the Shanghai Stock Exchange Composite Index now trades at approximately 2200, which is much closer to its 2008/2009 lows than its former highs: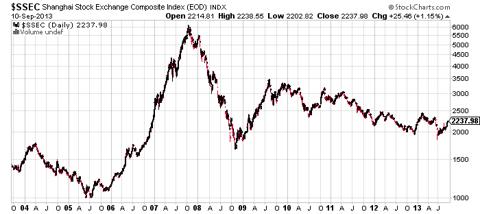 Economic growth, earnings growth, and a stagnant stock market have compressed the valuations of Chinese equities. At today's prices, Chinese stocks are trading at cheaper levels on a P/E and P/B than they did at their 2005 and 2007 bottoms. Going further, the Shanghai Composite Index with a forward P/E of approximately 8 and a P/B ratio near 1 is within range of it cheapest P/E and P/B ratios ever seen as shown in the chart below.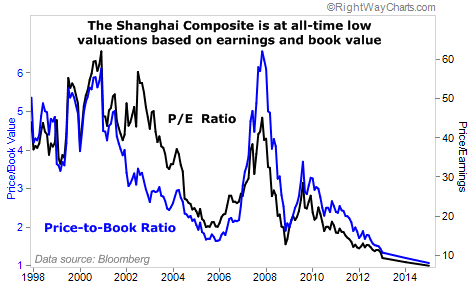 Chinese Stocks Have Significantly Underperformed
Similar to commodity stocks, emerging market equities have significantly lagged the performance of developed market equities since 2011. While the Dow Jones Industrial Average , Nasdaq (NASDAQ:QQQ), and S&P 500 Index all trade at or near multi-year highs, Chinese stocks as measured by the Shanghai Composite Index, FXI, and Market Vectors China ETF (NYSEARCA:PEK), have significantly trailed the returns of the S&P 500 Index as measured by the SPY, which is in green in the chart below. This relative underperformance has created compelling valuations, and it looks striking when illustrated in graphic representation: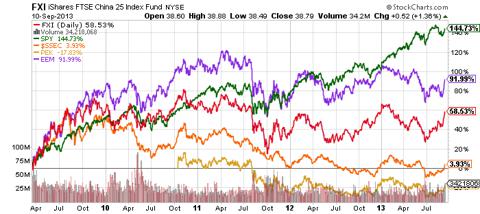 As the pendulum swings the other direction, the relative performance of Chinese equities and emerging markets equities as a whole have tremendous catch-up potential. Given that Chinese equities are cheaper than U.S. stocks on almost any metric and the fact that GDP growth is higher for China than U.S., the relative value argument looks even more compelling.
Bottom Line - Chinese Stocks And Commodity Stocks Are Bargains
Chinese stocks are unloved, undervalued, and under-owned. Fundamentals are improving, suggesting that the recent rally in Chinese equities is just getting started. Looking at the longer-term perspective, Chinese stocks have significantly underperformed the broader developed markets, particularly the U.S. markets, indicating that the recent advance has much farther to go on both an absolute and relative basis. A reviving China is bullish for commodity stocks and emerging markets as a whole. After underperforming since April of 2011, commodity stocks and emerging markets equities have outperformed their developed market counterparts since the end of June with Chinese equities leading the charge. As this trend is recognized, the crowded short trade in these investments will be forced to cover, providing fuel for a powerful rally. Value and momentum orientated traders will take the baton and run the stocks even further. In anticipation of these moves, investors should increase their allocations to these sectors, pulling funds from the over-loved, overvalued, and over-owned developed market equities. To conclude, incredibly cheap valuations in Chinese equities and commodity stocks combined with extreme negative sentiment and improving fundamentals are a potent combination for value orientated contrarian investors.
Disclosure: I am long ANR, CLF, WLT. I wrote this article myself, and it expresses my own opinions. I am not receiving compensation for it (other than from Seeking Alpha). I have no business relationship with any company whose stock is mentioned in this article.