By David Russell
Options action took a bullish surge in Take Two Interactive (NASDAQ:TTWO) as investors wagered on a pop in the next four weeks.
Our Heat Seeker tracking system detected heavy buying of the November 12.50 calls, which traded 4,173 times against open interest of 1,894 contracts. Institutional-sized transactions priced for $0.60 to $0.75. The stock must rally about 10 percent by Nov. 20 for the trades to earn a profit.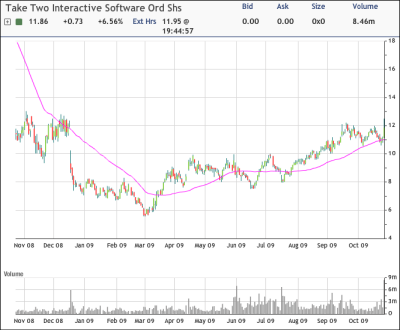 TTWO rose 6.56 percent to $11.86 on Friday and is up 76 percent this year. The shares hit $12.50 before pulling back, the same level where they traded before gapping lower in December 2008.
The maker of digital games including the "Grand Theft Auto" franchise reported better-than-expected sales and a smaller-than-forecast loss when it reported fiscal third-quarter results on Sept. 1. Its next earnings release is estimated for Dec. 14.
Investors also purchased the November 15 calls for $0.10 to $0.25, pushing volume to 3,459 contracts. The December 15 calls were active as well, trading 2,890 times for $0.25 to $0.45. Volume was more than double open interest in both strikes.
Overall options activity in TTWO was 12 times greater than average in the session. Calls accounting for 94 percent of transactions, according to Heat Seeker.
(Chart courtesy of tradeMONSTER)