By David Russell
Options activity surged in Repros Therapeutics (NASDAQ:RPRX) on Friday, less than a month after the tiny biotech experienced a huge pop.
Our tracking systems detected a noteworthy three-part trade in the drug developer: 3,000 February 5 calls were purchased for $0.10, 2,000 November 5 calls were sold for $0.05 and 7,000 November 7.50 calls were bought for an average premium of $0.025.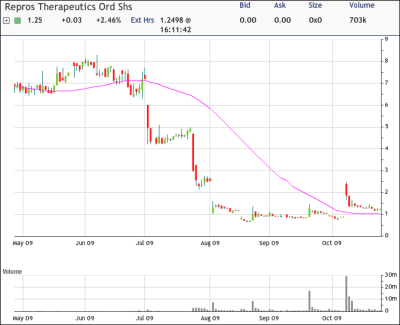 RPRX rose 2.46 percent to $1.25 Friday. While the stock is down 88 percent this year, it more than doubled on Oct. 7 after reporting positive data on its Androxal drug to treat low male testosterone.
It's difficult to interpret the options trades because all the activity occurred against existing open interest. The call buying could have resulted from an investor buying back options he or she sold against stock during the recent rally. The trader may have also sold additional November 5 calls to generate income, expecting RPRX to remain below that strike through expiration.
Regardless, the stock could be worth watching for investors willing to play a name with a market cap of only $25 million. It has rebounded after hitting an all-time low and seems to be settling above the $1.18 level that served as resistance in August and September.
Overall options volume in the name was 30 times greater than average on Friday and calls accounted for all the activity in the name.
(Chart courtesy of tradeMONSTER)