Over the past few years, internet bookings have been dominating travel agency bookings. Online travel booking revenue is expected to reach $523 billion in 2016 from $374 billion last year. The shift towards internet booking is proving to be a revenue driver for online travel booking agencies. Priceline.com (PCLN) is one such travel booking company and is the largest online travel agency in the U.S. in terms of market value. In the last three years, the stock price has tripled, and it crossed the $950 mark recently. Let's see whether this stock has the potential to become the first four-digit stock on the S&P 500.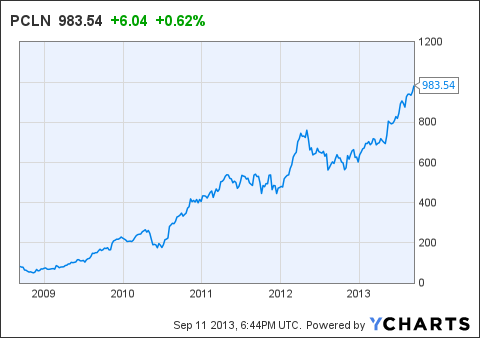 Revenue streams
The company generates revenue from three segments -- agency business, merchant business, and through advertisements on its website. Merchant business is all about buying bulk rooms and lodging them to travelers. This model requires keeping hotel room inventory. On the other hand, agency business is selling another company's travel services and keeping inventory of rooms isn't required.
Over the last two years, Priceline is shifting aggressively towards agency business from merchant business, wherein it receives agency fees from its vendors. In the second quarter of 2013, the company's agency business reported robust growth of 37.9% year over year, and merchant business grew merely by 5.3% year over year.
This fact is evident in the company's international business, which is mainly in Europe. The sovereign debt crisis led to the downfall of disposable income of European residents. Its agency model helps the company to remain stable, because of low inventory buildup. In addition, Priceline's agency model has coverage of 310 thousand hotels, which are mainly small hotels and restaurants. These small hotels and restaurants helped in offsetting the fall of disposable income and resulted in incremental international bookings. In the second quarter, international bookings grew 44% year over year.
On the other hand, its rival Expedia (EXPE), which is the world's largest online travel booking company in terms of number of transactions, focuses more on merchant business. Currently, in Europe, the majority of Expedia's business is merchant base; Expedia receives payment from the traveler and then pays the merchant. This double transaction increased credit card fees 2%-3%, thereby reducing profitability. Also, its second quarter profits fell to $71.5 million from $105.2 million a year ago.
International expansion- Key driver for growth
International booking accounts for approximately 85% of Priceline's total bookings, and a majority of these are in Europe. In the second quarter of 2013, its bookings grew 44% on the quarter over quarter basis. The European online travel market is projected to grow at 5.7% through 2016, whereas the U.S. online travel market is expected to grow at merely 4.8%. To monetize the high growth market, Priceline is aggressively expanding its international business. For this, the company is adding hotels to its booking.com website. Currently, it has 330,000 hotels on its website, up 40% from a year ago. The company expects its international gross booking to upsurge in the range of 32%-39% in the third quarter.
We feel that its continuous international expansion will drive its revenue. The European market is fragmented, and many small and family run businesses exist, which have smaller marketing budgets. Many of these hotels aren't available on the web, and Priceline is adding them to its website, which will increase travelers' options when searching for vacation destinations. By adding hotels, we believe that its gross booking expectation from the international market is achievable.
Inclusion of famous theme park into Booking.com
The company has approximately 23 million guest reviews on its website booking.com. To broaden travelers' options for vacation destinations, the company recently announced its partnership with Universal Orlando Resort Hotels. Universal Orlando is the most popular theme park in the U.S. With this partnership, Universal Orlando properties will be available to booking.com customers in 41 languages.
We believe this expanded service will attract more reviews on its website, which will lead towards an incremental increase in website bookings.
Forecasting 2014 target price
Priceline always posts higher earnings than its own estimates. Based on this fact, we have estimated its target stock price for the end of 2014. The midpoint of current P/E and forward P/E is 25.47. Over the last four quarters, the estimated EPS was $32.98 but actual EPS was $34.66. This gives us an earnings upside of 5%. With the current EPS estimate for 2013 at $40.16, we assume the 5% earnings surprise, and the actual EPS is estimated to be $42.17. This gives us a target of $1,074 by the end of 2014. The current market price is around $960, indicating an 11% upside in the stock.
This stock is expected to be the first stock in S&P 500 list to surpass $1000. On the other hand, its competitor Google (GOOG), is also in the race to reach four digits.
Google recently updated its glass software, which includes receiving notifications for reservations and booking hotels and restaurants. We consider this a big threat to Priceline.com as Google updates its software on a regular basis to enhance the customer experience. We have calculated its share price below:
The midpoint of Google's trailing P/E and forward P/E is 21.32. Over the last four quarters, the company estimated EPS of $42.51, but the actual EPS came to be at $40.76. So, there is a downside of around 4% from the estimated figure. Currently, the company estimates EPS to be $43.57 by the end of this year. By factoring in the earnings downside, we get EPS of $41.82. This gives us the target market price of $891.75 by the end of 2014. Currently, the market price of Google is $879, indicating an upsurge in the stock price.
Bottom Line:
Priceline's earnings have always been depicted in its stock price. The reason behind this is the earnings surprise that Priceline has always given to its investors. Also, with the strong fundamentals of Priceline discussed above, we strongly believe that its market price will be the first four-digit stock in S&P 500 list by 2014.
Disclosure: I have no positions in any stocks mentioned, and no plans to initiate any positions within the next 72 hours. I wrote this article myself, and it expresses my own opinions. I am not receiving compensation for it (other than from Seeking Alpha). I have no business relationship with any company whose stock is mentioned in this article.
Additional disclosure: Fusion Research is a team of equity analysts. This article was written by Shweta Dubey, one of our research analysts. We did not receive compensation for this article (other than from Seeking Alpha), and we have no business relationship with any company whose stock is mentioned in this article