Cisco (NASDAQ:CSCO) is all set to make another acquisition. This time the company intends to buy the SSD (solid-state drive) storage device maker, WHIPTAIL, for approximately $415 million in cash and retention-based incentives.
As per the company's press release:
"Cisco today announced its intent to acquire privately held WHIPTAIL, a leader in high performance, scalable solid state memory systems that enable organizations to simplify data center and virtualized environments and process more data in less time."
SSD device market:
SSDs are rapidly becoming popular in the global storage market as compare to other storage devices like HDDs (hard disk devices), due to the features like:
Low power consumption.
High data transfer rate.
Better physical properties (strength, weight, etc).
Low transaction latency.
The SSD device market is split into two main segments:
Client segment (Tablets, cameras, mobile phones, Netbook, notebook, ultrabook, AIO, desktop personal computers, and
Enterprise segment (HPC, datacenter servers).
The demand for SSD storage is growing at a rapid pace.
According to IHS, worldwide shipments of SSDs are expected to reach 83 million in FY 2013, up from 39 million in 2012. By 2016, per-year shipments should reach 239 million units.
According to IDC, SSD shipments are expected to grow at a compound annual growth rate of 51.5% from 2010 to 2015.
The demand for SSD devices is coming from both the segments. In client segment, the demand is on the rise because SSDs consume low power, and also because of some better physical properties (as compared to other technologies), the key requirements for the battery-powered devices.
In enterprise segment, the demand is on the rise due to the features like low latency rate and high data transfer rates, the key requirements for today's dynamic business environment.
Effect on the industry:
The entry of Cisco in the SSD market will affect the market in multiple ways:
It will increase the competition for existing players.
It will bring huge R&D resources that will further help the industry to improve its cost-effectiveness as compared to other competitive technologies/products, which are more cost-effective.
Investment rationalization:
After the acquisition of WHIPTAIL, Cisco will enter the SSD device market, initially in the enterprise segment. The acquisition comes at a time when the SSD market is gaining more traction in enterprise segment, particularly, in data centers and cloud storage. The demand for SSDs, within the enterprise segment, is expected to show healthy growth in the near future. According to a report from Reportlinker, enterprise SSDs will grow from 382,000 units in 2011 to 3.9 million units in 2016, representing an average annual growth of 59% and the revenue generated from the sales will grow from $582 million in 2011 to $3.5 billion by 2016.
According to another report from Trendfocus, in Q1 FY 2013 the number of SSDs (enterprise segment) sold were 1.21 million, which is expected to reach the 1.39 mark in Q1 FY 2014. (See the table below).

Cisco shall be able to quickly integrate the acquired products into its existing product portfolio, as the acquired products are Cisco UCS certified, thereby the products can be readily integrated into "Cisco's Unified Computing System", the key platform where the company intends to use the acquired products.
As per the press release:
"Integrating WHIPTAIL's memory systems with UCS at a hardware and manageability level will simplify customers' data center environments by delivering the required performance in a fraction of the data center floor space with unified management for provisioning and administration."
Future growth possibilities:
As explained above, the SSD market is split into two segments. The acquired products mainly serve the enterprise segment. However, with the technology available and huge resources to support, the company, in the future, can enter into the client segment, which is much bigger business opportunity than the enterprise segment (see the table below).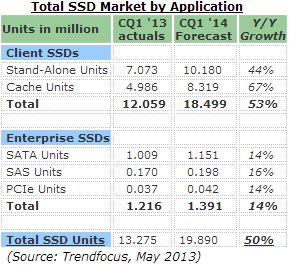 Conclusion:
Once again, Cisco prefers the acquisition route to get into a high growth segment/industry. This acquisition in many ways is different from many of its previous acquisitions i.e. WHIPTAIL primarily is a product company and it is already working with Cisco. With this Cisco will enter the multibillion dollar market where it should be able to gather the market share very quickly because the company will be selling its products, mostly to its existing clients.
The entry of Cisco in SSD market will lead to much more competition, for existing players like Fusion-io (NYSE:FIO), STEC (NASDAQ:STEC), NetApp (NASDAQ:NTAP), EMC (EMC), etc. For user industry, it means better products and reasonable prices. For Cisco, this acquisition is the part of its long-term growth strategy, which helps it to establish its presence in fast growing segments/industries.
For Cisco this is a small acquisition, but I take it as a proof that the company is firmly following its aggressive growth strategy, which I consider as the key reason behind the future growth potential of the company.
Disclaimer: Investments in stock markets carry significant risk, stock prices can rise or fall without any understandable or fundamental reasons. Enter only if one has the appetite to take risk and heart to withstand the volatile nature of the stock markets. This article reflects the personal views of the author about the company and one must consult its financial adviser before making any decision.
Disclosure: I have no positions in any stocks mentioned, and no plans to initiate any positions within the next 72 hours. I wrote this article myself, and it expresses my own opinions. I am not receiving compensation for it (other than from Seeking Alpha). I have no business relationship with any company whose stock is mentioned in this article.