With the latest short data in for Sirius XM (NASDAQ:SIRI), it appears that nearly 4.5 million shares were added by those holding short positions since the last reporting period. All in all that totals around $16 million worth of shares that were piled onto these positions given the closing share price during the period.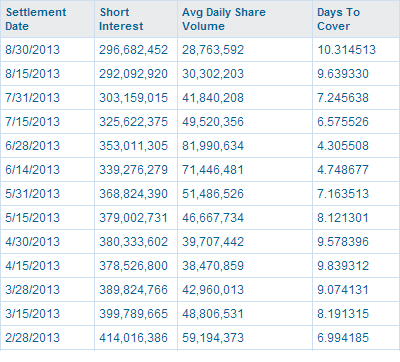 If you've been keeping track, it is always interesting to note the difference in share prices between data points and whether or not shorts had reasonable chance to profit, or whether it is possible that their short bets were misplaced. Following through 2013, you'll notice in the table above that on a slowly increasing share price shorts have reduced their net positions and likely covered at a loss. The last reporting period did offer opportunity, though, and those who were short in the previous reporting period would have been able to cover at lower pricing. They didn't, and instead they added to their shorts. Considering that today Sirius XM has hit a $3.87 closing price (a new 52-week and multi year high for those keeping track), the bears may be disappointed they did not take advantage of the recent lows.
But before you consult the chart below, take a look at another important issue. Days to cover, or how long it would take all shorts to cover if every single transaction was a short covering trade given average daily volume, now sits at over 10 days. If you're short you want liquidity and trading in Sirius XM has been light. That's not a good thing.

Regardless of where a short covers it's good for the longs today. It's another bet against the stock off the table and an overall trend of covering will show a change in sentiment on the bearish side toward one which is either bullish or at the very least "risk off."
I have been stressing since 2012 that shorts in Sirius XM should have covered long ago and left for other opportunities. Consider what I mentioned after the last reporting period where shorts had covered by $42 million:
Once Liberty Media (NASDAQ:LMCA) initiated the process of buying hundreds of millions of shares to go to control of Sirius XM, the writing was on the wall. Demand for shares would outstrip supply even with Sirius XM's excessive number of shares outstanding. On top of this, Sirius XM's announced $2 billion buyback coupled with a $0.05 dividend made being short Sirius XM even more risky. The cherry on top? Strength in auto sales driving large numbers of new gross and net subscriber additions to Sirius XM's ranks. That equals strong company performance in the background of all this buying activity.
New issues since the last short data point? Try a 16.02 million SAAR (adjusted auto sales rate). If that's not enough for you and you prefer a bit more speculation, consider recent news of two new additions to Sirius XM's board:
The executives are the latest high-profile additions to Sirius XM's board, which added Discovery Chief Executive Officer David Zaslav in May. Greg Maffei, Liberty Media's CEO, became chairman of the board in April.

The new directors will be replacing Robin Pringle and Mark Carleton, two executives from Liberty Media who resigned from the board of directors on Wednesday after about nine months, according to a regulatory filing.

George Bodenheimer, 55, is executive chairman of Walt Disney's (NYSE:DIS) ESPN and was president of the sports network for about 15 years before he stepped down in January 2012.

Anthony Bates, 46, came to Microsoft (NASDAQ:MSFT) two years ago as CEO of the acquired online chat company Skype. He is considered to be a potential internal candidate to replace Steve Ballmer as CEO of Microsoft.
I'll leave the speculation to others on these new additions, but I'll throw one thought out there to seed the discussion. Consider Sirius XM's recent acquisition of Agero's connected vehicles unit and Microsoft's position with SYNC in Ford vehicles. Could something be brewing behind the scenes? Perhaps.
That being said, I don't expect the story to change for the worse any time soon, and again I will plead with shorts. Please, for your own sake, cover now and exit your short positions. The right side of Sirius XM has been and will continue to be the long side going forward for the foreseeable future. Take lead from other shorts who have been covering and shift your position to the long side. The door's open, but the price of entry keeps going up.
Disclosure: I am long SIRI. I wrote this article myself, and it expresses my own opinions. I am not receiving compensation for it (other than from Seeking Alpha). I have no business relationship with any company whose stock is mentioned in this article.
Additional disclosure: I am long SIRI January 2014 calls from strikes $2 to $3.5.