I was curious to see which S&P 100 company had the highest Weighted Alpha and Gilead Sciences (NASDAQ:GILD) came out on top with a score of 98.30+. The stock has been on a tear recently and is one of those stocks you wish you had bought back last year. Let's look at the numbers and see if it has any steam left.
During the last 6 months while my market proxy, the Value Line Index was up 13%, Gilead Sciences was up 30% and still rising: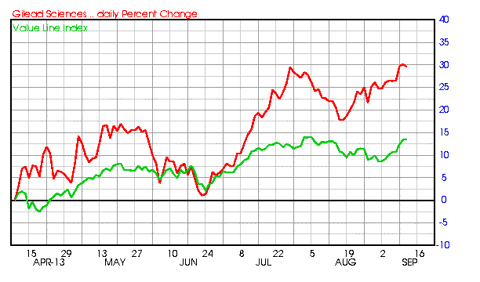 What are the fundamental factors that could possibly give the stock such momentum?
Fundamental factors:
Market Cap $95.50 billion
P/E 33.24
Analysts project revenue will grow 11.00% this year and another 24.00% next year
Earnings are estimated to increase by only 1.00% this year but come back by 52.80% next year and an additional 25.34% annually for the next 5 years
No dividend at this time but the stock has split 5 times since 2001 including a split on 1/2013
Financial Strength is a B+
Technical indicators and charts with permission from Barchart:
96% Barchart technical buy signals
Trend Spotter buy signal
Above its 20-, 50- and 100-day moving averages
11 new highs and up 5.75% in just the last month and 111.06% in the last year
Relative Strength Index 65.11%
Weighted Alpha 98.30%
Barchart computes a technical support level at 61.85
Recently traded at 62.59 with a 50-day moving average of 59.04
Investor Interests:
Wall Street brokerage analysts issued 10 strong buy, 14 buy and 4 hold recommendations to their clients
Individual investors as measured on Motley Fool gave the stock a 97% vote to beat the market with 2,303 readers giving an opinion
The more experienced All Stars gave a similar 98% vote for the same result
Financial columnists articles have been 93% positive
Jim Cramer's TheStreet rates the stock an A
Short sellers sold 51 million shares near the beginning of the year and increased their short positions to around 61 million shares by the end of April. Recently they trimmed back to 59 million shares shorted
Institution ownership is a whopping 97.35% of the outstanding shares

Peer Comparison:
While Gilead Sciences increase 111% in the past year, Amgen (NASDAQ:AMGN) was up 34% Biogen Idec (NASDAQ:BIIB) was up 54% and Onyx Pharmaceuticals (NASDAQ:ONXX) was up 64%: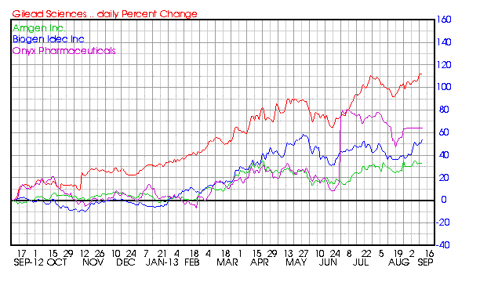 Now that you have all the facts, how should you play this one? The chart below shows the price vs. the 20-, 50- and 100-day moving averages, Trend Spotter and the 14-day turtle channel. The stock is still climbing and increased revenues and earnings are expected. The individual investor needs to realize that the big boys are in this with more than 97% of the shares in their hands and the short sellers have shorted almost 7 days' trading volume. You need to be nimble and be prepared to bail on major signs of momentum weakness. At a P/E of 33.24 the stock seems fully valued and the best you can hope for is that the short sellers begin to sweat and start to cover their positions. My advice is to watch the 50-day moving average closely: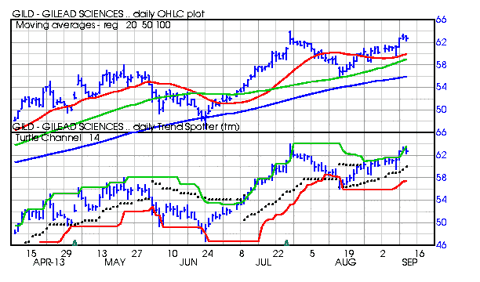 Disclosure: I have no positions in any stocks mentioned, and no plans to initiate any positions within the next 72 hours. I wrote this article myself, and it expresses my own opinions. I am not receiving compensation for it (other than from Seeking Alpha). I have no business relationship with any company whose stock is mentioned in this article.